*NEW* 2021 Educational Webinars
Date posted
December 7, 2020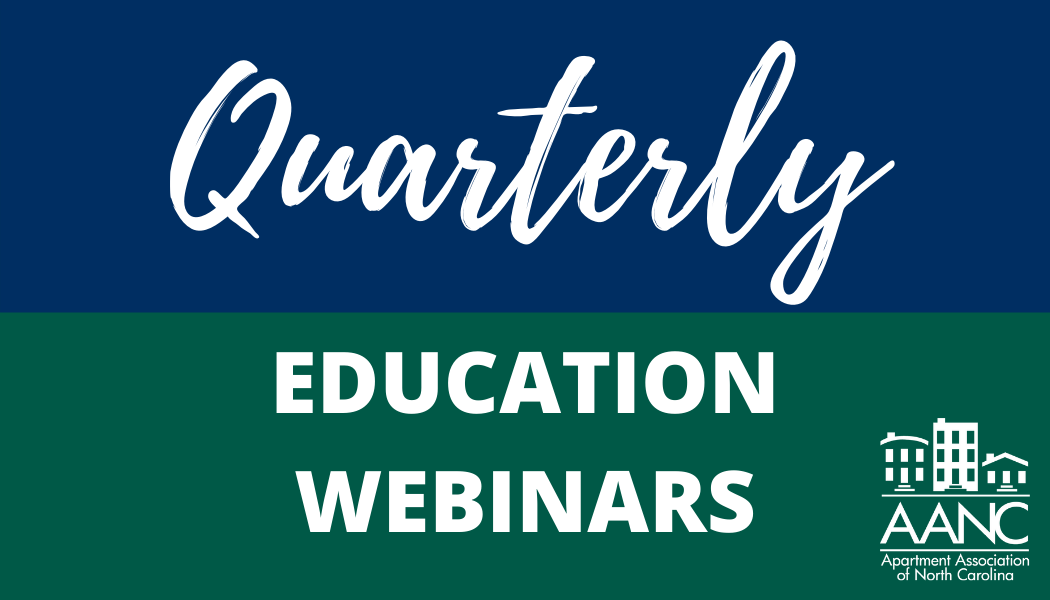 AANC is excited to host 4 educational webinars in 2021! The topics below were strategically chosen by an AANC Education Subcommittee. Each will have a panel of industry leaders and will come with 1 CEC.
Registration is now open for the January webinar. Seats are limited. Be sure to register ASAP.

**Also, consider sponsoring a webinar for only $350 to gain great exposure for your company.
Details at the bottom of this page.

2021 Webinars Flyer
JANUARY
The Future of Supplier & Owner/Operator Relationships (1 CEC)
January 20, 2021
SPONSORED BY: Chadwell Supply
APRIL
All Things Legislative for the NC Multifamily Housing Industry (1 CEC)
April 21, 2021

SPONSORED BY: Loebsack & Brownlee
JULY
Evolutionary Leadership in Multifamily (1 CEC)
July 21, 2021
Practically everything in our industry has changed, including how we lead our teams. Join the AANC for an engaging panel session to learn how seasoned industry leaders are reimagining their leadership approach. Whether your lead a team of 2 or 200, you can't miss this forward-thinking panel session!
Moderator: Mindy McCorkle (Enhancement Talent Development)
Panel: Lisa Taylor (Greystar), Kim Graham (GCAA), Andy Meador (McDowell Properties)

REGISTER
SPONSORED BY: Grubb Properties
OCTOBER
Student Housing in NC (1 CEC)
October 27, 2021
Join AANC for an engaging panel session discussing North Carolina's future of student housing as we move forward in our new normal.
Moderator: Rebecca Rosario (Full House Marketing)
Panel: Jody Longwill (Burkely Communities), Brandon Hammond (B.HOM Student Living), Jennifer Pittman (A Venture Management)

REGISTER
SPONSORED BY: RestorePro Reconstruction