Conference Speakers
May  24-26, 2021 | Raleigh Convention Center
Home   REGISTER  Schedule  SESSIONS  Speakers   Sponsors  INFO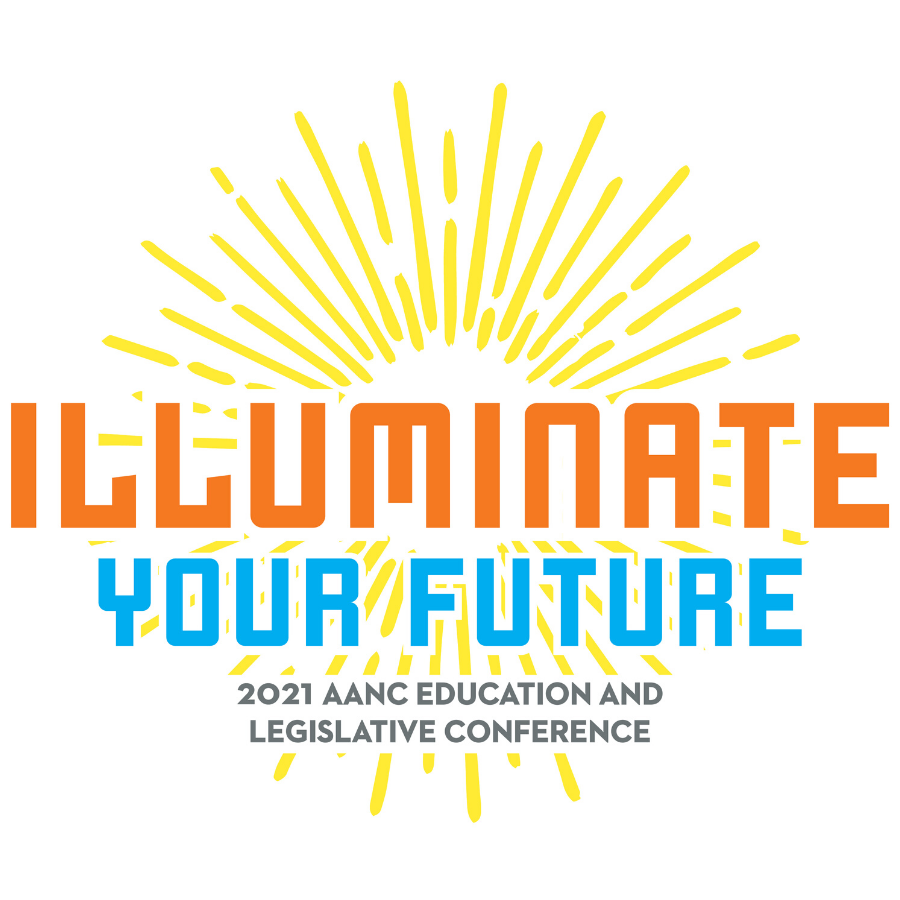 #AANCIlluminate

Earn 6 CECs

---
KEYNOTE SPEAKERS
Opening Keynote: Dave Davlin
Over 25 years ago, Dave began bringing smiles to faces with a form of entertainment he developed as a young boy. From NBA and major college arenas across America to the Summer Olympic Games in Seoul, South Korea— and even to the world-famous Branson Strip— "Travelin" Davlin has entertained people of every age and background. His amazing ability with basketballs even landed his name and picture in the 1990 Guinness Book of World Records. Dave began to hone his speaking skills in the early 90's as a national speaker in the public schools across America. Combining his entertainment ability with a powerful message, he was instrumental in the fight for education and against drugs. At the advice of friends working in corporate America, Dave began to develop presentations for the corporate and association market and the rest is history. Dave's message has made a difference in the lives of thousands, and his impact continues to grow each year
                                                                         as he shares his philosophy and wisdom through speaking and writing.

Closing Keynote: Deborah Gardner
A swimming champion turned author & competitive performance expert, Deborah Gardner, CMP, helps companies and organizations professionals advance to new levels of success for maximum winning results. Better known by many Fortune 500 companies as the Pit Bull in a Skirt, Deborah is rising to international prominence with a captivating, entertaining and humorous sassy presentation style. With a lifetime of competitive experience, Deborah has a wealth of practice being a Marine Brat, to life growing up in a double-wide, a real-life wedding crasher, to an Olympic Trial swimmer, a ground-breaking leader as one of the first female broadcasters with CBS Sports and three decades as a hospitality sales veteran. Along with a laundry list of awards, Meetings & Convention Magazine recent poll by meeting planners voted Deborah as one of the best speakers heard in the last two years.
Deborah lives in Phoenix, Arizona with her husband and her lover boy, Chief, the 
                                                                         dog.
---
BREAKOUT SESSION SPEAKERS
Jim Burness
Jim Burness is the founder, CEO and general manager of Aloha Charge and National Car Charging (NCC) and is considered one of the nation's leading Electric Vehicle and Charging Infrastructure experts.

With previous careers in both the automotive industry and the renewable energy sector, Jim launched National Car Charging in 2012 to facilitate the build out of the nation's EV charging infrastructure in a wide variety of key channels including hospitality, municipal facilities and multi-family dwellings. Today, NCC manages 4000+ ports nationwide across 600 customers with installations in 43 states.


Cindy Clare
Cindy Clare, CPM, Chief Operating Officer and COO at Bell Partners, Inc., oversees the operations of nearly 50,000 apartment units across the nation. She is responsible for all aspects of community management for both third-party and Bell-owned communities. This oversight includes community operations and maintenance, lease-ups, relationships with third-party owners, marketing and brand management. Cindy is a recognized leader within the multifamily industry and a sought-after speaker on a variety of topics at national conferences. In 2011, she was named as one of The Washington Business Journal's "Women Who Mean Business". In 2015, she was honored as one of the "10 Most Influential Women in Real Estate" by Multi-Family Executive. She was also honored with the
                                                           Apartment and Office Building Association's (AOBA) Sidney Glassman award for her
                                                          exemplary work and contributions in education, training, management, administration, and
                                                           legislation. She is currently a national faculty member at IREM and serves on the Virginia
                                                           Tech RPM Advisory Board. In 2017, she was named Chairman of NAA. 


Tim Cox
Timothy Cox has served in a variety of creative roles in his 25 year career. He is a partner of Stir Creative Group Inc., a creative services agency based in Greensboro, NC. Currently Timothy serves as the Creative Director for clients in multiple industries ranging from multifamily, to higher education, and from non-profit to the technology sector, adding creative touches mixed with strategic-minded solutions to business generating approaches.

Timothy has served as an instructor for creative software technology companies and serves on college advisory boards for their design schools. He advises on their internship
                                                           programs and actively participates in portfolio reviews for graduating students. 


Nikol Edwards
Nikol Edwards is the Vice President of Marketing and Promotions. She started with Blue Ridge Companies in 2011 and is responsible for developing, maintaining, and monitoring marketing and sales strategies to meet organizational objectives. She works to drive the Blue Ridge portfolio's performance through brand awareness and guiding marketing and leasing strategies. Nikol also performs ongoing marketing analyses to set performance metrics and identify areas of opportunities and solution options. Her job also includes overseeing technological strategies, integrations, and interfaces as they relate to marketing, sales, and resident retention.


Tami Fossum
Tami Fossum is the Executive Director of GEM management with over 10,000 affordable units across the Southeast. Tami has been in the multi-family since 1989 with extensive background in both the development and property management of conventional and affordable properties. Tami holds her Certified Apartment Portfolio Supervisor (CAPS), Certified Property Manager (CPM) and Housing Credit Certified Professional (HCCP) designations, as well as her Real Estate Broker's licenses in North Carolina and Salesman's License South Carolina.
Jeff Furman
As head of the Raleigh regional office and Vice President of Development at Northwood Ravin, Jeff is responsible for the development, design, construction and stabilization of Northwood Ravin's multifamily and mixed-use developments. Working closely with the development, general contracting and property management teams, he has been a key contributor to the successful development of over 6,000 residential units and 1,000,000 sq. ft. of commercial. Jeff's active projects include multiple projects in construction as well numerous pursuit opportunities in the Southeastern U.S. He successfully served as the VP/development manager for signature mixed-use projects including Capitol View in Nashville, TN, Carolina Square in Chapel Hill, NC, as well as Bradford in Cary, NC. In                                                                          addition to being a registered professional engineer and licensed North Carolina real estate
                                                          broker, Jeff is a LEED AP and works closely with the residential team to implement and
                                                          improve luxury, sustainable features into the pipeline of projects. 


Rachel Garavito Young
Rachel is the Marketing Director for Loebsack & Brownlee and works in Greensboro, NC. She is a leader who brings innovation and creativity to the wide spectrum of marketing initiatives for the firm. Rachel has been involved with the multifamily industry since 2008. She volunteers for several NC Apartment Associations, is on the Board of Directors for the Triangle Apartment Association (TAA), and earned her Certified Apartment Supplier (CAS) designation while quarantining in 2020. Outside the office, she is probably scuba diving, complaining about her awful(ly) cute dogs, or spending time with her family. Creative storyteller. Revenue enabler. Professional meeting attendee. Road warrior.


Gordon Grubb
Gordon Grubb founded Grubb Ventures, LLC in 2002 as a real estate development and investment firm focused on the repositioning and infill redevelopment of residential, office, and industrial properties in the Research Triangle Park region of North Carolina. A proven leader in the field, he brings the company's theme of "rethink, rebuild, renew" to every development. Since founding Grubb Ventures, he has overseen the acquisition, redevelopment, or repositioning of over $500 million in projects.  The company has won numerous awards for its design and execution of developments and has often achieved record prices upon the sale of its properties. 


Kate Jarrell
After a ten-year career in fashion retail and merchandising, Kate Jarrell joined the multifamily industry in 2012. Holding several titles from property manager to director of marketing, Kate now oversees marketing efforts for the Real Estate Division of BGSF and supports all 52 markets in social media campaigns, paid marketing efforts, marketing training, client communication and internal employee engagement. Moving forward, Kate will continue to shape the multifamily industry as well as the marketing field at-large using her unique fusion of creativity and innovation. Kate is a NALP and CAM designate, an educator for the Greater Charlotte Apartment Association, a part-time blogger and full-time Instagrammer. 


Olivia Johnson
Olivia Johnson is the Director of Solutions Engineering at G5, a leader in marketing optimization for multifamily, self storage, and senior living. Olivia has worked in the technology industry for the past 8 years. At G5, she helps Real Estate Marketers and Executives understand how to pair the best technology with the most appropriate marketing strategy for their assets. She values creating a seamless user experience for your future renters to find you at the time that matters most.
Scott Lesnick
Scott Lesnick is a global keynote speaker, author and trainer. His two books- Kidjacked: A Father's Story and Lifejacked: Life Lessons on Leadership were recently published to critical acclaim. Scott recently received his CSP- Certified Speaking Professional designation of which there are less then 700 speakers world-wide! Scott speaks on excellence in leadership, successfully growing working place productivity, blending the 5 generations in the workplace and successfully navigating change.
Stephanie Loyd
Stephanie Loyd CAM, CAS, NAAEI Faculty is known as refreshing and insightful. She is the Association Executive for the Wilmington Apartment Association. She has been a leasing creative for over 13 years. Her proven on-site experience coupled with her corporate marketing and training success make Stephanie an ideal facilitator and training professional. She is an active participant in various local and state associations, with service on multiple committees. Stephanie completed the National Apartment Association's Facilitator Training and is a faculty member of the Education Institute. She is a NALP and CAM instructor, along with presenting at the AANC Education Conference, VAMA Education Conference, El Paso Education Conference, and Apartmentalize (NAA Education
                                                           Conference). She is a NAA Leadership Lyceum graduate and the inaugural recipient of the
                                                           NAA Rising Star Award. 


Chris Loebsack
Chris is a Partner in the law firm Caudle and Spears, P.A., and is also the founder and Managing Partner of the law firm Loebsack & Brownlee, PLLC.  Chris is a 1996 graduate of Duke University School of Law (J.D.) and a 1993 graduate of Clemson University (B.S.).  He has been a resident of Gastonia and Charlotte since graduating law school in 1996.  He has two sons, Joseph and Thomas. Chris' legal practice focuses primarily on representing national Multifamily & Single Family Operator property management firms, but he regularly handles construction law and commercial litigation matters, as well.  Also, Chris is a Certified Mediator who regularly mediates Business and Construction Litigation cases for other attorneys.


Jon Lowder
Jon Lowder is Executive Director of the Piedmont Triad Apartment Association, which represents companies that own/manage over 65,000 multi-family housing units in the Piedmont Triad region of North Carolina. He also represents the multifamily industry with the National Apartment Association, the Apartment Association of North Carolina and the Triad Real Estate and Business Industry Coalition (TREBIC). In 2018 he led the effort to establish the Winston-Salem/Forsyth County Quarterly Development Forum, a standing, collaborative working group that includes the real estate development community and all city/county staff involved with land development and whose mission it is to proactively address issues and challenges faced by developers. Jon is also member of the Affordable                                                              Housing Coalition in Winston-Salem and is currently serving as the chair of the Partners
                                                          Ending Homelessness board of directors in Guilford County.  Jon has also served on
                                                          Greensboro's Housing Our Community initiative's Housing Stock and Planning & Resources
                                                          working groups, and spent several years serving on the Lewisville, NC Planning Board.


Mindy McCorkle
Mindy McCorkle's career in restaurant management and multi-family operations has allowed her to rack up 30+ years of experience in management, sales, operations, and leadership. In 2013, she formed Enhancement Talent Development, LLC where she shares her gift of identifying and enhancing talent through workshops, seminars, keynote presentations, coaching, and consulting. As a consultant, she works side by side with sales and leasing teams, service providers, and management teams in a variety of industries. That allows her to gather great insight from numerous perspectives. Mindy is an author of inspirational works and personal growth books and refers to herself as a perpetual learner.
Andy Meador
Andy Meador is the Vice President and Director of Capital Projects with McDowell Properties, a real estate investment firm based in Plano, Texas. McDowell Properties is a leading multifamily operating company in the United States that acquires and repositions multifamily investments across the country. Andy started his multifamily career in the mid-80s as a groundskeeper and worked his way to numerous maintenance positions including Maintenance Director and Trainer. He has spent 32 years studying the habits of maintenance teams and knows the challenges they face every day. He is a faculty member of the National Apartment Association Education Institute (NAAEI); a Certified Pool Operator Instructor for the National Swimming Pool Foundation, a proctor for the CFC
                                                           certification exam, and instructs portions of the NAAEI CAPS and CAM designation
                                                           programs. He is a past president of the Triangle Apartment Association and currently
                                                           serves on the AANC Board of Directors.


Paul Meyer
Paul Meyer was named the sixth Executive Director of the North Carolina League of Municipalities in February of 2014.  Paul initially joined the League as the Chief Legislative Counsel in 2009, and also served as the Director of Governmental Affairs. Before joining the League, Paul was lobbyist and legal counsel for the NC Association of County Commissioners for more than ten years, where he was ranked number 25 on the list of most effective lobbyists in the state of North Carolina in 2008. In addition, Paul practiced family law early in his career. Paul also served county government as a member of the Wake County Planning Board.  And for many years, Paul has been a guest lecturer on local government law matters at Wake Forest University School of Law. Paul is a graduate of                                                                   Wake Forest University, earned his law degree from Campbell University, and has received
                                                           a certificate in non-profit management from Duke University.  


Chief Roegner
Chief Roegner is the Chief Deputy Fire Marshal for the Engineering Services Division of the Office of State Fire Marshal.  Since starting with OSFM, Chief Roegner has been a part of the Engineering Services Division of the Office of State Fire Marshal and active in the fire service for his entire career starting as a volunteer firefighter in 1987 at the age of 18.  Chief Roegner came to the Department of Insurance in 2002 as a Fire Protection Engineer reviewing North Carolina State owned facilities.  Chief Roegner became involved with the Building Code Council initially as a Fire Protection Engineering staff member in support of the council.  Chief Roegner's current role as the leader of the Engineering Services Division places him at the forefront of policy issues involving North Carolina Statutes and State                                                                    Building Codes.  Chief Roegner has extensive experience with statute and policy
                                                          making procedures since the development of the Pyrotechnic Licensing Law passed
                                                          following the devastating explosion on Ocracoke island in 2009.  


Marlene Sanford
Marlene Sanford, President, CEO and Chief Lobbyist for Triad Real Estate & Building Industry Coalition, provides public policy services and government relations for economic development, land development and investment real estate interests.
Valerie Sargent
Valerie M. Sargent is President of Yvette Poole & Associates. A skilled National Industry Speaker, Trainer, Consultant, Investor and EQ Executive Trainer/Coach, Valerie specializes in Leasing, Sales, Marketing, Customer Service, EQ and Leadership. Her Level 1&2 TalentSmart Emotional Intelligence (EQ) certification has her taking companies' teamwork and communication to inspiring new levels. After 30 years in the multifamily industry, this expert knows how to bring vitality to individuals and organizations! Find her at www.valeriemsargent.com and www.ypooleandassoc.com.




Russ Webb
A native of Atlanta (okay, technically Mableton, GA), Russ attended the University of Georgia & Georgia State University before embarking on a career in the hospitality business working for an international airline, a cruise line, a travel company and a convention center…not to mention a stint as a professional high diver! After 9 years in hospitality he made the switch to association management in 1998 and is currently serving as the Executive Director of the Bay Area Apartment Association covering the most beautiful part of Florida. Russ teaches classes about how to make your mobile device the most productive tool ever and loves blowing people away with fun tips/tricks and amazing apps. Russ also has a passion for customer service & social media, and showing companies
                                                           how to make the most of their online presence by embracing the opportunity to
                                                           interact with your customers and prospective customers in a fun way. Russ honestly
                                                           believes that every day is a GREAT day and his enthusiasm, optimism (and sarcasm)
                                                           will help you laugh and learn at the same time. 


Laura White
Laura, Director of Marketing at Grubb Properties since 2015, manages the marketing operations for the multifamily portfolio consisting of 20 established properties, 4 lease-up properties and six properties under construction or in development. Prior to joining Grubb Properties, Laura worked as Director of Marketing for a national property management company based in Charlotte, NC. And previously was the Publisher for the metro-Charlotte Apartment Finder. Laura is the recipient of the Greater Charlotte Apartment Association 2010 Lex Marsh Award and served on the Greater Charlotte Apartment Association Board of Directors. Prior to relocating to North Carolina, Laura worked as a Property Manager overseeing multiple lease-up communities in the South Florida market. Laura has a                                                                         passion for public art and has successfully worked with local Art Councils to have public
                                                           art sculptures commissioned for Link Apartments® West End, Greenville SC and
                                                           Link Apartments® 4th Street, Winston-Salem NC.


Melissa D. White
Melissa D. White, coined "The Activator" by clients and audiences, has an undeniable ability to activate a room and has an indelible way of tapping in to bring out the best part of YOU! She is a highly coveted National Speaker, Sales and Marketing Strategist, Radio Host and Social entrepreneur. As a National Speaker and Trainer, Melissa is a reputable thought leader in the areas of sales and marketing strategies, sales training, learning and development, leadership, and public speaking. She has worked with and been certified by the Dale Carnegie Leadership Institute and holds a bachelors and masters degree in Business Management among many leadership and marketing certifications. She has also published various articles on such topics in numerous trade publications and delivered
                                                          guest lectures at the University of Georgia, Georgia Piedmont College and Drexel University.


Todd Whitlow
Todd Whitlow is a partner with Brownlee Whitlow & Praet, PLLC, where he has been representing members of the multi-family industry for over a decade.  Todd sits on the National Apartment Association Lease Advisory Committee and Affordable Housing Committee, along with the Apartment Association of North Carolina Membership Committee. Todd is also a faculty member of the National Apartment Association Education Institute. Todd attended the University of North Carolina at Chapel Hill for his undergraduate studies before attending Campbell University for law school where he graduated with honors.  Todd focuses his practice on property and community management including all aspects of landlord representation from resolving resident
                                                           disputes, such as Fair Housing matters, to contract negotiations and drafting in both
                                                           North and South Carolina.   


Scott Wilkerson
Scott Wilkerson, Chief Investment Officer for Ginkgo Residential, leads all acquisition and investment activities, a significant owner, manager and renovator of apartment communities located in the southeast.  His experience in the multifamily industry spans more than 30 years, primarily with BNP Residential Properties, a successful publicly traded multifamily REIT, where he served in various officer-level positions, including Vice President of Administration and Finance and Vice President for Acquisitions and Development before becoming President, CEO and a Director.  While at BNP, he had primary responsibility for the acquisition, rehabilitation and repositioning of apartment properties throughout the Carolinas and Virginia.  From 1980 to 1986, Scott was with Arthur Andersen LLP, serving as
                                                           tax manager from 1985 to 1986 and representing real estate investors, developers
                                                         and management companies. He received a BS degree in accounting from the University of                                                            North Carolina.  Scott is licensed in North Carolina as a Certified Public Accountant and is
                                                          also a licensed real estate broker. He is a member of the National Apartment
                                                          Association Budget and Finance Committee and formerly chaired the group's Green
                                                          Housing Task Force.