GinkgoGreen Program Along with reducing our footprint, our green initiatives save our residents $$$!
GinkgoGreen Program Along with reducing our footprint, our green initiatives save our residents $300 - $500 annually in utility costs!
---
Our mission is to provide reasonably priced, high-quality housing that is energy efficient and environmentally sensitive. The GinkgoGreen Program was created to better educate our residents, investors, vendors, and associates on the various things Ginkgo does to take care of the environment.
Ginkgo Residential's Director of Property Management, Josie Nasife, gave us an inside look at the GinkgoGreen Program and all they are doing to help care for the environment.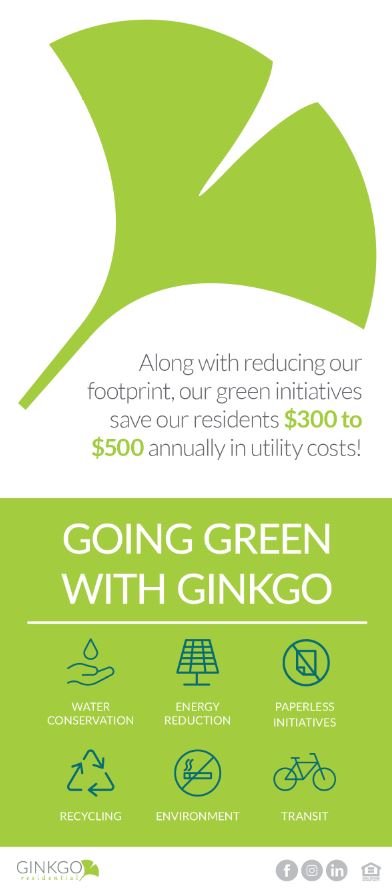 In 2017, Ginkgo installed the first solar panels in Charlotte which offset utility costs substantially for common areas and amenities. Additional solar panels are planned at several more communities this year. In addition to solar panels, Ginkgo contributes to energy reduction through:
Energy Star Appliance & HVAC Systems
Energy Star Windows
Use of low energy light bulbs (CFL or LED)
Air Sealing & Insulation projects to each unit to eliminate drafts & improve the
efficiency of HVAC systems
Digital thermostats
Motion Sensors in models & common areas
Ginkgo is also committed to caring for the environment through water conservation, environment & air quality, and recycling & waste reduction through the following:
Water Conservation
Low flow toilets and shower heads
Common area water meters & monitoring systems in place to quickly identify leaks
Water submetering and utility management
Reclaimed water irrigation
Eco-Scape Landscaping using hardscapes, perennials, and waterwise landscaping to reduce water usage and constant flower replacement
Environment and Air Quality
Smoke-Free communities and certified Smoke-Free through the Greater Charlotte Apartment Association
Low or No VOC Paint
Environmentally friendly pest control
Environmentally friendly cleaning products
Community gardens
Recycling & Waste Reduction Community recycling programs
Community conservation tips and tricks for residents
Trash compactors
Recycled office products/printing on recycled paper
Battery and cell phone disposal location at select properties
Recycled resources in building materials
In 2017, Ginkgo rolled out paperless initiatives to reduce the amount of paper used on properties.
All applicants complete applications online versus paper applications
All properties have implemented a 100% online payment campaign and will be fully paperless, in this respect, by April 1, 2018
Service requests are submitted through the online resident portal
Paper flyers have been eliminated and the majority of typical written communications are done through eblasts, email, texts, and social media
In 2018, we will be moving toward e-brochures and online flipbooks versus printed brochures
Additionally, we use electric golf carts, offer on-site bike rack stations, and are in close proximity to public transportation such as the light rail and bus stops. Learn more about the GinkgoGreen Program by visiting www.ginkgores.com
Ginkgo Associates share more on GinkgoGreen
"We believe that we play an important role in reducing our carbon footprint and strive to provide eco-friendly apartments and communities for our residents and associates. We work to reduce waste, energy usage and water consumption which not only creates a savings of $300-$500 annually for our residents, but a healthier place to call home."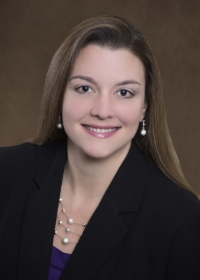 Josie Nasife, CAM, CAPS
Director of Property Management
Ginkgo Residential
"I am proud to be part of an organization that is forward thinking with our green initiatives. It shows that we truly care as a company to better the lives of our residents and the environment. I remember back when we established the smoke free living environment at one of my communities. This was amazing as it made absolute sense to reduce the negative health effects of second hand smoking.
In addition, this also reduced the dangers of accidential fires. 99% of my residents were extremely pleased with this initiative and provided great feedback; they also chose to continue living in a Ginkgo community for that very reason. Renters are now more conscientious of healthy living and going green. Fortunately, Ginkgo is making wonderful strides to reduce waste and pollution."
Julie Chu, CAM, CAPS
Regional Manager
Ginkgo Residential
"As a Ginkgo Associate, I am thrilled to be part of an organization that continues to make great strides implementing green and eco-friendly initiatives. Our goal remains to be
environmentally conscious, increase energy efficiency, and improve sustainability across our communities. I take pride working at Ginkgo & feel inspired by the value created towards offering our residents green apartment living."
Latoya Patterson, CAPS, CAM, HCCP
Regional Property Manager
Ginkgo Residential
As a Ginkgo Employee, I am excited to be a part of a team that is focused on the Green Initiatives within the workplace and our communities. Ginkgo has been placing a strong emphasis on the green initiative for several years and we have been encouraged to rethink ways we can improve our workplace and our communities so that our residents can enjoy a healthier, budget friendly living experience. I have to admit in some respect this was a difficult task for me at first because I am a paper person and it has forced me to rethink if I really need to print something. The concept of going green allows me to save money for my property and utilize the savings in other areas needed to overall improve my property. hen I purchase items for the office and property, I am more conscious of what I am purchasing and how it can better enhance the property and environment. We have really pushed our online application and payment processing and the process has been a much easier and smoother transition than I thought with the majority of our clients being very receptive to this; this has given time back to employees to better utilize their time doing other tasks that may not have been completed or put on the back burner. My goal is to make a conscious effort to rethink, reuse, and recycle in the workplace and help educate my employees and my residents to do the same!
Diana Leis
Property Manager
Central Pointe Apartments
Ginkgo Residential