AANC E-Notes: 2021 2nd Quarter Issue

IN THIS ISSUE:
---
A MESSAGE FROM THE AANC PRESIDENT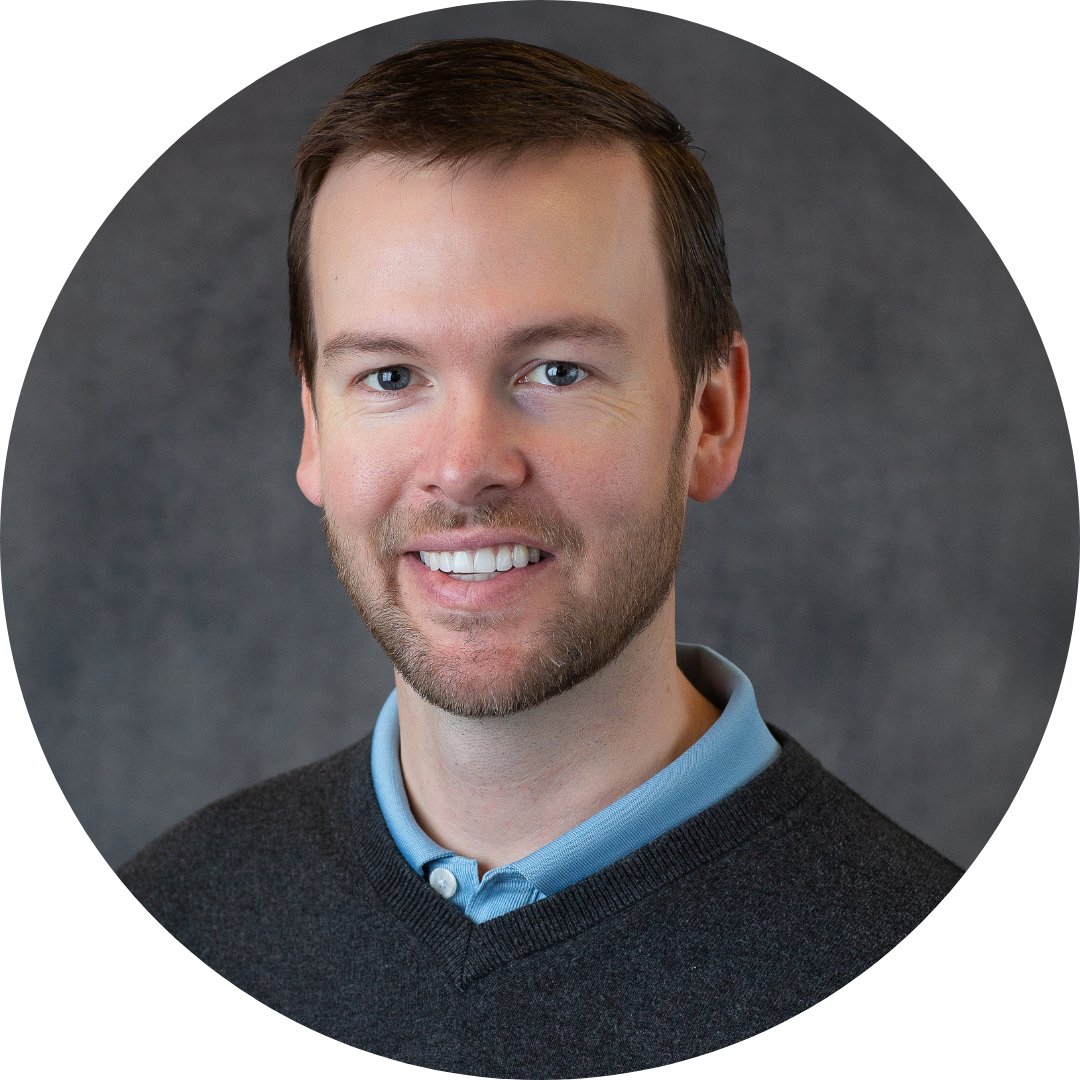 A big THANK YOU to the AANC staff, our local affiliate associations, and to all of our members who attended our Illuminate Your Monitor Series last week.  The event was a great success!  …and although we missed being able to come together in person this year in Raleigh, it was great getting to observe the same level of collaboration and idea-exchanging that our industry professionals are known for.

I'd also like to take this opportunity to congratulate our AANC 2021 Hall of Fame inductees (highlighted further down in the newsletter).  During their years in the business, these individuals have dedicated countless hours toward advocating for the needs of the multifamily industry.  On behalf of all of us, thank you for all you have done!

As we work our way into 2021, I'm hopeful that the positive economic trends that we've seen in recent months will continue.  There are still many challenges we face as a result of the pandemic and otherwise, but I believe the business innovations that we've been able to embrace will help us to better cope with those challenges in the future.  As always, the AANC will be here to help assist in any way we can!

Lastly, I'd like to remind you about our upcoming July AANC Educational Webinar: Evolutionary Leadership in Multifamily.  If you have not had an opportunity to sign up for this event, I would strongly encourage you to do so.

Thanks everyone!

Jennings

Jennings Snider l SYNCO Properties
AANC President
---
E-Notes June Premier Sponsor

BluSky is the leading expert in the industry when it comes to multi-housing restoration, renovation, roofing and environmental services.  We are the most innovative restoration company in the nation with our inside estimating team that ensures costs are competitive and consistent, our inside roofing division and our 360 partnership to ensure flawless communication process from start through completion. The faster a restoration company responds to your disaster, the sooner your people are safe and the better chance you have to prevent further property damage. Call our 24/7/365 emergency dispatch line at 800.266.5677. Or call Brenda Leidholdt, Business Development Manager direct at 910.824.5129 brenda.leidholdt@goblusky.com. We Fix Broken Buildings.
---
A MESSAGE FROM THE AANC EXECUTIVE DIRECTOR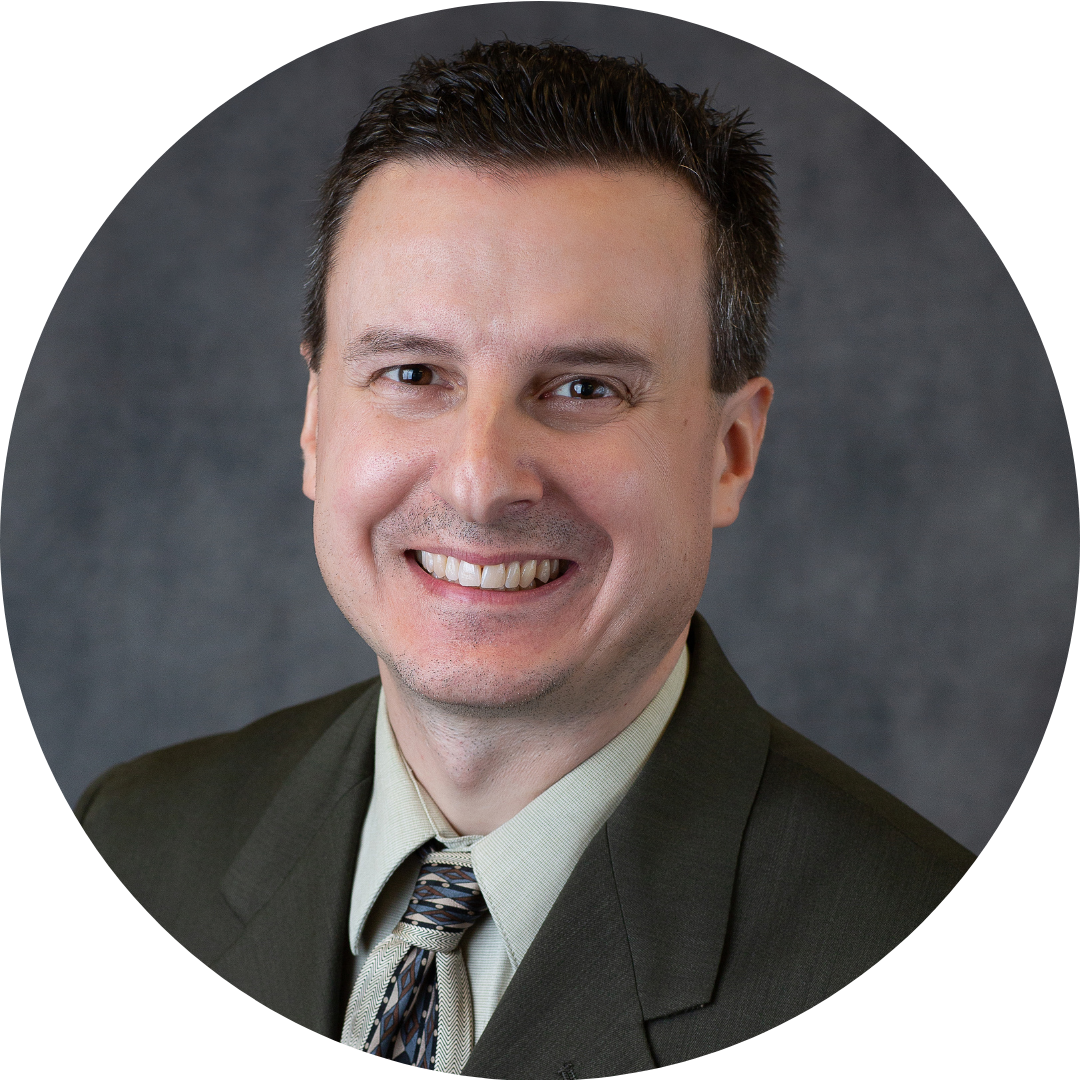 With the second quarter of the year coming to an end, I hope this finds you in great health, good spirits and rebounding from impacts of COVID. AANC has made adjustments and changes to its operations to plan effectively for the future. The association recently developed a new 2021-2023 Strategic Plan with 18 Key Objectives (both near term and medium to long term) aimed at increasing and expanding efforts in public relations, membership, government affairs and housing affordability, AANC's Political Action Committee (PAC), Education, Governance, Finance, NextGen and State Suppliers Council.

A new development was that AANC recently hired a Public Relations firm to help increase our visibility and streamline communication both with the public, our affiliates, and our affiliates' members, namely you.

AANC also revised its mission statement to read "AANC is dedicated to leading and supporting its member's ever-changing needs through regulatory and legislative advocacy, industry education and communication."

Thank you for your continued membership and helping us achieve the mission of AANC and implement its key strategic objectives!
  
Joshua 
 
Joshua Dick 
AANC Executive Director 
---
AANC ANNOUNCEMENTS
SAVE THE DATE!
AANC 2022 Education & Legislative Conference
May 16-18, 2022 | Raleigh Convention Center
Mark your calendars and plan now to join us for the 2022 AANC Education & Legislative Conference with a new standalone trade show weaved into the event. Registration will open January 2022 and sponsorship/exhibit opportunities will open November 2021. We can't wait to all be together again!!! #AANC2022SHIFT
In case you missed the theme reveal in the AANC Illuminate Your Monitor Series, view here.
-----------------------------------------------------------------------------------------------------------------------------------------------------------------------------------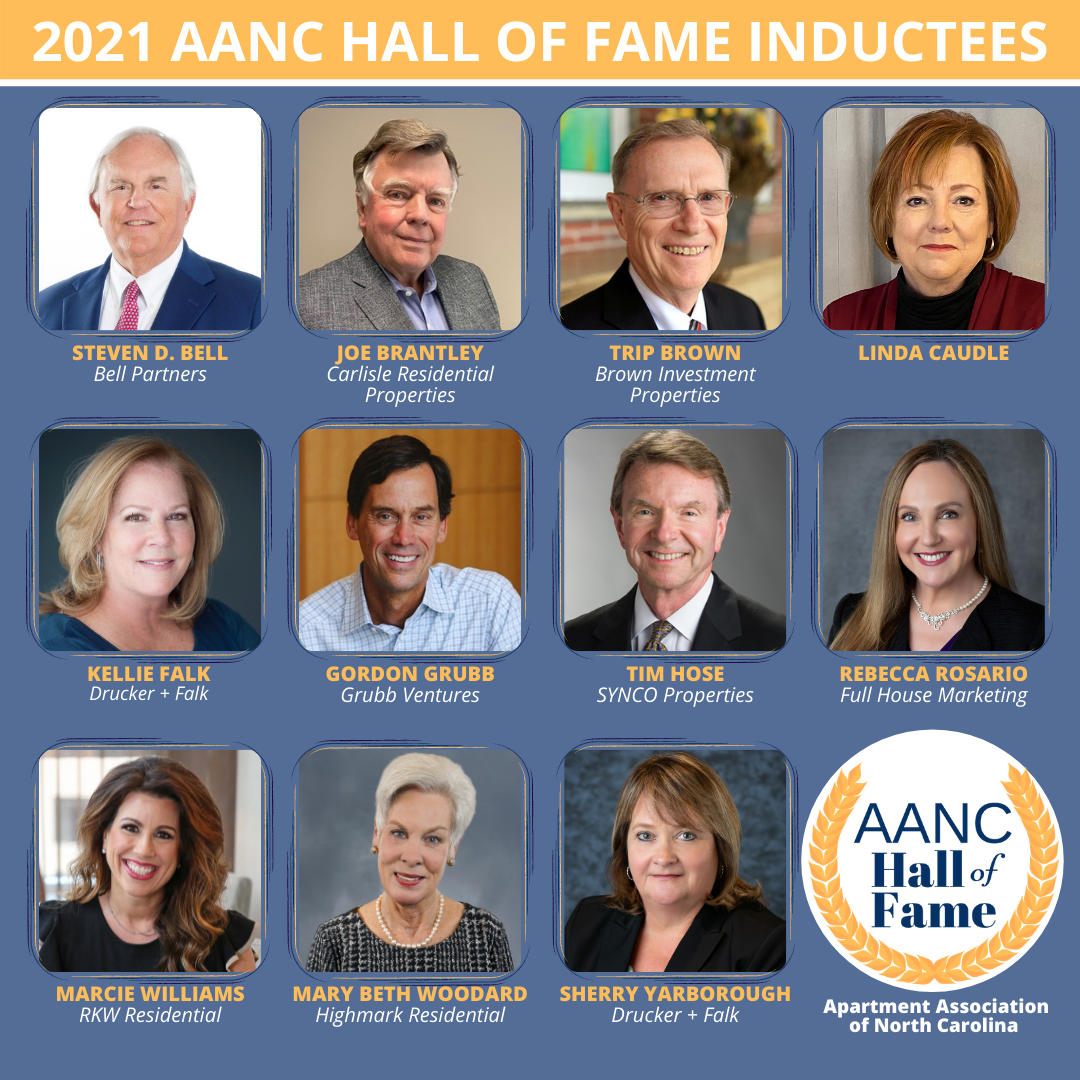 AANC HALL OF FAME l 2021 INDUCTEES
The AANC Hall of Fame recognizes individuals in NC for their significant contributions, accomplishments, and service to our industry. Congratulations to the following individuals!!!


AANC 2021 HALL OF FAME INDUCTEES
Steven D. Bell 
Joe Brantley 
Chester 'Trip' Brown Jr.
Linda Caudle
Kellie Falk
Gordon Grubb
Tim Hose
Rebecca Rosario
Marcie Williams
Mary Beth Woodard
Sherry Yarborough

----------------------------------------------------------------------------------------------------------------------------------------------------------------------------------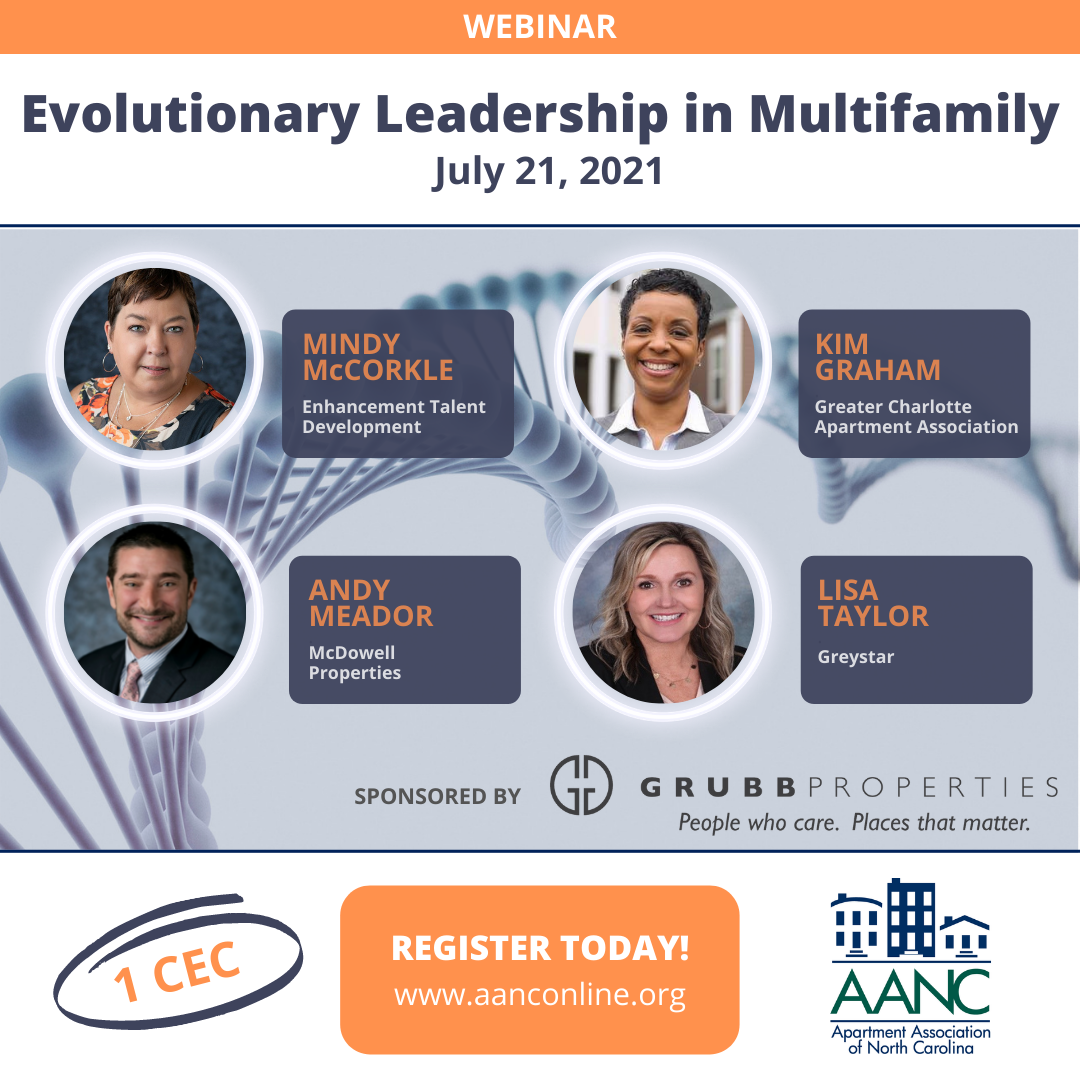 Evolutionary Leadership in Multifamily
July 21, 2021 l 10:00am1 CECSponsored by: Grubb PropertiesPractically everything in our industry has changed, including how we lead our teams. Join the AANC for an engaging panel session to learn how seasoned industry leaders are reimagining their leadership approach. Whether you lead a team of 2 or 200, you can't miss this forward-thinking panel session!

REGISTER


----------------------------------------------------------------------------------------------------------------------------------------------------------------------------------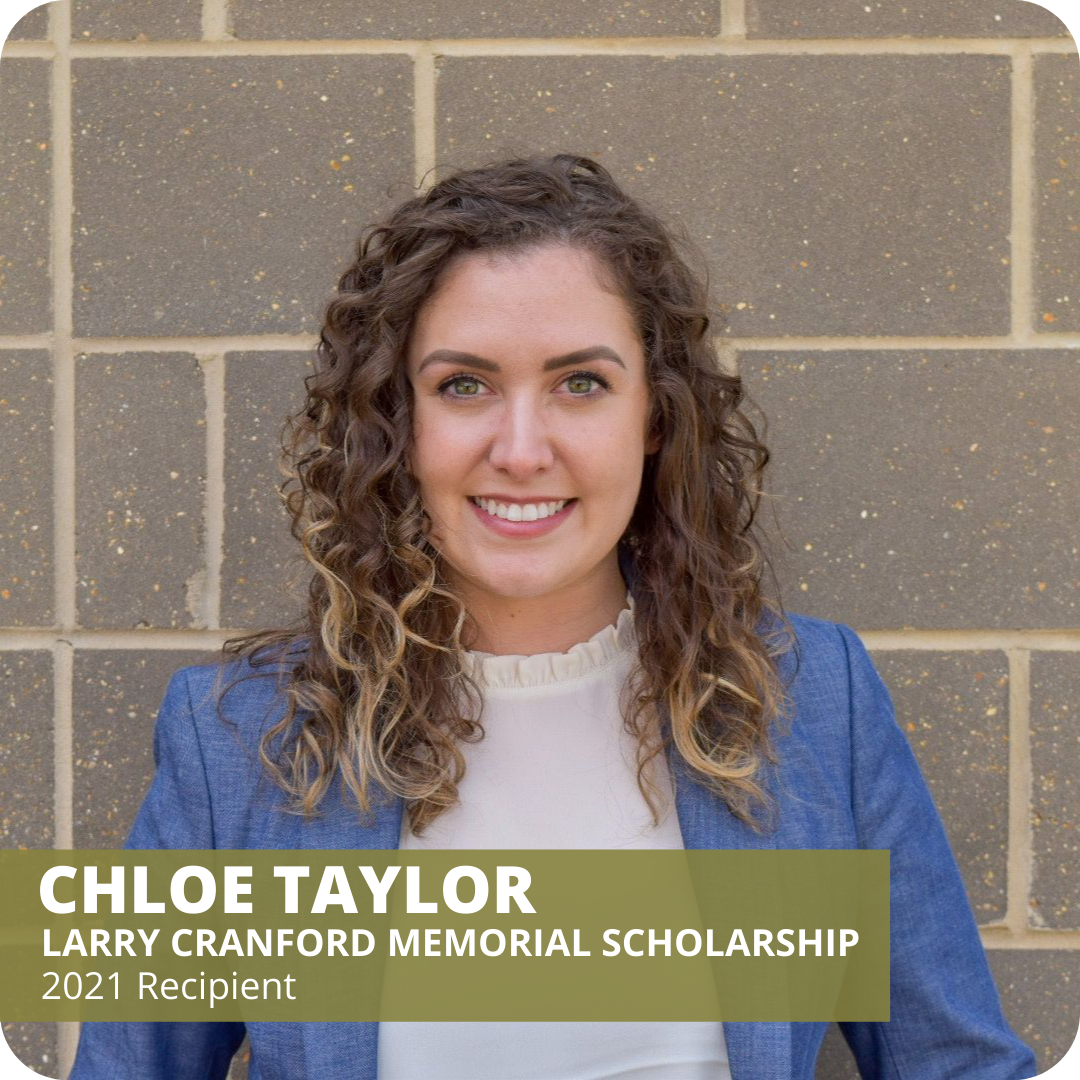 LARRY CRANFORD MEMORIAL SCHOLARSHIP: 2021 RECEPEINT

Congratulations Chloe Taylor, a Community Director at Presley Uptown; a property of RangeWater Real Estate in Charlotte, NC! This scholarship will give Chloe up to $1,000 toward earning her CAM designation. Also, a BIG thank you to the Wilmington Apartment Association Board for doing a wonderful and diligent job selecting this year's recipient. 
The mission of the scholarship is to foster the professional apartment industry education and career development potential of selected up-and-coming multifamily rental housing industry leaders in NC.
-----------------------------------------------------------------------------------------------------------------------------------------------------------------------------------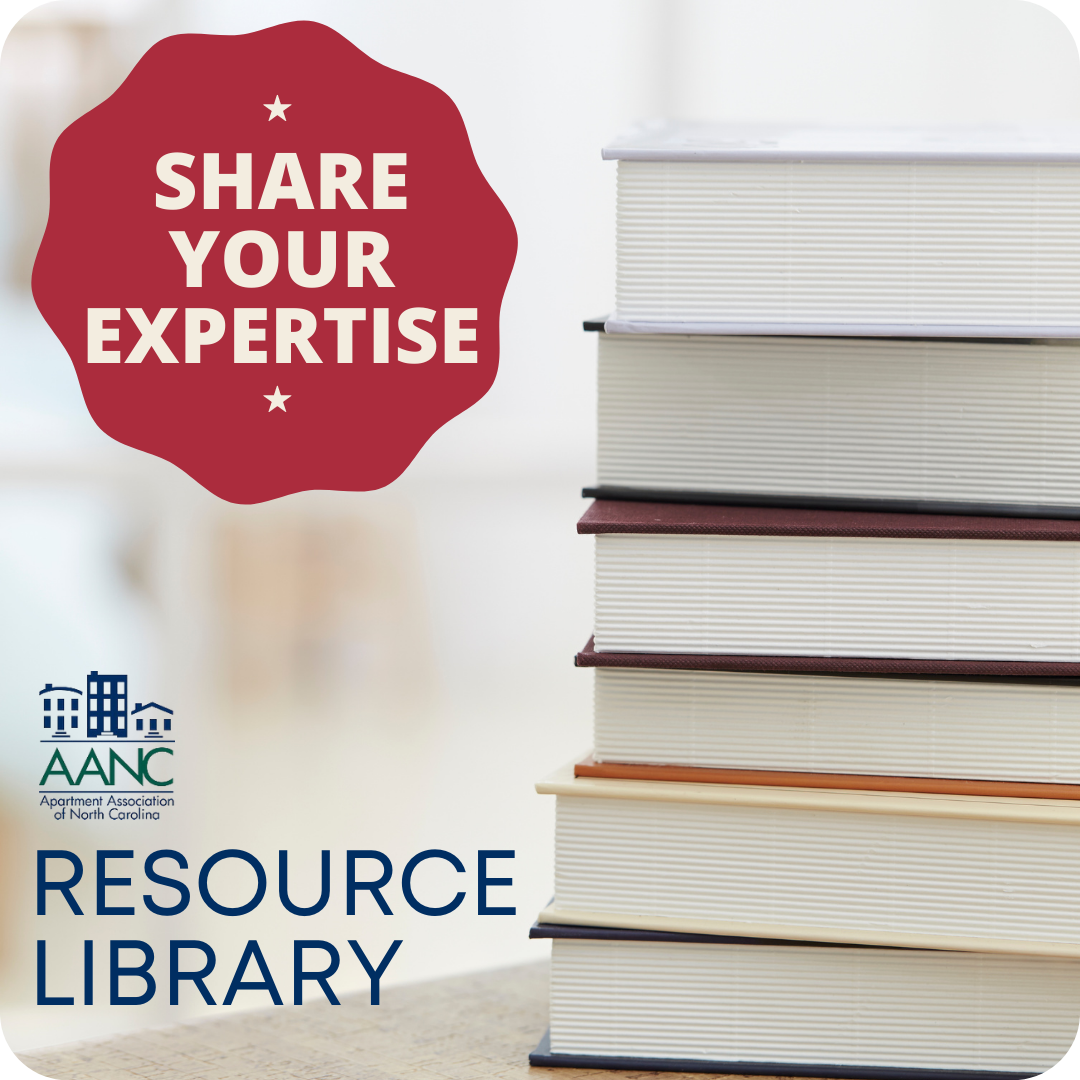 AANC RESOURCE LIBRARY: SHARE YOUR EXPERTISE!
Did you know that your Apartment Association of NC has been working to create a resource library that will include a collection of assets geared toward the professional development of regional managers, directors, and executive level members?  We are excited to inform you that we will be launching this subscription based platform soon – be on the lookout for more information!
Because you are our GREATEST RESOURCE, WE NEED YOUR HELP!  Do you have content that you would like to submit for consideration to the AANC Resource Library?  Or would you consider creating a resource to submit?  Click here to SHARE YOUR EXPERTISE.


-----------------------------------------------------------------------------------------------------------------------------------------------------------------------------------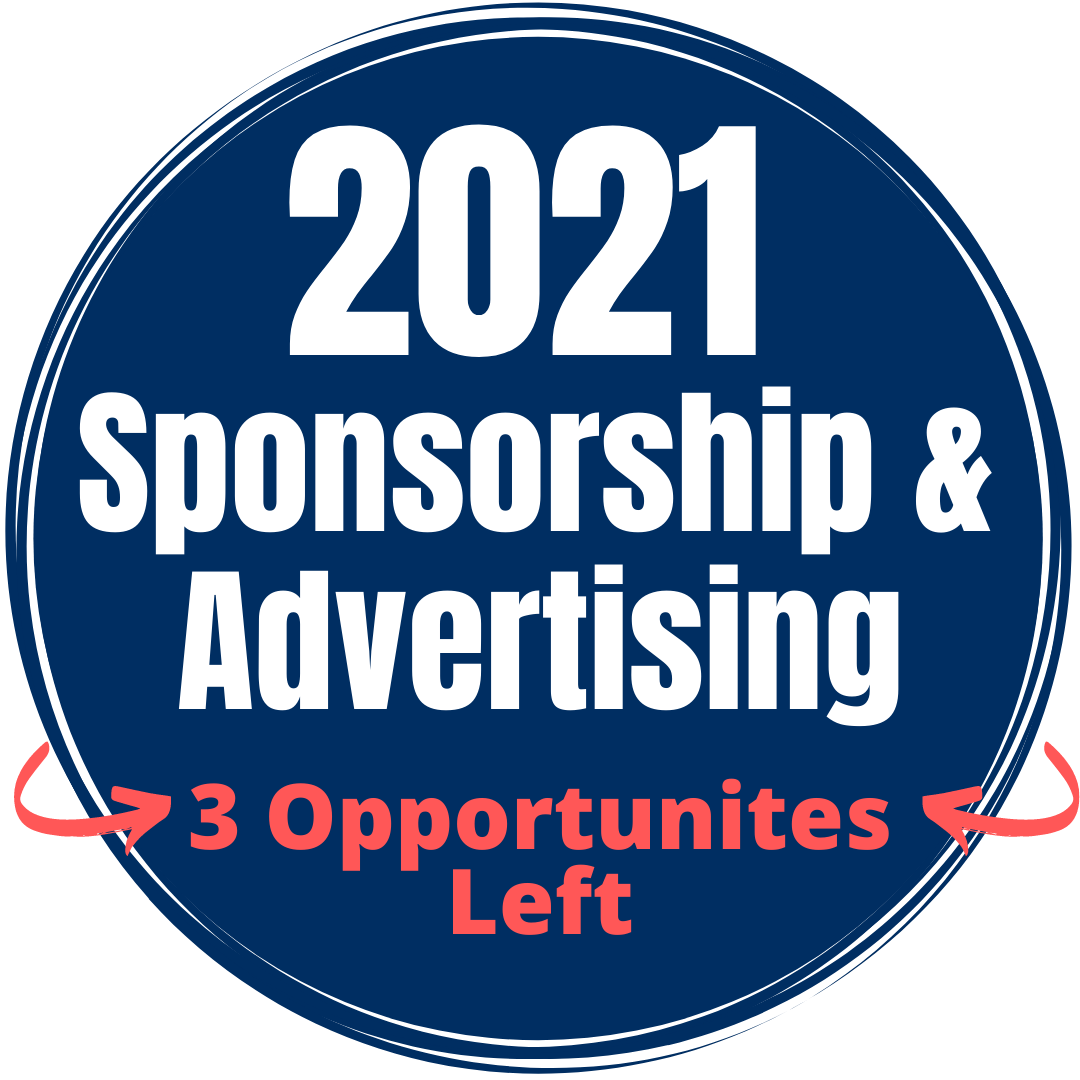 THREE 2021 SPONSORSHIP & ADVERTISING OPPORTUNITIES LEFT!
The AANC 2021 sponsorship and advertising opportunities are going fast. Gain great statewide exposure with multifamily housing industry professionals by reserving your preference(s) today. Availabity: December E-Notes Adveterising and Co-Sponsor the December Board Meeting. 


2021 SPONSORSHIP & ADVERTISING 
---
STATE SUPPLIERS: A Message from the SSC Chair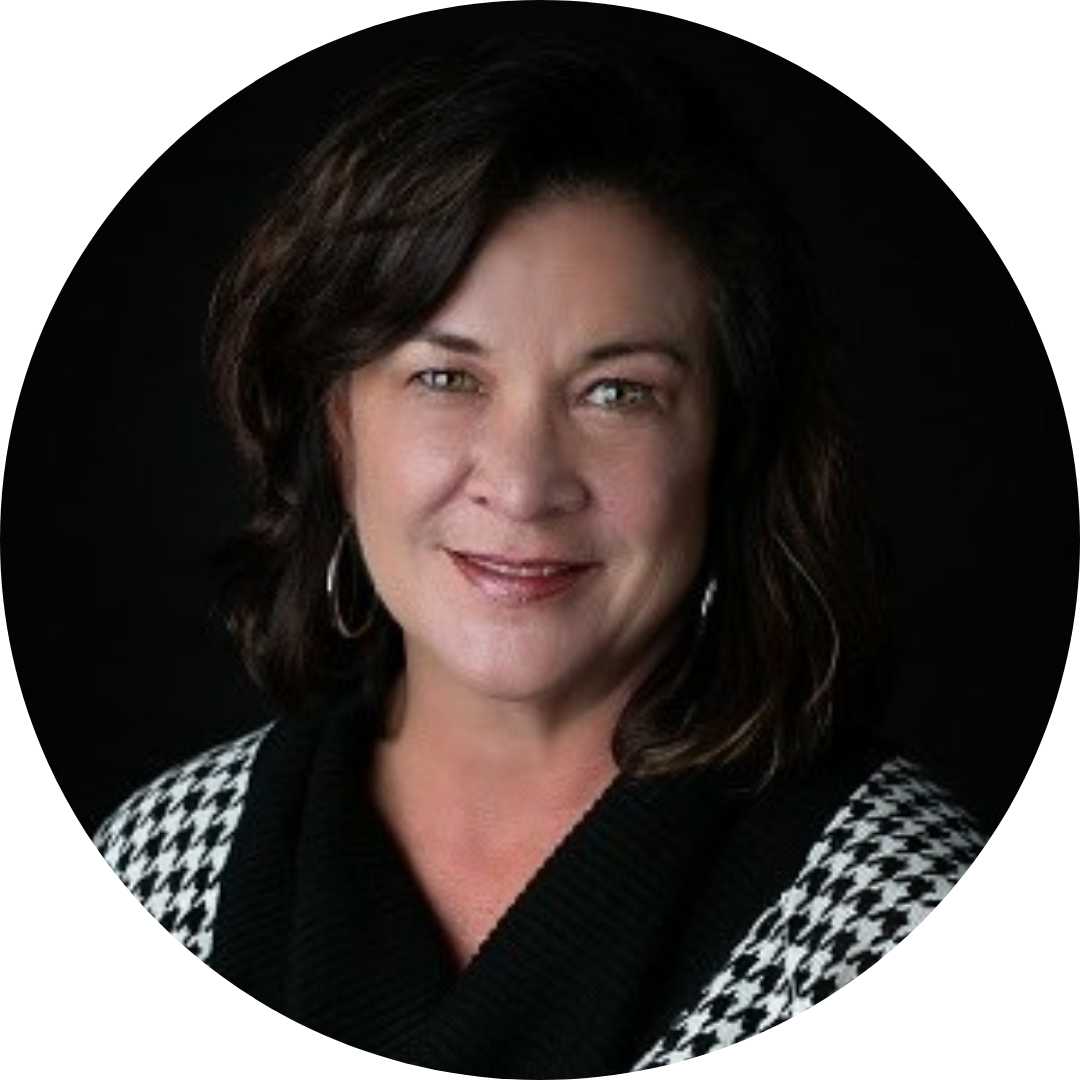 Suppliers Outlook Q2: It goes without saying that the last 15 months have been very trying as an industry, but especially as a supplier. Many events have been cancelled or pivoted to a virtual event, and in doing so, the level of sponsorships changed with it.
As the restrictions in North Carolina start to lift and everything getting as close to normal as we have been in a while, we hope that our ability to communicate, network and ultimately do business with our Owner/Operator members becomes easier to do.  I recently attended the GCAA golf tournament, and it felt more "normal" than anything I have participated in lately. Being outdoors and spaced apart as teams and sponsor holes tend to be, it was a very comfortable environment to be in and we had plenty of opportunity to network with our industry friends.
I have experienced a lot of careful thought and concern from our association and its affiliates to give the companies who stood by their association the best exposure they can. It was not easy for everyone to keep their sponsorship dollars invested, but those that did will not go unnoticed. 
When the Suppliers Council meets monthly, we discuss those opportunities and discuss how and if the affiliates are easing back to in person events. It is an opportunity to get firsthand knowledge on what is to come and where. We are also designing an event, albeit virtual, to get our names out there and share what products and services we have to offer our Owner/Operator members. We look for supplier leadership from all affiliates to join us in creating what WE think will drive interest and give us the platform to create an unbelievable event.
If you have not already made a guest appearance in the council, or even joined up with us, please consider it. This is our time to shine and bring back the visibility we all want.
As Chair of the council, please feel free to reach out to me directly with any questions. We could really use your creative minds and experience and leadership.
Looking forward to a great Q3!
Cindy
Cindy Nitschke
Chair, State Suppliers Council
cnitschke@bgmultifamily.com
919-815-6019
---
EMERGING LEADERS: A Message from the NextGen Committee
The NextGen "SHETSY" Show with Betsy Kirkpatrick and Shane Raby
Season 1, Episode 2   
Check out the video below!
---
Time Management Tips to Simplify Your Life!

---
LEGISLATIVE UPDATE
NC RENTAL ASSISTANCE
Here are the latest Rental Assistance Programs to launch in NC.

Union County Launches New Emergency Rental Assistance Program for its Residents!
Union County announced that it has launched its ERAP. The program will provide financial assistance with rent and utility payments to eligible residents who have been impacted by COVID-19 through its Emergency Rental Assistance Program.  The program is open to renters residing in Union County who have a household income 80% or less of area median income and have been financially impacted by COVID-19. In addition to rent, the program can provide assistance with utilities, including electricity, water/sewer, trash removal, natural gas, propane, fuel oil, and internet. To read all the details of the program, visit their webpage.  For those who have questions about the program or applying, please visit the webpage or call 980.246.8181 (Monday-Friday 8:00am–5:00pm).

NC Hope Program Relaunch
The second HOPE Program application period re-opened May 18, 2021, with assistance offered to very low-income renters in 88 North Carolina counties. Very low-income is defined as earning less than or equal to 50 percent of the area median income for the county where the renter lives. Twelve North Carolina counties received direct federal funding for rent and utility assistance programs, including Buncombe, Cabarrus, Cumberland, Durham, Forsyth, Gaston, Guilford, Johnston, Mecklenburg, New Hanover, Union and Wake. Renters who live in these 12 counties should apply to their local government emergency rent and utility assistance program instead of the HOPE Program. To learn more about HOPE's latest eligibility requirements click here.
Contact information for the local government and tribal programs is available on the HOPE Program Map.
________________________________________________________________________________________________________________________________
GOVERNOR COOPER LATEST PROPOSAL
Governor Cooper released his proposal for allocating the $5.7 billion in American Rescue Plan funds that includes $575 million in affordable housing funding. You can read more about the plan in detail here.

Some of the specific housing related provisions are listed below. The General Assembly will similarly draft an allocation plan that will be reviewed and voted upon during this session with other COVID-19 Provisions.
$460m for New Housing Development and Housing Rehabilitation;

Gap financing to produce new housing (rental and single-family), convert existing housing to affordable housing, and provide direct financial assistance to housing projects adversely impacted by increased construction costs;

Fund urgent repair and comprehensive rehab of vacant or substandard rental and owner-occupied housing; and

These funds would require a match (80/20 for Tier 1 and 2 counties and 60/40 for Tier 2 counties).

$40m for the Workforce Housing Loan Program; and

$75m for down payment assistance

$8,000 for eligible first-time homebuyers; and

$15,000 for eligible first-time homebuyers who are public school teachers.

________________________________________________________________________________________________________________________________

LOBBY DAY
On June 2nd AANC will be participating in an in-person Lobby Day. Virtual visits began May 24th and will continue through June 4th. Check out AANC's legislative materials to see what members will be advocating for. You will find a quick summary of AANC's priorities below. 

Note, if you are interested in participating in Lobby Day visits, please contact your local affiliate.

Landlord Tenant Provision
AANC's landlord tenant provision is a top priority for our association. Because of this, this language has been included in three separate bills to increase visibility and establish multiple opportunities to pass this session. At the moment, House members have seen this language twice (HB854/HB366) and voted favorably. Because SB644 & HB854 have passed their respective Chambers unanimously, members should thank legislators for their support and ask that they support the companion bill at the next opportunity.

Post Judgment Satisfaction
The association is supportive of post judgment satisfaction language. Currently, it is not included in either HB854 or SB644. The immediate stakeholders (NC Justice Center & NC Realtors) are currently working on this language and upon agreement. The association is prepared to PCS the approved language into HB854.

Current committees: HB854 – Senate Rules Committee l SB644 – House Rule Committee

HB854 Encompasses both Landlord/Tenant law changes and Support and Service Animals.
The ask: Advance NC Landlord/tenant laws and establish needed protections for support and
service animal accommodations by supporting HB854.

SB644: Contains a provision for Landlord/Tenant Law changes exclusively. This is a consensus bill, all stakeholders involved are either neutral or supportive of this legislation.
The ask: Advance NC Landlord/tenant laws by supporting SB664.

Safe Harbor Liabilities: This bill has not been filed, the association is working with bill sponsors and stakeholders to craft the appropriate language. The goal is to make legislators aware of the intent of this potential bill.
The Ask: Support efforts to alleviate harsh penalties for minor fair debt collection violations.

HB366: this bill is not an official AANC Bill it does however contain the landlord/tenant law provision.
The ask: Advance NC Landlord/tenant laws by supporting HB366.
AANC POLITICAL ACTION COMMITTEE


CONGRATULATIONS AANC!

This year AANC members contributed $26,245 to date, surpassing AANC's annual PAC goal of $25,000.00! Crushing our goal 6 months ahead of schedule, the AANC PAC Board would like to thank everyone who contributed thus far!

During AANC's Annual PAC Raffle 11 lucky members won awesome prizes. Look here to see if you recognize any of these winners!

See current AANC PAC supporters here.
---
NATIONAL APARTMENT ASSOCIATION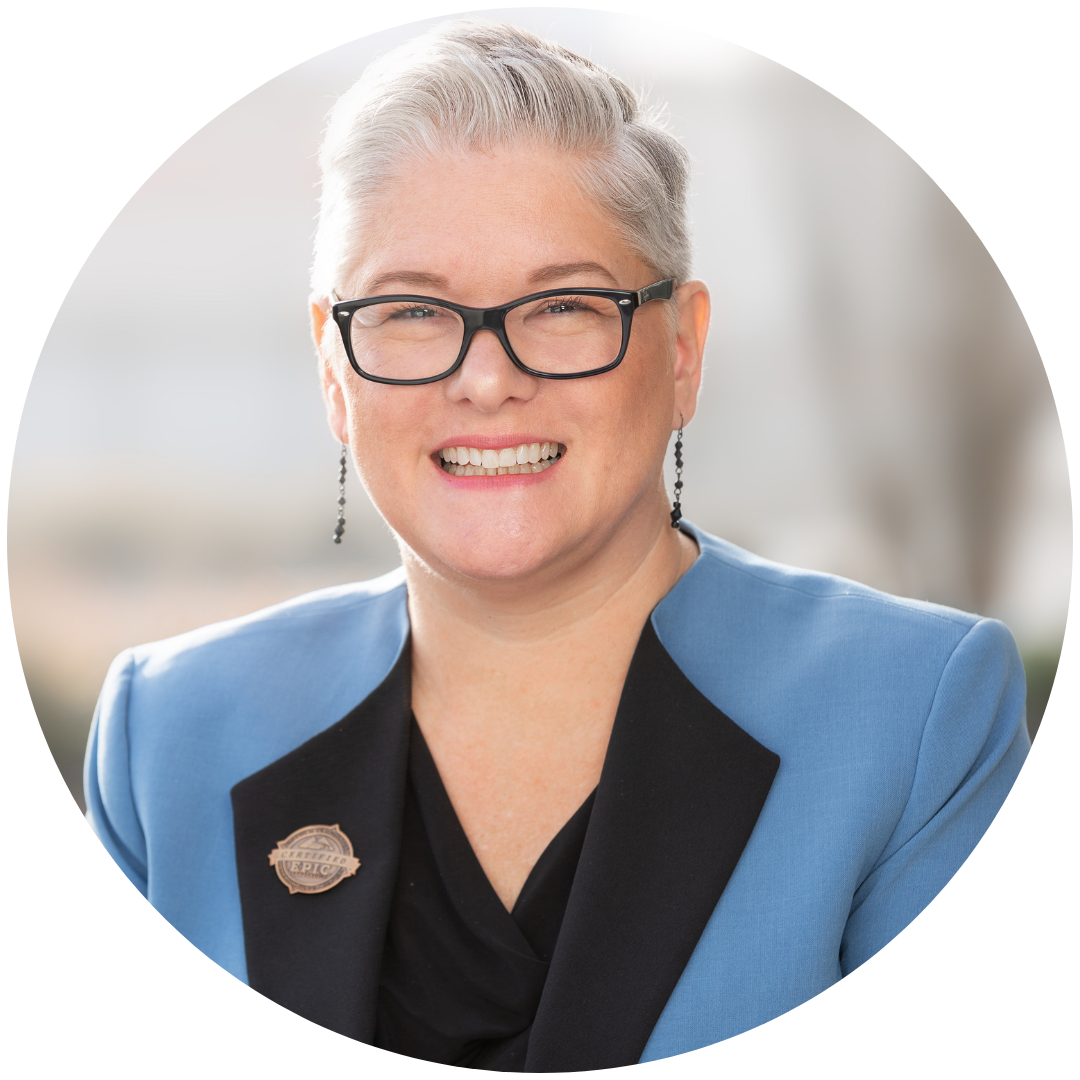 NAA Update from Susan Passmore,
NAA Region IV Vice President
The COVID-19 vaccine is now widely available and pandemic restrictions begin to be lifted, creating long awaited opportunities to reconnect with our industry friends. The summer of 2021 will certainly be a busy one as we continue using virtual interactions and we relaunch in-person events.

The NAA Board of Directors met in March in an open format to discuss strategy with regard to products and services, governance, regional representation, committee purpose, and diversity in volunteer leadership. The group's formal business included reviewing the 2020 audit report and hearing from various task forces. This includes the NAAEI Task Force which continues to explore the future of NAA's credentialing and professional development initiatives and workforce development efforts. NAA Advocate was also held on March 8th followed by a week of affiliate virtual meetings with their Congressional representatives.  Feedback has been provided from more than 130 legislative meetings.

Continuing to advocate during these unprecedented times, NAA maintains an informational page on the eviction moratorium's impact on our industry. Eviction moratoriums interrupt the revenue needed to pay employee salaries, mortgages, property taxes, maintenance, and utilities. NAA has made available 45 market-specific reports outlining the financial impacts of the eviction moratorium. Visit here.

Discover Gen Z renter geographical preferences, homeownership and renting sentiments and preferred apartment amenities from a just-released NAA/Satisfacts/ApartmentRatings survey, "The Complexities of the Digital Generation." Visit The Complexities of the Digital Generation: Insights From the NAA/SatisFacts/ApartmentRatings Survey on Gen Z | National Apartment Association (naahq.org) to view the summary.

On June 16, NAA is hosting an afternoon of celebration and inspiration with keynote speaker, Bill Rancic; performance by Second City; and NAA Excellence Awards Ceremony, recognizing the best and brightest in the rental housing industry. Registration to "Apartmentalize+" is free and is a precursor to the much anticipated return of in-person events; Apartmentalize from Aug. 31 – Sept. 2 in Chicago! I look forward to seeing you there!

If I can ever be of assistance to you or your association, feel free to reach out.

Susan

Susan Passmore l Blue Ridge Companies
NAA Region IV Vice President
336-889-1540
spassmore@blueridgecompanies.com
---
AFFILIATE SPOTLIGHT
Apartment Association of Western North Carolina (AAWNC)
Last month AAWNC hosted an in person Masks & Mimosa's Celebration to honor their 2020 AAWNC Platinum Awards Winners at The Venue in Asheville, NC.


______________________________________________________________________________________________________________________________________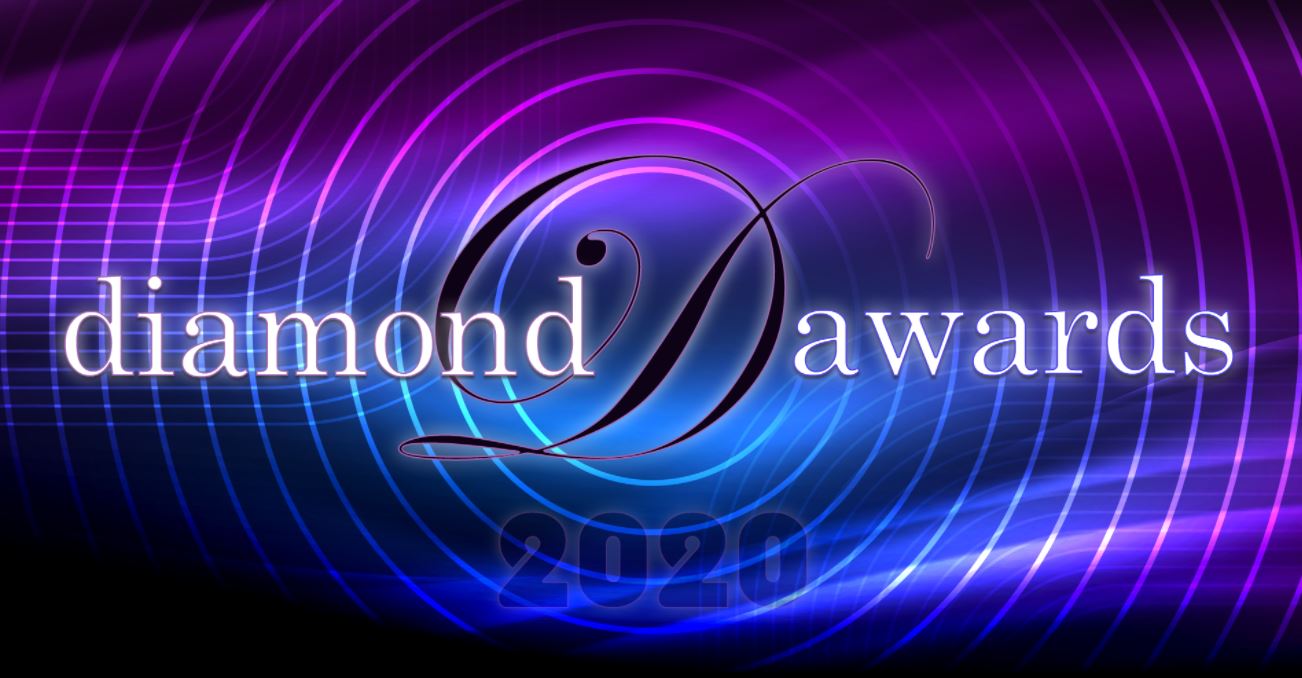 Piedmont Triad Apartment Association (PTAA)
The PTAA 2020 Diamond Awards were recently held virtually on April 22. It was quite a scramble, as we had just celebrated our 2019 Diamond Awards virtually seven months before, in September 2020. The program was simulcast over Zoom and Facebook Live. In addition, sponsors and award winners were able to come by the office by appointment to have their pictures taken and get their awards, swag bags, etc. You can view the video of the ceremony, as well as photo galleries of the nominees, sponsors, and winners here.

To date, the facebook video of the ceremony and the ensuing posts have reached more than 7000 viewers. By far the most popular part was the "Blooper Reel" that shows the behind-the-scenes fun our sponsors had recording their parts.
______________________________________________________________________________________________________________________________________

Triangle Apartment Association (TAA) 
When June comes to an end, we will have hosted the following virtually during the second quarter: our 2nd Regional Roundtable, 2 Maximize Your Membership seminars, Maintenance Roundtable, Tour of Cities, Durham Rental Assistance Town Hall and our 2nd Supplier Town Hall. We will have also hosted seven virtual education seminars (two Certified Pool/Spa Operator (CPO), Fair Housing – Keeping It Fair, Virtual Do's & Don'ts: 13 Mistakes We Make in Virtual Environments, Property Financials for Managers, Affordable Housing 101 and Legal Issues). The Certified Apartment Leasing Professional (CALP) program kicked off last quarter and wrapped up in May. And there was a slight change this quarter in that not everything was virtual. We were able to provide two in-person opportunities to our members, an educational seminar: CFC/CPA Certification & Teaching and an event: TAA's Night at the Movies, where we also collected food and hygiene products to help our neighbors in need.
 
In addition, our Diversity, Equity & Inclusion Task Force members were announced, and they began meeting regularly. Our eight committees have been busy behind the scenes while actively meeting monthly. And our Committee Co-Chairs and our TAA Ambassadors both hosted their first meetings of the year.
 
This quarter, we are kicking off our book drive to benefit the Book Harvest in Durham. Throughout the summer, we will be collecting new and gently used books for children ages 0 – 18 years.
 
On April 23, we hosted TAA's Night at the Movies. This in-person opportunity, that included social distancing guidelines, provided a fun evening for members and their friends/family. Those in attendance were able to enjoy the business partner previews, movie, food trucks, giveaways, snacks, prizes and networking. At the event, we collected over 500 pounds of food and hygiene products for the Food Bank of Central and Eastern North Carolina.

---
AANC AFFILIATES: What's Happening Around the State?
Visit your local Apartment Association website to see what education is being offered and to register for upcoming events.

GCAA | Greater Charlotte Apartment Association
GFAA | Greater Fayetteville Apartment Association
GAPMA | Greenville Area Property Managers Association
PTAA | Piedmont Triad Apartment Association
TAA | Triangle Apartment Association
AAWNC | Apartment Association of Western North Carolina
WAA | Wilmington Apartment Association 
THANK YOU TO OUR E-NOTES SPONSORS!