AANC E-Notes: 2019 4th Quarter Issue
Date posted
December 1, 2019

In This Issue:
National Apartment Association
---
AANC ANNOUNCEMENTS

LEADERSHIP LYCEUM: Congratulations to the 2020 Cohort!

Chris Fortune (Red Rhino Group)
Rachel Garavito Young (Loebsack & Brownlee, PLLC)
Stephanie Hovis (Greystar)
Betsy Kirkpatrick (BG Multifamily)
Jessica Kiser (Kensington Place Apartments)
Craig Nardi (Willow Creek Properties)
Cindy Nitschke (Response Team 1 – CRC)
Jennifer Pittman (A-Venture Management)
Jay Rawls (My Niche Apartments)
Christopher Smith (Greystar)
Leah Vinansky (CAMP Construction)
Stacey Wilfong (Signature Property Group)

The Leadership Lyceum program is a prestigious education series aimed at identifying, training, and empowering emerging leaders within AANC. The cohort will meet 3 times with a focus on varying aspects of Association Management + Leadership and Legislative Advocacy. They will also be recognized at the AANC 2020 Education & Legislative Conference and attend Lobby Day.

Thank you to the 7 AANC Affiliates, the State Supplier Council, the AANC President, and the NextGen Committee Leadership Lyceum Task Force for your time and effort to assemble the 2020 cohort!

SUPPLIERS: LEADERSHIP LYCEUM SPONSORSHIP'S AVAILABLE HERE

HALL OF FAME
It is almost time for the 2020 AANC Hall of Fame nominations from the affiliates! The form will be live on the ANCC website January 1 and nominations will be accepted 1/1/20 through 3/31/20. All 2020 Inductees will be announced during the 2020 AANC Education & Legislative Conference Recognition Lunch in May.


MEET AANC ENGAGEMENT MANAGER: Kristin Goins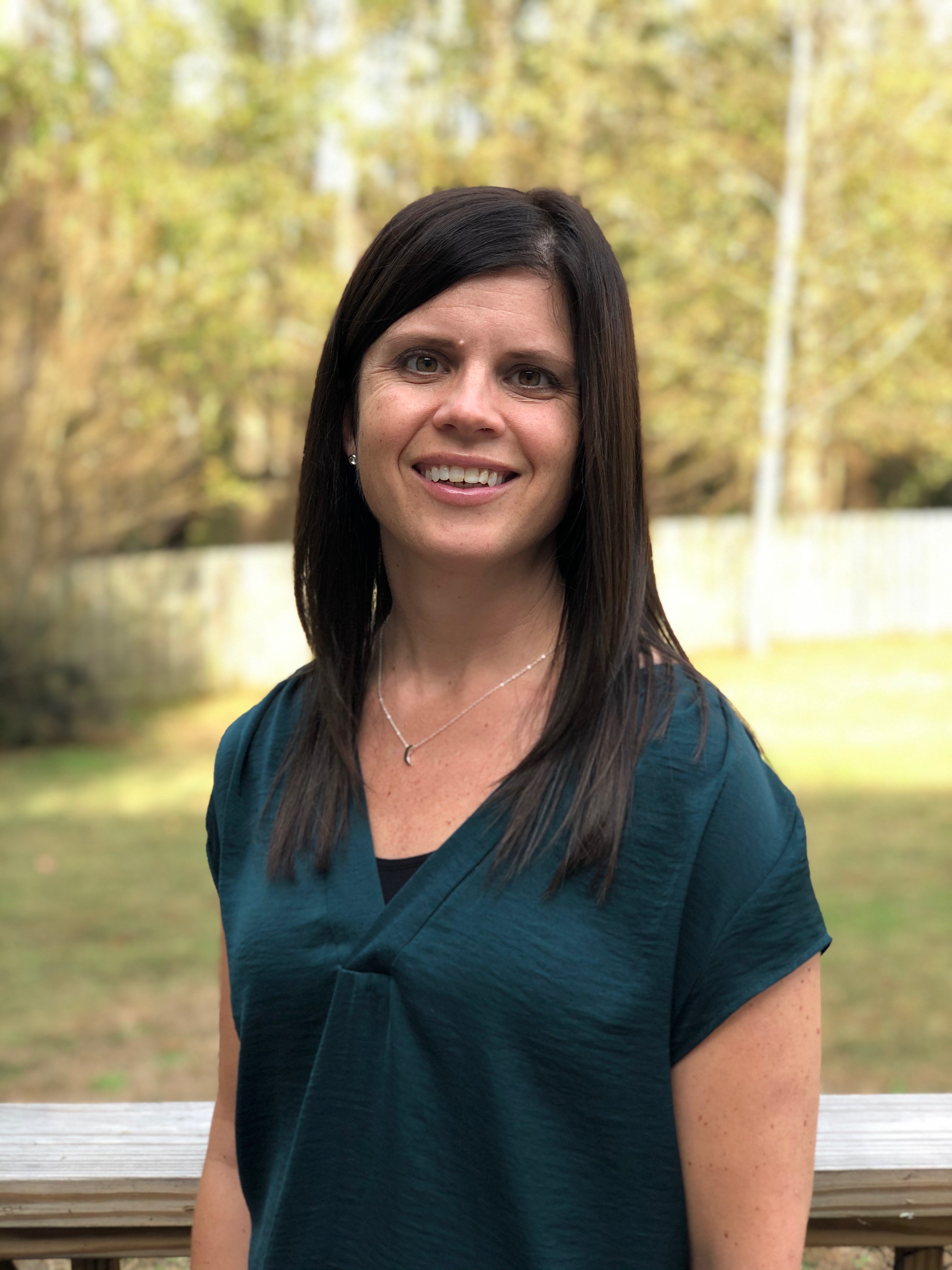 AANC is excited to welcome Kristin Goins as Engagement Manager. Kristin Goins has worked in the association space since 2006. Most recently she worked for the North Carolina Nurses Association as the Manager of Member Services for the past 11 and a half years. Originally from Michigan, she moved to NC in 2008. She resides in the Raleigh area with her husband and 2 children. She holds a bachelor's degree in Corporate Communications/Public Relations from the University of Michigan-Dearborn. You can contact Kristin at kristin@aanconline.org or 919-589-7988. She is excited to get started and get to know AANC's membership!
---
AANC EDUCATION & LEGISLATIVE CONFERENCE
SAVE THE DATE! AANC 2020 Education & Legislative Conference
May 18 - 20, 2020 | Raleigh Convention Center
#AANC2020Vision
Mark your calendars and plan now to join us for the 2020 AANC Education & Legislative Conference.

Registration will open JANUARY 2020.

The 2019 AANC Conference had record attendance - you don't want to miss this event!

SPONSORSHIP OPPORTUNITIES AVAILABLE NOW
---
NATIONAL APARTMENT ASSOCIATION
NAA Assembly of Delagate: Recap
From Susan Passmore, Blue Ridge Companies
NAA Region IV Vice President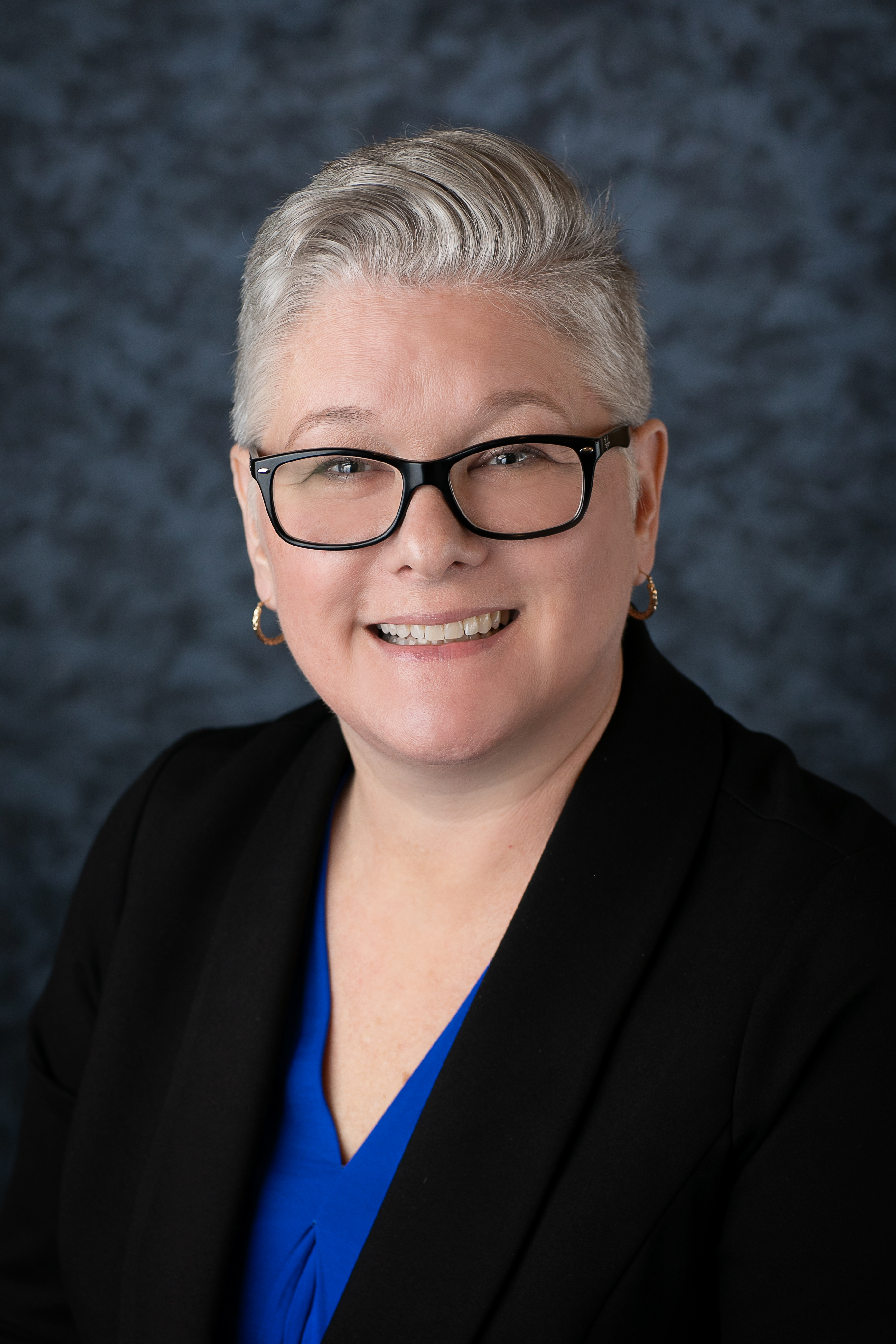 The National Apartment Association's annual Assembly of Delegates (AOD) meeting was held in beautiful Greenville, South Carolina, November 7th and 8th. In addition to the regular governance and committee meetings, the association approved its 2020 operating budget as well as new Affiliate Performance Standards. In April 2018, the Stakeholders Experience Task Force was instituted to evaluate and strategize on how best to provide quality and consistent member experiences throughout the federation. Their work culminated in the presentation and approval of these multi-tiered standards. NAA has a plethora of resources in place to help affiliates meet the benchmarks. If you have any questions about the process please don't hesitate to reach out to myself or Joshua Dick.

During AOD, members demonstrated their gratitude to outgoing Chair, Mike Clow, and installed their 2020 Officers. Our region's very own Mike Holmes was installed as 2020 NAA Chairman of the Board. Mike is President of Easlan Management Company, is a Greenville native, and a graduate of Furman University. Mike has served on and chaired multiple NAA committees and served nine years as an RVP for our region. We look forward to an amazing year under Mike's leadership and we appreciate his contributions to our industry and our region.

The following Region IV rock stars graduated from the NAA Leadership Lyceum program at AOD; Tammy Yeargan with Fogelman Properties, Joye Davis with the Upper State Apartment Association, Catina Rhinehart with Morganton Development, Jason Stoughton with BG Multifamily, Chris Moreno with Luxer One, Christie Eash with AMLI, and Gina Carter with Blue Ridge Companies. Congratulations to this engaged group of professionals!

This fall, your Region IV Vice Presidents also meet several times telephonically to make recommendations and appointments for our regional seats on 2020 NAA Committees. We had over seventy volunteers and nearly as many slots to fill. We believe we were able to get a large majority on at least one committee of their choice. We appreciate your willingness to serve on the working groups at NAA. Region IV's leadership and impact are noticeable.

Don't forget to register for NAA's annual advocacy conference, Advocate, in Washington, D.C., in March of 2020. Registration is also open for the June education conference. Apartmentalize, the ultimate gathering of rental housing professionals, will be in Boston June 17th through the 19th. Hotel rooms are going fast, so make your reservations today!

If I can ever be of assistance to you or your association, feel free to contact me at spassmore@blueridgecompanies.com.

Congratulations to the 2019 NAA Membership Growth Challenge Winners in NC!

Largest percentage of unit growth – all affiliates
2nd place: Greenville Area Property Managers Association
Largest net growth of supplier members – all affiliates
2nd place: Wilmington Apartment Association
Largest percentage of supplier member growth – all affiliates
2nd place: Wilmington Apartment Association
---
2020 APARTMENTALIZE!
Registration is now open for the 2020 NAA APARTMENTALIZE being held June 17-19 in Boston, MA.

Learn more here
---
AFFILIATE SPOTLIGHT
---
Triangle Apartment Association (TAA)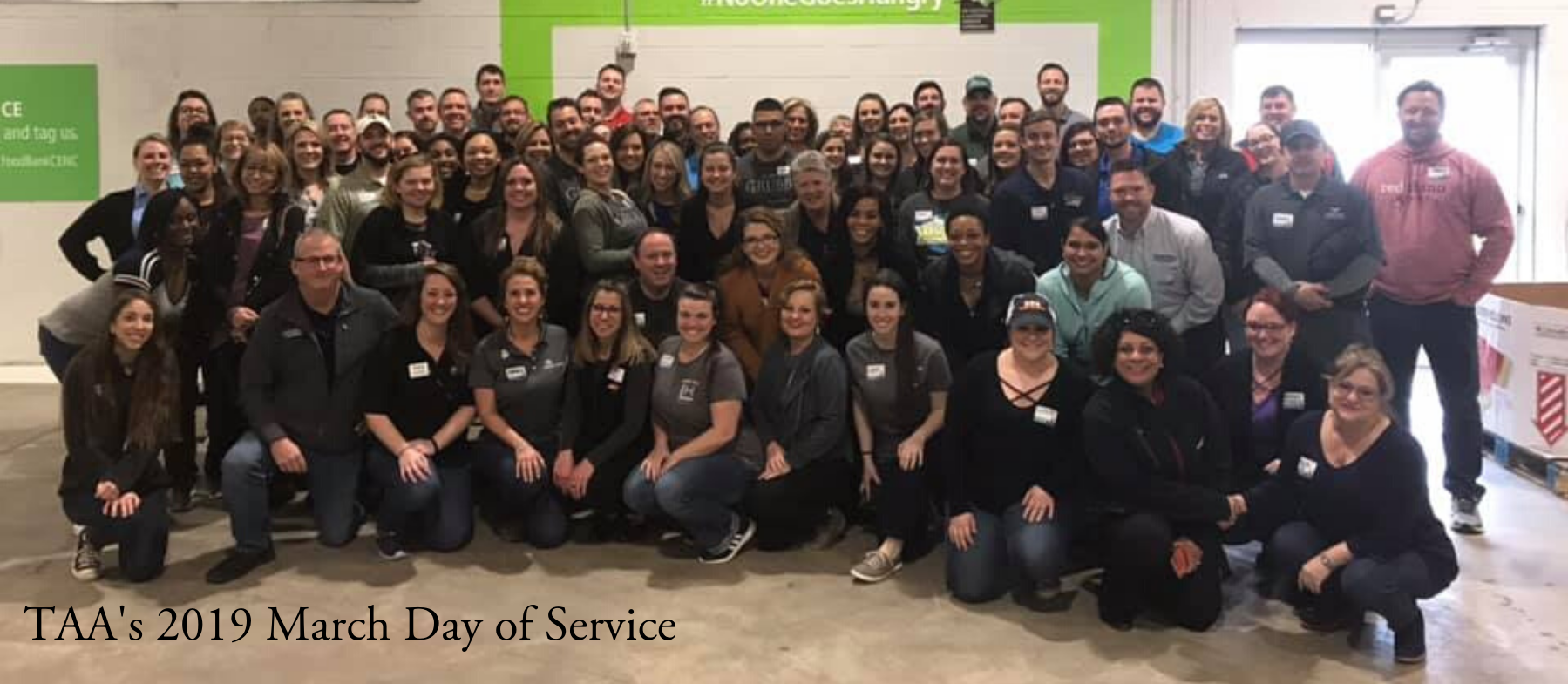 2019 marks the Triangle Apartment Association's 35th Anniversary! This year they hosted a number of events including their Annual Membership Dinner Meeting, Trade Show, & Golf Tournament, a Spring Carnival, their 35th Anniversary Celebration, two Days of Service, four Tour of Cities, and two After Work Networking events. In addition to these events and committee meetings, the TAA hosted 43 different education opportunities including NAAEI Credential Programs (CAPS, CAM, CAS, NALP, CAMT), full-day and half-day seminars, and lunch & learns! The TAA-PAC is closing out the most successful year of fundraising in its history. This year TAA-PAC raised $23,988, and the PAC Board of Trustees also partnered with NAA to raise an additional $6,115 for NAA-PAC. The unprecedented fundraising allowed TAA to endorse 19 candidates across Cary, Durham, Morrisville, and Raleigh with 79% of our endorsed candidates winning their races. In October, TAA began working with NAAEI to pilot its "Grads of Life" maintenance apprenticeship initiative. The goal is to develop new sources of entry-level maintenance professionals to address the hiring needs of our members at their residential properties. The initial group of 20 individuals are projected to be ready for hire by Q2 of 2020!
---
Greater Charlotte Apartment Association (GCAA)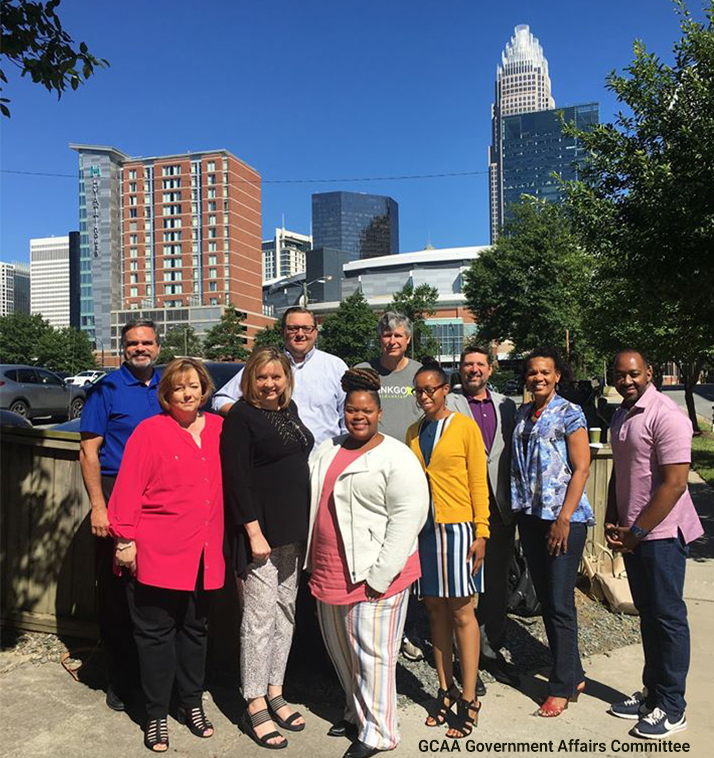 2019 was full of new and, in some cases, unexpected issues that challenged the committee to really step up and lead. We relaunched our Housing Affordability Sub-committee, zeroing in on such task as finding new housing support for the community, increasing our members'understanding of housing affordability challenges and identifying potential solutions to housing availability barriers. The committee held two information sessions early in the year on the 2019 Mecklenburg County Property tax Revaluation to help members understand how rates and fees would be assessed and to learn the appeals process. We were also active in our local elections. These efforts included a successful voter registration blitz in August as well as our Candidate Mingle event in October. Members also participated in Legislative Lobby days at the state and national level as well as advocacy for change that included writ processing/servicing and emotional support animal clarifications. Committee members provided guidance on Charlotte's Proposed Minimum Housing Standards amendments ensuring that the new owners as were clear, concise, measurable and fair. The Committee continues to work on two issues - the proposed statewide changes to Valet trash collection and assisting with the rehousing of displaced low-income renters. Apartment communities like Lake Arbor in Charlotte, have provided the committee, and the GCAA at large, and opportunity to demonstrate our strength. We felt it was our duty to show that the housing conditions at Lake Auburn where are the exception, in our industry, and not the rule while there is still much to be desired here and many members continue to be engaged in working to rehouse displaced residents. And finally, we launched our new Super PAC, the Rental Housing Alliance.
---
LEGISLATIVE UPDATES
The Apartment Association's lobbying team has remained actively engaged in the General Assembly as the session waned on. The General Assembly has adjourned for the year and will briefly reconvene in January to address any further pressing business, as well as potentially override some of Governors Cooper's vetoed bills this session.

New Congressional maps have been redrawn, after a three-Judge panel in state court unanimously ruled the previous maps were unconstitutional. The new maps give Democrats a good chance to pick up two more Congressional seats in 2020. Republicans currently hold 10 out of the 13 state Congressional seats. As reconfigured, Democrats would be in a favorable position to win seats currently held by Republican Representatives George Holding and Mark Walker to make the split 8-5. Despite the potential advantage some Democrats argue that gerrymandering is still evident and benefit Republicans in the newly drawn maps. Democrats could contest the new maps, however, the deadline to file for Congressional races is December 2nd.

In the previous E-Notes the legislative bills being monitored by the association were summarized. Among those legislative bills was senate bill 553. Below you will find the latest update on the Regulatory Reform bill which included provisions for valet trash.


Valet Trash
At the recommendation of Senator Wells and Governor Copper, the Association met with the necessary stakeholders (BCC Chairman, NC Chief Deputy Fire Marshal, Associates from the Department of Insurance, and representatives from various valet trash companies) to discuss the future of valet trash in the state of North Carolina. It was determined that valet trash companies will have to provide notification of operation, to either the Department of Insurance or local Fire Marshals. The execution of this compromise will be discussed at the Building Code Council meeting which will be held December 10th 2019 where the proposal to include provisions for valet trash requirements to the 2018 NC Fire Code will be voted on.

The DOI will consult with their legal team to determine if they have the authority to mandate the notification rule at the state level. If that happens the proposal for the hearing will remain the same and is expected to pass. If DOI attorneys determine they do not have the authority to mandate notifications, the proposal will need to be amended to include the notification language.

Currently, Chief Deputy Roegner has instructed local Fire Marshals to "allow the process to play out" and withhold enforcement and fines until this issue is resolved through the end of the year. He has assured the Association that he would continue to withhold enforcement if resolution process carries on into the new year. This is significant because it will allow valet trash companies to continue business as usual. The BCC Chairman, Chief Deputy and Senator were all committed to seeing this resolution come to fruition. An update will be provided following the BCC meeting.

Please feel free to email Janae Moore at janae@aanconline.org if you have any questions.
Stay Informed - Join The Monthly Legislative Update Call
AANC's Government Affairs Committee hosts a monthly Legislative Update call open to all members.
First Monday of Every Month | 10:00 AM
Call-In Number: 267-930-4000
Participant Code: 651-992-161
The goal of this monthly call is to hear a legislative update from around the state. You will hear what is happening at the state level as well as local updates.
Questions?
Contact Janae Moore at janae@aanconline.org
---
AANC POLITICAL ACTION COMMITTEE
What a Year for the AANC PAC!

The AANC PAC needs you to help shape the government in North Carolina. By taking a proactive role and contributing to the AANC PAC, we can help protect our interests as multifamily professionals.

A huge thank you to everyone who has contributed to AANC PAC. We are getting closer to our goal, having raised more than $15,000 already in 2019!
See Current AANC PAC Supporters
Donate to AANC PAC
---
STAY INFORMED!
AANC - 2020 Lease Pricing Information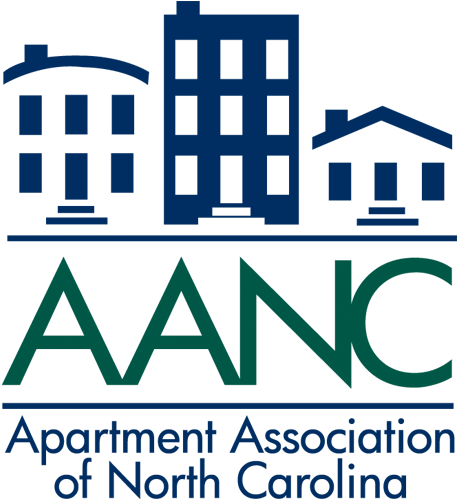 While working on your budget, please include the following new pricing regarding the AANC Lease on Blue Moon in your 2020 budgets.
Annual License Fee: $350
Per Unit Fee: $2.87
These changes were voted and approved on during the AANC Board of Directors August 14, 2019 meeting in response to pricing changes with Blue Moon.
At this time the AANC Legal Handbook is available in electronic format through your Blue Moon account for those using the AANC Lease. We are looking at the best way to make this available for all members and will provide additional information when available.

52 Weeks | 52 Communities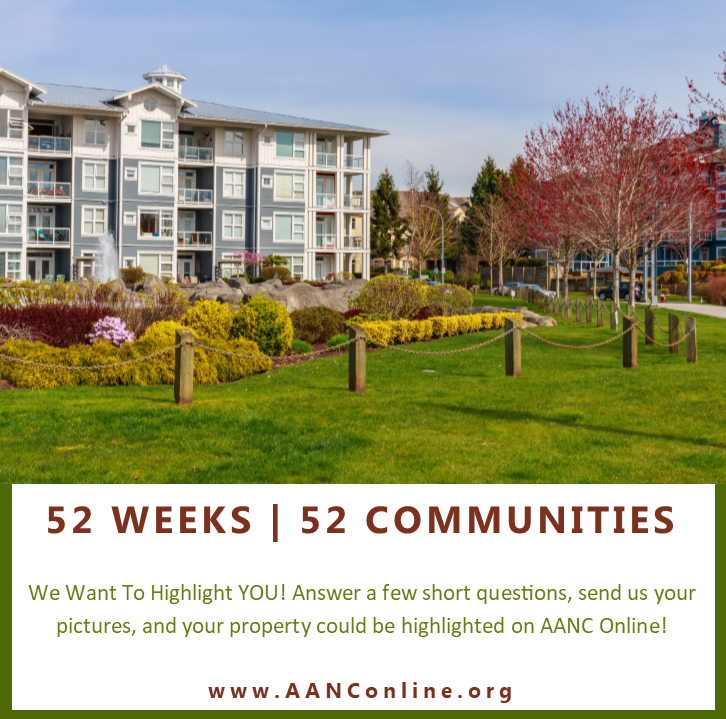 Get social with AANC in 2020! We want to highlight Your community! Tell us what sets you apart and makes you stand out! Your Location? Your Team? Your Marketing? Your Residents? Your Community Involvement? Answer a few short questions, include some pictures, and you may be highlighted on AANC Online!

SUBMISSION FORM
Read more at AANC Online and see some of the communities that have been highlighted!

52 Weeks | 52 Careers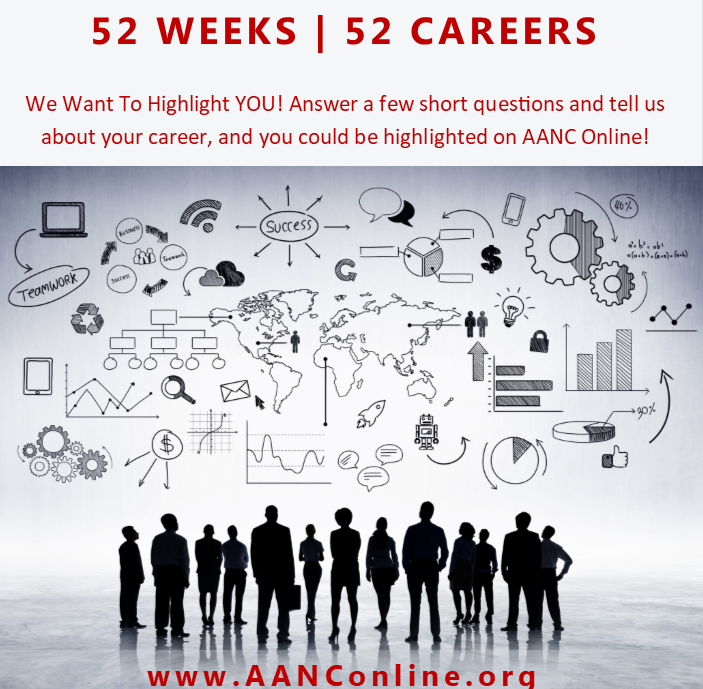 Get social with AANC in 2020! We want to spotlight you! Tell us about your career. Walk us through your career path to where you are now. What do you like most about your job? What advice do you have for someone looking to get started? Answer a few short questions and you may be highlighted on AANC Online!

SUBMISSION FORM
Read more at AANC Online and see some of our highlighted Careers and Members!
---
AANC AFFILIATES: What's Happening Around The State?
Visit your local Apartment Association website to see what education is being offered and to register for upcoming events.

GCAA | Greater Charlotte Apartment Association
GFAA | Greater Fayetteville Apartment Association
GAPMA | Greenville Area Property Managers Association
PTAA | Piedmont Triad Apartment Association
TAA | Triangle Apartment Association
AAWNC | Apartment Association of Western North Carolina
WAA | Wilmington Apartment Association
---
Thank You To Our E-Notes Advertisers!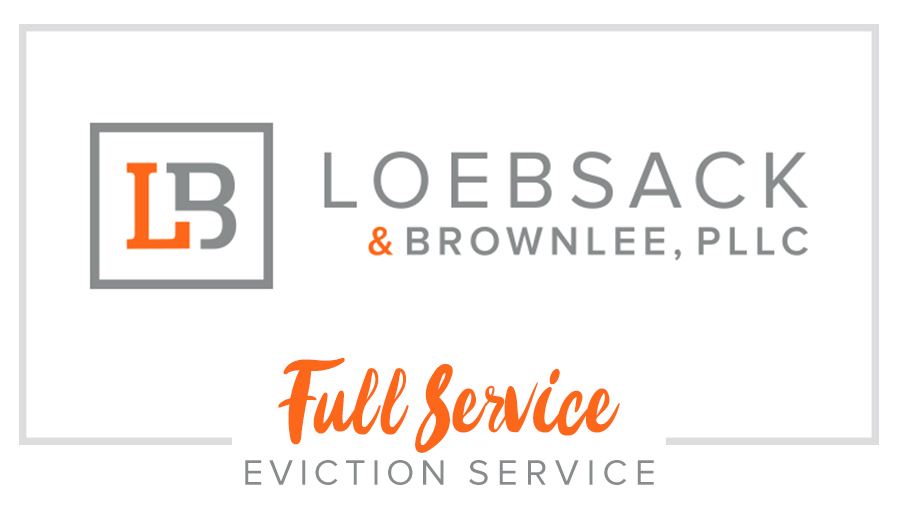 Interested in advertising in future issues?
Click here for 2020 details and availability.