Back to Events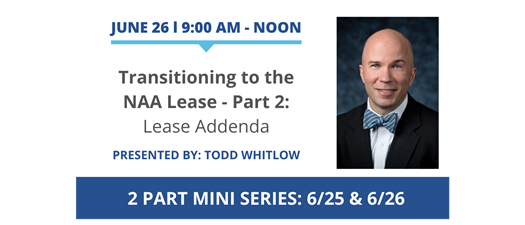 Transitioning to the NAA Lease - Part 2: Lease Addenda
Presented by Todd Whitlow
Friday, June 26, 2020
Event Details
WEBINAR: Transitioning to the NAA Lease - Part 2: Lease Addenda
Presented by Todd Whitlow
This is the second of a two part interactive series on the NAA Lease and Lease Addenda provided by Todd Whitlow. In this session, Todd will take a close look at most of the more common Addenda that are used in combination with the Lease, and will answer any questions you may have.
While this webinar is free, please register to reserve your spot!

REGISTER HERE TODAY
Note: This webinar will be recorded and distributed through the local affiliates to members that cannot attend.
---
Todd Whitlow is a partner with Brownlee Whitlow & Praet, PLLC, where he has been representing members of the multi-family industry for over a decade.  Todd sits on the National Apartment Association Lease Advisory Committee and Affordable Housing Committee, along with the Apartment Association of North Carolina Membership Committee. Todd is also a faculty member of the National Apartment Association Education Institute.