AANC E-Notes: July - September 2018

In This Issue:
AANC Affiliates: What's Happening Around The State

---
Legislative Updates
An Update on SB224
As many of you are aware by now there are several consumer actions against property management companies pending in North Carolina regarding their debt collection practices. The first series of these actions alleged that property owners and managers were improperly charging late and legal fees to the residents.
AANC took legislative action to attempt to clarify that the fees being charged were permissible. This led to the introduction of Senate Bill 224 (SB224) to the NC Legislature. SB224, the initial clarification of the fees a property owner/manager may charge, is now law. SB224 was the result of a tremendous amount of work done by many people over several months, but what does it mean for you now?
SB224 clarifies a property owner/manager's ability to charge court costs and legal fees after a resident is in default by adding additional language to North Carolina General Statute 42-46, the statute that provides for which late fees and administrative fees surrounding an eviction can be charged. The new statute language reads as follows:
Section 1.1. (a) G.S. 42 42(h)(3) reads as written:
Section 1.1. (b) G.S. 42.46 is amended by adding two new subsections to read: (i) Out of Pocket Expenses. - In addition to the late fees
referenced in subsections (a) and (b) of this section and the administrative fees of a landlord referenced in subsections (e) and through
(g) of this section, a landlord is also permitted to charge and recover from a tenant the following actual out of pocket expenses: (1) Filing
fees charged by the court. (2) Costs for service of process pursuant to G.S. 1A 1, Rule 4 of the North Carolina Rules of Civil Procedure and
G.S. 42 29. (3) Reasonable attorneys' fees actually incurred, pursuant to a written lease, not to exceed fifteen percent (15%) of the amount
owed by the tenant, or fifteen percent (15%) of the monthly rent stated in the lease if the eviction is based on a default other than the
nonpayment of rent. (j) The out of pocket expenses listed in subsection (i) of this section are allowed to be included by the landlord in
the amount required to cure a default.
When reviewing the new statutory language above, it is important to keep in mind that the fees charged to the resident must be actually incurred by the property owner/manager. Accordingly, if an eviction filing was dismissed prior to a resident remedying the default and the funds were accepted, the filing fees should not be charged.
Additionally, the attorneys' fees are limited to 15% of the amount owed by the resident or the monthly rent. This will not usually be an issue, however appeal related attorneys' fees may exceed this cap and you should be careful going forward to not charge any excess cost to the resident. Further, we strongly suggest that you review your policies with respect to what fees you can and should charge, and when you charge them, with your legal counsel prior to rolling out any specific provisions.
Why was this necessary? Due to the lawsuits mentioned above many property owners/managers stopped charging court costs and attorneys' fees for evictions but are not clear on why, especially because your lease allows for these charges. The answer goes back to 2009. Prior to 2009, some property owners and managers were charging administrative fees surrounding evictions to try to recover time that was spent by their employees as a result of the resident's failure to pay their rent on time. These administrative fees varied significantly from a few hundred dollars. This practice was called into question by a lawsuit. To avoid further litigation and to remedy this issue, AANC reached a compromise with the Justice Center/Legal Aid to allow the Complaint Filing Fee, Court-Appearance Fee, Second Trial Fee, and "reasonable attorneys' fees as allowed by law" that are contained in Section e-g of NCGS 42-46., and provided for in your leases. To make sure that the administrative costs were limited to what was provided by the statute, the following section was added as well:
It is contrary to public policy for a landlord to put in a lease or claim any fee for filing a complaint for summary ejectment
and/or money
owed other than the ones expressively authorized by subsections (e) through (g) of this section, and a reasonable
attorneys' fee as allowed by law.
It was understood at the time that a landlord could pass along out-of-pocket court costs to residents and that collecting court costs and attorney's fees was permissible. This is clear because this practice was never questioned, particularly by Legal Aid/Justice Center. Now, almost 10 years after the provisions to NCGS 42-46 above were added, a plaintiff's litigation firm who was largely unfamiliar with general property management practices brought an action, and then a series of actions against large management companies questioning the landlord's ability to pass along the out-of-pocket court costs and attorneys' fees.
In response to the lawsuits, AANC with the help of the local affiliates and other industry professionals, set out to legislatively clarify the ability to charge attorneys' fees and court costs to residents and when they may be charged. Ultimately AANC was successful after a Herculean effort to pass SB224 which became law on June 25, 2018 and was effective immediately. Although no bill ultimately passes exactly as we would like to have it written, we hope that SB224 will assist the Courts hearing lawsuits to understand it was always the intent of the Legislature for the property owners and managers to be able to pass on these fees to the defaulting residents, as was explained by Senator McKissick when he introduced SB224 to the Senate.
Update Provided By:
Norm Praet, Attorney
Brownlee, Whitlow & Praet, PLLC
This article is not intended as legal advice and should not be relied upon as such. You should seek legal counsel for advice on any of your specific questions.
Stay Informed - Join The Monthly Legislative Update Call
AANC's Government Affairs Committee hosts a monthly Legislative Update call open to all members.
First Monday of Every Month | 10:00 AM
Call-In Number: 267-930-4000
Participant Code: 651-992-161
The goal of this monthly call is to hear a legislative update from around the state. You will hear what is happening at the state level as well as local updates. Note: September's call, scheduled for Monday, 9/3/18, is cancelled. Our next call will be Monday, 10/1/18. Questions? Contact Joshua Dick at Joshua@aanconline.org
---
US Department of Housing and Urban Development (HUD) Outreach
National Apartment Association Communication
NAA requests all members be on the lookout for two outreach efforts that may be arriving at your desks soon.
The first comes from the US Department of Housing and Urban Development (HUD). HUD regional staff are hosting in-person listening sessions around the country focused on the Section 8 Housing Choice Voucher Program (Section 8 Voucher Program). They have reached out to several NAA affiliates to invite industry participation in these conversations.
HUD's stated goals for the listening sessions are:
To offer information on landlord participation in the Section 8 Voucher Program;
To provide an overview of the local housing market and conditions; and
To learn more about landlords' experiences with and perceptions of the Section 8 Voucher Program.
NAA encourages all affiliates to participate in this invaluable opportunity to provide input and interface directly with policymakers. NAA is tracking these events around the country and coordinating messages so please let NAA or AANC know if you receive an invitation.
If you do not receive an invitation and would like to participate, NAA suggests that you reach out directly to the HUD regional office in your area. You can find your local HUD Field Office at the directory here. In the alternative, please let us know if NAA can assist in bridging the gap. NAA can contact HUD HQ on your behalf. As HUD considers changes to the program, we want to ensure that the industry has a seat at the table to influence their process.
You should also be aware that a Member of Congress intends to introduce legislation in the coming months to add "Source of Income" to the list of federally protected classes under the Fair Housing Act, which would essentially mandate rental housing providers' participation in the Section 8 program.
Secondly, NAA has been informed that Matthew Desmond's team of researchers from Princeton University has reached out to several apartment communities in areas included on Eviction Lab's list of top evicting cities. They are attempting to obtain information about the owner/operator's eviction policies and procedures. NAA urges extreme caution as you consider whether or not to participate. Please contact NAA if you receive such request.
In either instance, please let NAA know if you have been contacted as they are tracking them closely nationwide. As always, NAA stands by ready as a resource for you. If you have any questions, concerns, or comments, please do not hesitate to reach out to the NAA Government Affairs Team.
---
AANC Politcial Action Committee
"Winter is Coming..." or in our case "November"

"Winter is coming" is the motto of "House of Stark" from the popular HBO TV series Game of Thrones. The motto represents a call to action and warning, along with preparation for the harsh winters of the North. Bottom line... best be prepared for Winter, or in our case... November. Similar to the Game of Thrones leadership shake-ups and battles of the mid-evil based TV series, so too will be the November election battles across our state, albeit without all of the swords and dragons.
As an industry and an association we need to show our strength and continually participate in the electoral process. This year we made substantial progress on the legislative front, in part due to your phone calls, emails and conversations with those holding public office. We called on the elected officials for their support and they answered - now those elected officials are calling on us for our support. How will we as an industry answer? November is coming, the election battles are beginning and we have to make a decision - will we participate and help those who helped us?

By supporting the PAC you support candidates that support sound legislative policy that is good for our industry and our residents. Now more than ever we need your help as we move towards November. Running for public office is expensive and our dollars help support those that support our industry.

If you have not already contributed to the AANC PAC, please do so now. If you have already contributed, please consider contributing again. November is coming...

Submitted By:
Jonathan Tee
Chairman - AANC PAC Board of Trustees
---
Apartment Association of Western North Carolina Adds 11 Counties

Earlier this year, AAWNC with the assistance of AANC, identified more than 500 units in 11 surrounding counties that did not have direct local affiliate support. In April 2018, AAWNC started the process to add these 11 new counties to their region, this process included the AAWNC Board of Directors vote and written letter to the AANC Board of Directors. Once approved, AANC submitted on behalf of AAWNC to the National Apartment Association for territory expansion approval, which was approved in June.

AAWNC's 11 new counties include: Haywood, Transylvania, Jackson, Macon, Rutherford, McDowell, Burke, Swain, Graham, Cherokee, and Clay.
"AAWNC is very excited that, with AANC's support, the NAA approved a territory expansion request. Expanding our territory into 11 counties in Western North Carolina that have previously not been serviced by a local affiliate will give more communities, management companies, and suppliers support that we all know can be invaluable in our industry. We are excited to have them involved in our association and look forward to offering them access to our education, membership, government affairs, and lease options. As a small volunteer-only affiliate we believe that we are better and stronger with more numbers. Growing our association in membership count will benefit all of our members and improve the services we provide. We look forward to the continued growth of AAWNC," states AAWNC President, Kelly Noble (Southwood Realty).
AANC Executive Director, Joshua Dick adds, "This will strengthen AAWNC and in turn AANC. Our strength lies within each of our members and their local affiliates and the stronger they are, the stronger AANC becomes. Thank you AAWNC for your continued outreach and willingness to expand your borders and reach out to members and prospective members that once were in outlying areas."
---
PTAA Fill the Stands with Cans
PTAA Executive Director, Jon Lowder walks 367 miles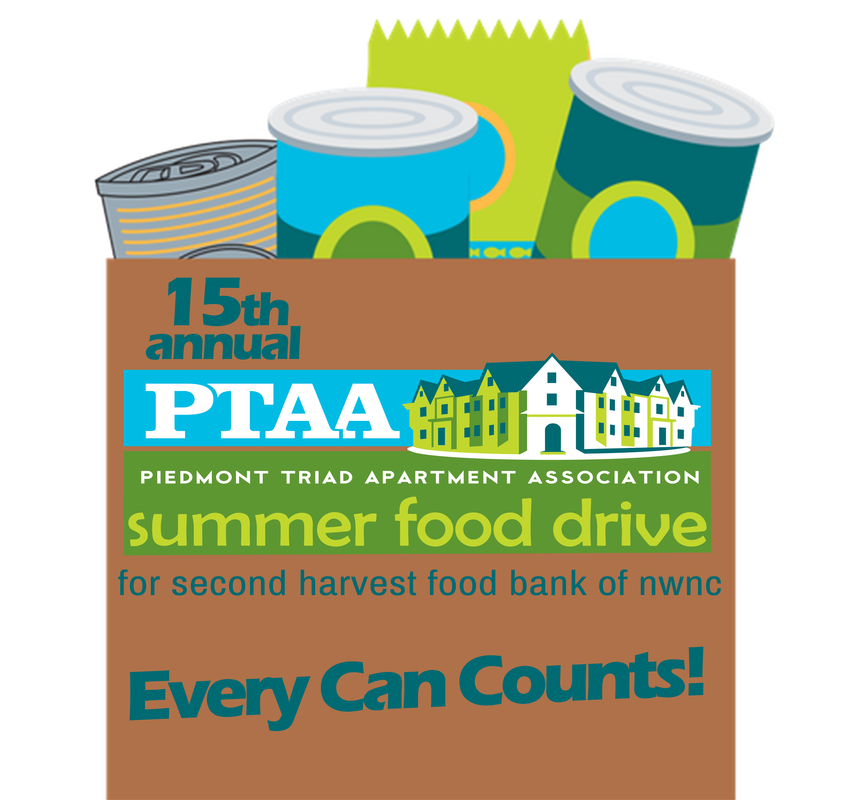 In any organization, giving back to the community is a fundamental part of that organization's mission and vision. For the last 15 years, Piedmont Triad Apartment Association has chosen Second Harvest Food Bank of Northwest North Carolina as the focus for charitable giving. As the Feeding America affiliate for an 18-county service region, Second Harvest Food Bank of Northwest NC is the leading organization addressing hunger by providing meals to more than 300,000 individuals annually and leading effective advocacy and community collaboration to address the root causes of persistent hunger.

Each year PTAA plans the annual food drive to help Second Harvest for May through July, when the need is often the greatest. Here in the Triad, more than half of all school aged children come from families that qualify for free or reduced priced meals at school. The need for donations becomes critical in the summer months when those children do not have regular access to nutritious meals at school.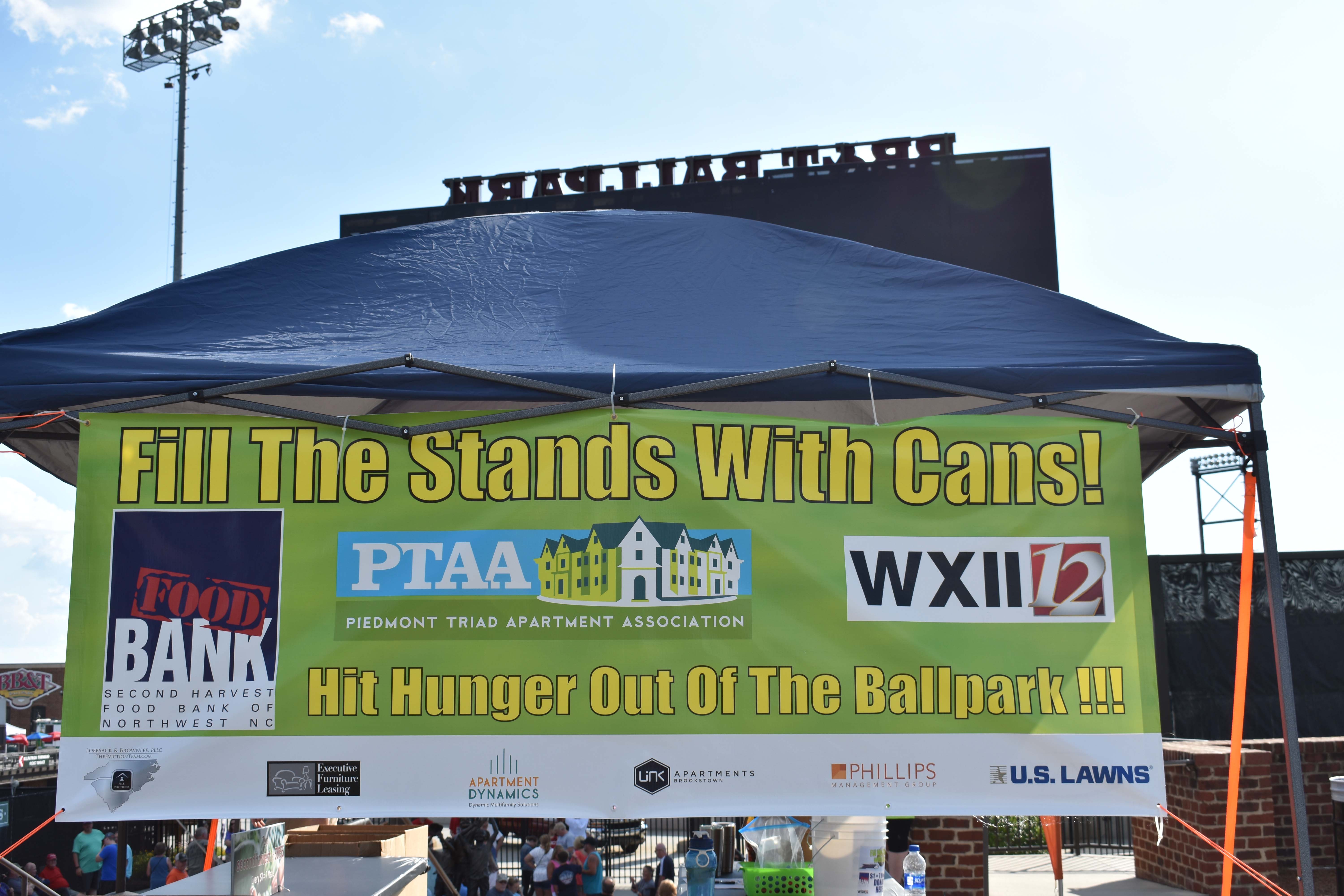 Jon Lowder, Executive Director at PTAA, points out that the multifamily industry attracts people who care deeply about these issues. "What they do day in and day out immerses them deeply into the lives of their residents," he observes. "From that vantage point, they see all sorts of people and all sorts of situations. Often you work at their home: you have to care." For our annual food drive, apartment communities collect nonperishable food items, and also financial donations, by encouraging residents to donate. On-site personnel and executives also give generously at this time. A volunteer committee coordinates obtaining and delivering collection boxes for communities throughout the Triad. At the end of the drive, the management company whose communities collected the most win the prestigious "Owners Cup" trophy, which is announced and celebrated at our annual Diamond Awards.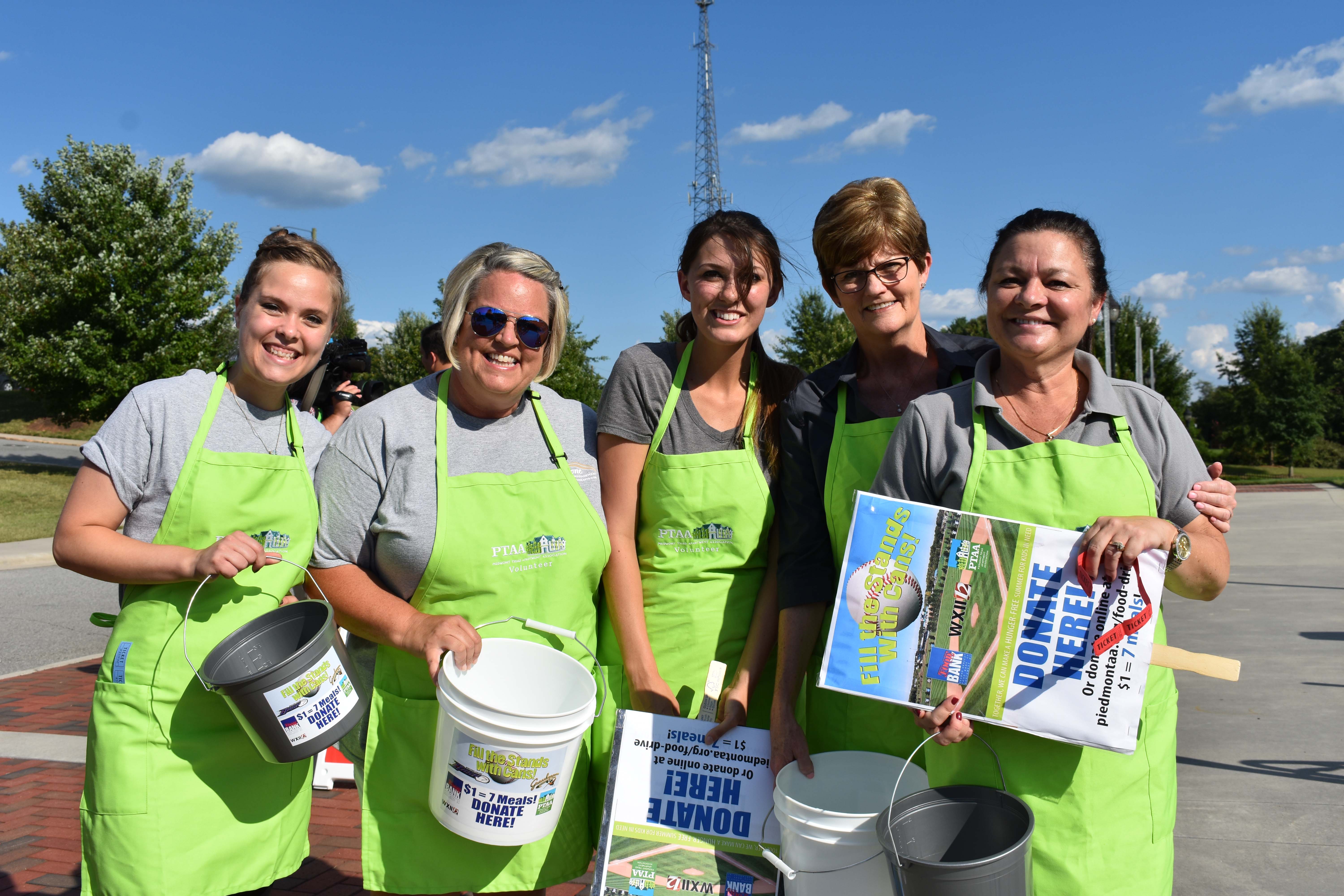 Six years ago, under Jon's guidance, PTAA added "Fill the Stands with Cans" baseball events - a food drive at both the Greensboro Grasshopper Stadium as well as at the Winston-Salem Dash in mid-July. This has added an extra component by giving the rest of the Triad community an opportunity to participate in the drive by bringing donations to the games. PTAA volunteers are there to take collections, and Jon is always there to greet people, collect donations, and sometimes throw out the first pitch. At this year's games, we collected enough canned goods and cash to provide 21,478 meals for the drive.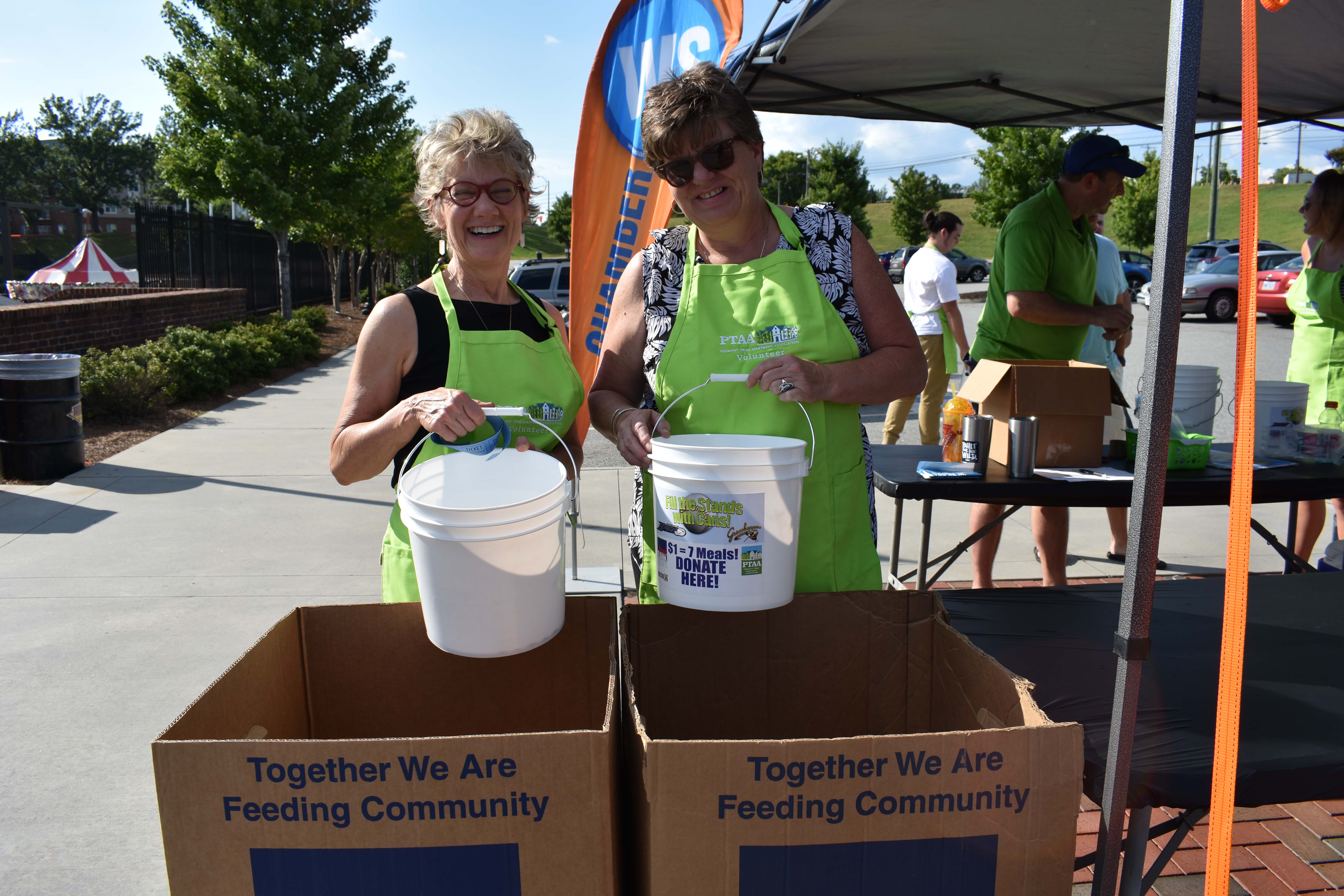 In recent years, Jon has taken the drive quite a few steps further. Every spring, he comes up with a new plan to build morale and encourage participation from our membership - often these plans involve great effort and/or embarrassment on his part. He accepts challenges from our membership in order to raise financial donations. This has become a treasured part of the drive for two reasons. First, financial donations are crucial and impactful - with every dollar raised Second Harvest Food Bank is able to provide seven meals in the community. During the first two months of the drive each year, an anonymous donor to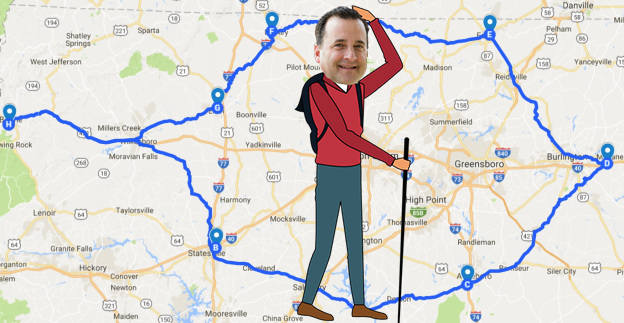 Second Harvest matches donations dollar for dollar, doubling the impact that Jon's efforts have. Second, Jon's commitment, enthusiasm, and willingness to suffer inspire the rest of us to step up our charitable game. So far he has shaved his head, climbed hundreds of flights of stairs, run 18 miles, worn a dress, jumped in a pool wearing a tutu, and made a dance video.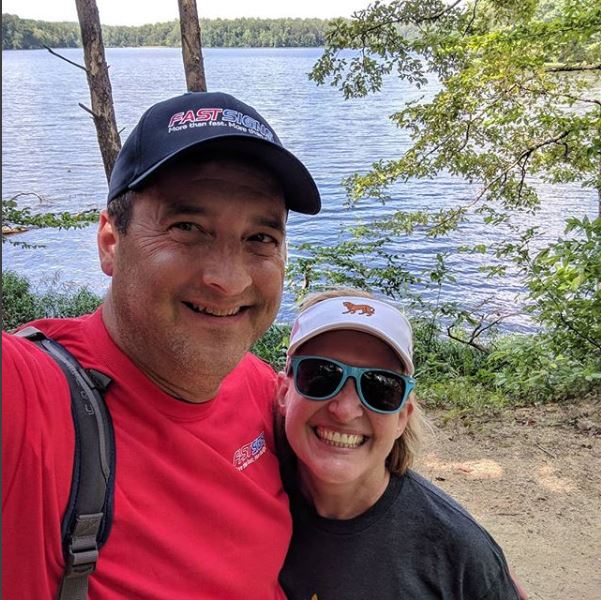 "We need to capture people's attention to bring awareness to this important cause, and if I have to suffer some humiliation along the way, it's a small price to pay," says Jon.

This year Jon set a goal to walk 367 miles in 68 days - 367 miles is equal in distance to the perimeter of PTAA's territory. Our membership was challenged to donate to Second Harvest by sponsoring his walk, and vendor partners were recognized for their donations when Jon would wear branded gear on his walks. Over the course of those days, he got in his miles around his neighborhood, at Bryce Canyon National Park in Utah, even at "Apartmentalize" in San Diego. He faced very hot weather, sudden downpours, and more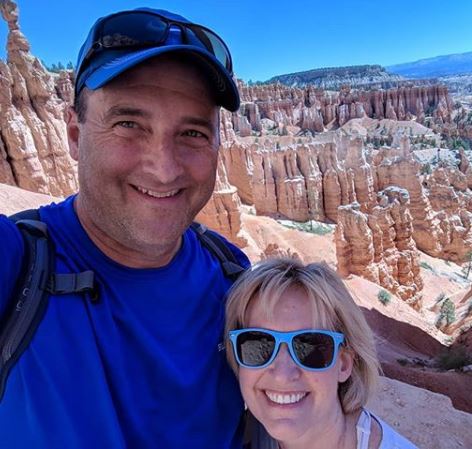 than a few wild animals. Not once did he suggest he preferred to jump in a pool in a tutu again. When he reached his goal, he decided to go just a bit further and walk 500 miles by the end of the drive on July 31, all the while keeping our membership and the rest of the community updated on his blog. His efforts attracted local news media and most certainly played a big role in the phenomenal turnout at the games, as well as keeping our communities inspired to keep collecting and giving.
The numbers are not all in, but it's safe to say we well surpassed the goal to raise 225,000 meals for the drive this year. We are so proud of our communities, volunteers, and Jon for coming through on this drive year after year!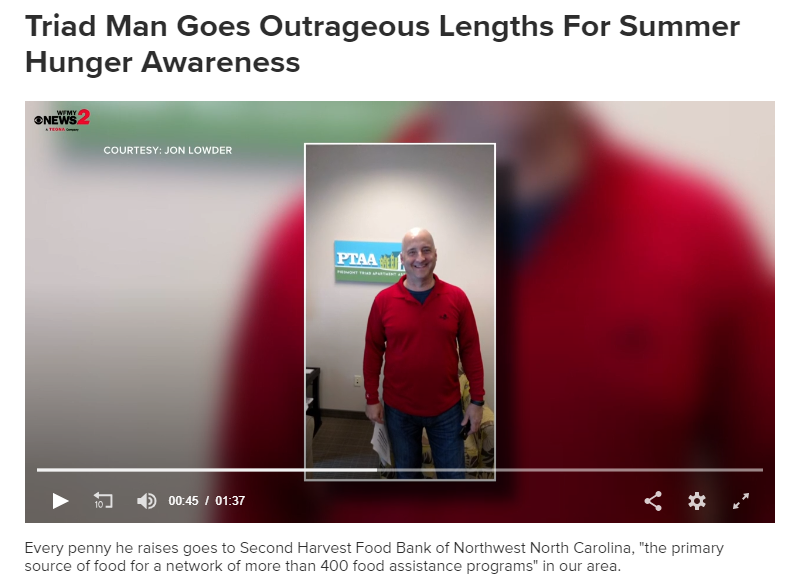 Watch the highlight video on WFMY News here!

Thank you to PTAA's Director of Communication & Marketing, Stephanie Beeman for submitting this article and pictures.
---
100% Almost Ready
2018 AANC Education & Legislative Conference: Rev It Up - RECAP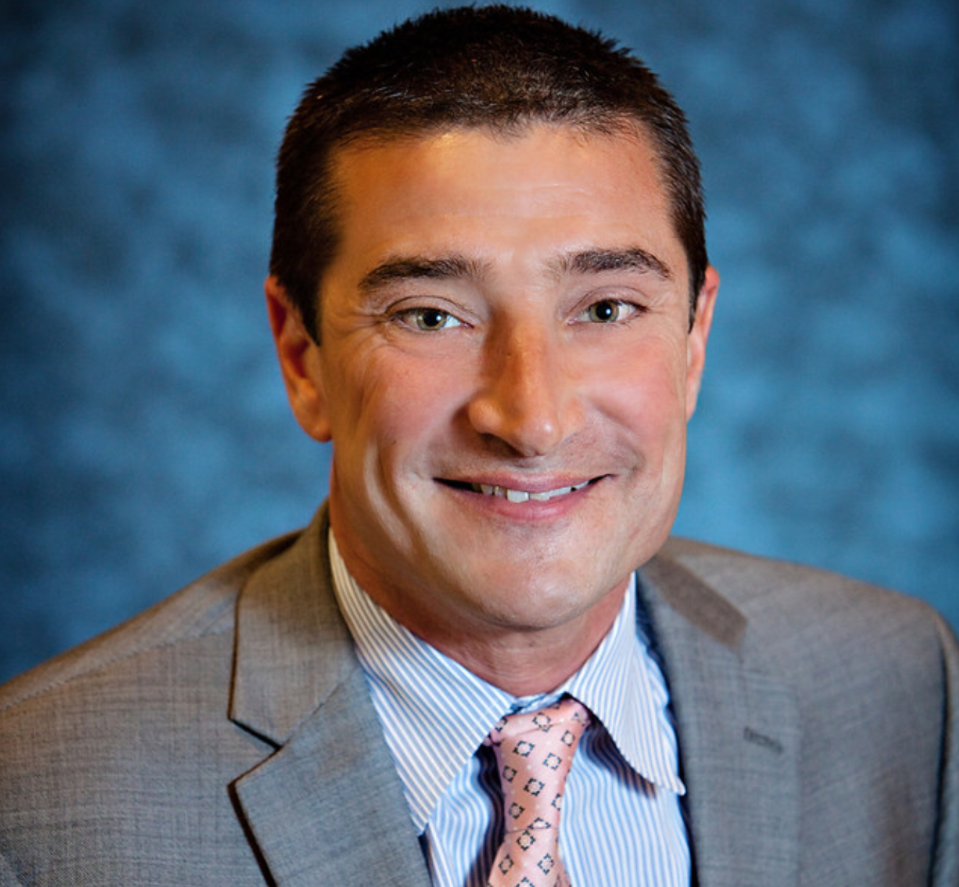 In May of this year, I presented a session at the AANC's "Rev It Up" Education Conference. I titled the session "100% Almost Ready" because I felt like everyone could relate to discovering units marked as ready to lease only to find the units still needed some work.
Part of the session included walking participants through a simple three step improvement template. This template is used to create a unique improvement plan that would not only ensure the units would be 100% ready but would also reduce the time your team spends turning units. I encouraged participants to involve their entire team in creating the plan because I believe that the best solutions to problems come from our employees!
Here are the steps in the improvement template:
Step One: Observe

Step one in the template is to simply observe your current work habits and methods. Sounds simple enough, right? You will want to observe every step your staff takes from the point that someone gives notice to the day someone moves in. It's important that this just isn't some casual glance. Take a week or even two to really observe your team in action!

Step Two: Create a Turn Activity List

The second step in the improvement template is designed to identify the specific task that needs improvement. Many people confuse this list with the basic turn activity of painting, cleaning, flooring, etc., but that's only a small portion of your turn activities. Doesn't it actually begin with the resident giving notices to vacate to the leasing office? Isn't the pre-move out inspection also a task? In my experience transforming maintenance programs, inefficient maintenance teams almost always go tandem with poor communications from the leasing teams. If you're going to successfully improve the vacant turn process, you will need to involve everyone that plays a part in that process.
Below is a list of activities that I shared with participants. Your list may be different!

Notice to Vacate
Pre-Move Out Inspection
Scheduling Contractors in a Logical Sequence
The Move Out
The Turn Process
Quality Inspections
The Move In

The purpose of this list is to use it as discussion portal for your first staff meeting to create your plan. Each item on the list should be discussed thoroughly and include every member of your leasing and maintenance teams. Allow your team to just talk through each activity. Sure, this discussion may open up some heated debates but ultimately the discussion will lead to solutions! By simply talking about each activity, your team will quickly identify areas that are in need of improvement!

Step Three: Measure

Measuring performance is not micromanaging... it's just managing! As a community manager or regional manager, you already measure the performance of your leasing staff by calculating closing ratios and hiring secret shoppers to ensure your leasing staff is measuring up to your expectations. You even have a scoring system that ensures this standard. You create goal boards for leasing and post them on the wall to motivate your staff to lease. Managing your maintenance program shouldn't be any different! Most of the management software used today is capable of collecting the data you need to truly measure your maintenance program. For example, when a work order is closed in the system, you should be entering the time that it took to complete it. But are you using this data to measure performance? What if you created a goal board that would motivate your staff to reduce the amount of time spent doing work orders? How long does the process of turning units take now? Have you set goals to reduce the amount of time? What's the point of implementing an improvement plan if you can't truly measure your progress?
This template was created using the troubleshooting techniques that your maintenance teams use every day to make repairs. For example, when an air conditioner isn't working, the first thing they do as technicians is turn the system on and observe its current operation. Then they inspect each component looking for anything that might not be operating efficiently. By using gauges and meters, the technician can measure the performance of each part of a standard. When I was on site supervising maintenance, I learned that these simple troubleshooting techniques could be adapted and used to successfully improve my team's performance.


Good Luck!
Andy Meador
If you would like to learn more or follow up with Andy, you can contact him at the below information. Also, visit your local association's website to see when Andy will be teaching a seminar near you!
---
Industry Careers
Submitted By: Betsy Kirkpatrick, BG Multifamily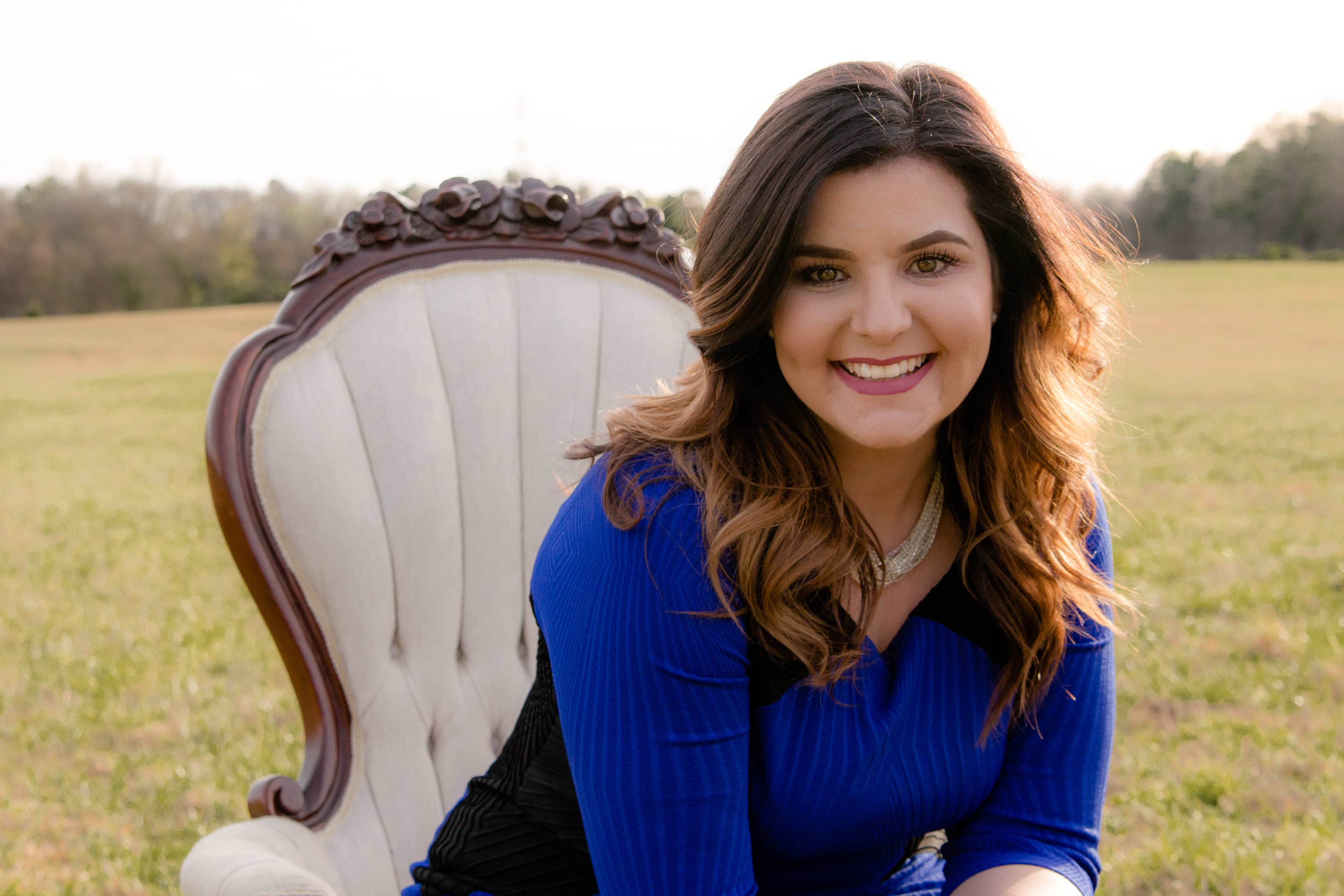 Recently, Betsy wrote two articles highlighting residential property management careers and we wanted to share them with you here in case you missed them!

Hiring Outside of the Property Management Industry: "I see it every day in my profession. The community I visited two weeks ago has lost their leasing consultant to another community in the same region." Continue reading here and read Betsy's three tips for hiring outside of the industry!

5 Tips for Landing an RPM Career: Do you know someone who is looking to start their career in residential property management? Betsy shares her 5 tips for landing a job here.
In addition to these articles, we put together the following resources for both those seeking a career in the industry and those looking to hire new talent:
National Apartment Association: RPM Careers Website

There has never been a better time to consider a career in Residential Property Management.​Are you looking to start your career and want more information? NAA's site is for you! NAA created a section of their site specifically for you highlighting the career paths, hosting an available job board, and they even offer you a career quiz as well as the option to connect with an RPM Ambassador. Visit NAA's RPM Website!

Your Local North Carolina Association - search open positions in North Carolina by your location!
---
NAA Apartmentalize
Apartmentalize: June 13 - 16, 2018
Those who attended the 2018 Apartmentalize Conference this past June, you were a part of NAA's biggest event yet. Attendees had the opportunity to learn from 70 different sessions, network with peers, and enjoy social functions. If you missed the event or would like to catch up on sessions you may have missed, NAA offers REWIND. Order your copy today to access 60+ PowerPoint synced audio and visual recorded sessions.
Congratulations Angela Raupp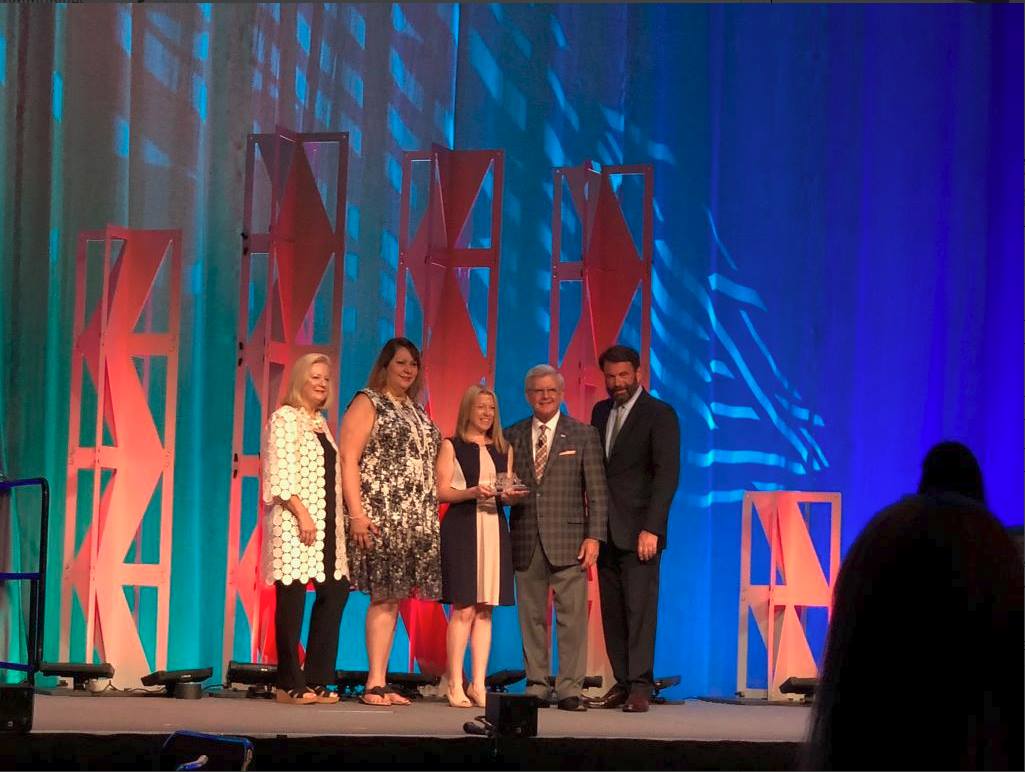 "Life is often complicated... what sets some apart is the ability to rise to the top during some of the most challenging times! Congratulations to Angela Raupp, one those stars, who earned NAA's Excellence Award for Certified Apartment Manager of the Year (CAM)! During a year she celebrated the birth of premature twins who needed special attention, she was still able to take care of a family, exceed occupancy and revenue projections on the 2 assets she manages, and earn her City's 40 Under 40! Congratulations Angela!"
- Submitted By: Mary Gwyn, Chief Innovator, Apartment Dynamics
AANC Members Speak on Panels at NAA
AANC's own Tami Fossum, GEM Management, and Moderator, Ken Szymanski, Greater Charlotte Apartment Association, spoke in San Diego on the Affordable Housing Panel.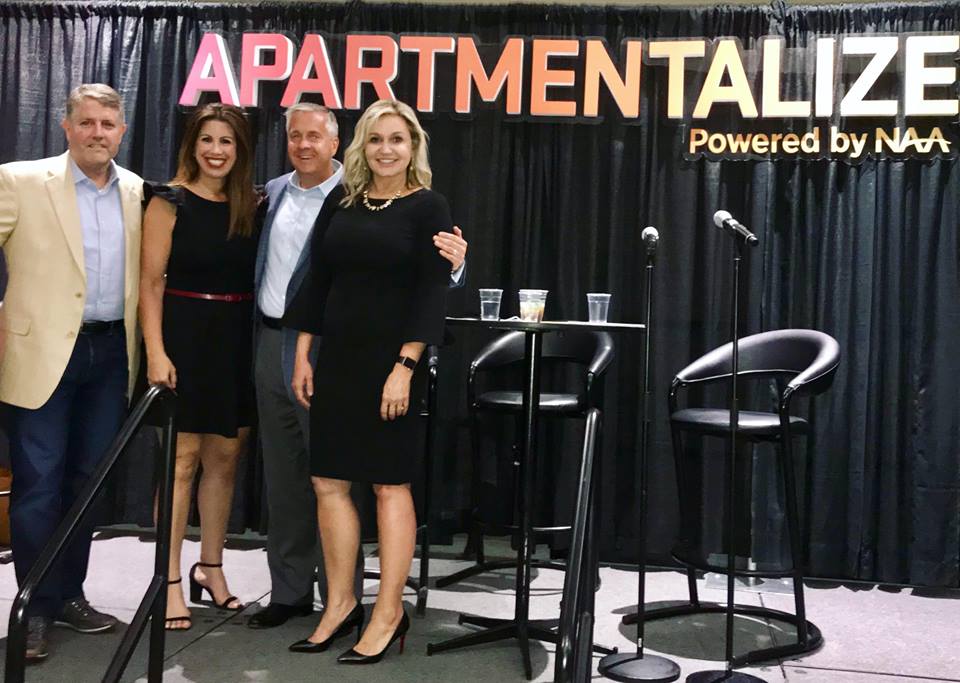 AANC's own Marcie Williams, RWK, and Lisa Taylor, Greystar, spoke in San Diego on the "Cracking the CLient Satisfaction Code" panel along with Bob Murray, TruAmerica Multifamily and Ed Wolff, Real Page, as Moderator.
Hear from North Carolina Members
Sunny San Diego, what a great place to host the biggest gathering of multifamily associates at Apartmentalize. Whether is was listening to Mike Rowe, who was amazing, or learning about ways to communicate with Generation Z. Everyone that attended was sure to walk away with multiple nuggets of knowledge. Alexandra Jackiw was inducted into the Hall of Fame and we closed down the Gaslamp District with 10,000 of our closest friends. A-Rod told us to "Find your vision and work backwards," and Mike Rowe told us to "Take your passion with you, don't follow it around." I have a couple of takeaways, first for me would be to find your vision, whether its personal, professional or the vision of your company. You need to find it and define it. Next, everyone is passionate about something, whether it's giving back, education, advocacy, or being a mentor to the future leaders of our industry. Always make sure you take that passion with you no matter where you go because Dr. Seuss said it best, "Oh the Places You'll Go!" - Stephanie Loyd, Marketing Specialist, Blue Ridge Companies
NAA was a crazy amazing week as always, and San Diego was an absolutely beautiful location. One of my favorite takeaways was a great session on changing the face of affordable housing moderated by Ken Szymanski, Greater Charlotte Apartment Association (fellow North Carolinian, Tami Fossum, served on the panel). This is such a pertinent and necessary conversation to have within our industry as a whole due to the lack of housing affordability across the board. Some amazing points that were brought up:
Let people see the human stories behind affordable housing help dispel the community opposition

Understand that you won't be able to convince everyone of the goodness of affordable housing. Concentrate your initial efforts on convincing the elected officials that influence zoning and then turn to the community.

Communicate the HUGE difference between a professional managed affordable housing community and distressed housing, both in how they are managed and their appearance and curb appeal.

The average Social Security check is $1348. Senior Living affordable housing is CRITICAL.
These are just SOME of the great points brought up, but this conversation for sure needs to be an ongoing one within our industry. A HUGE thanks to NAA for shining a spotlight! - Betsy Kirkpatrick, Regional Sales Manager & National Director of Recruiting, BG Mutlifamily
---
---
Thank You To Our E-Notes Advertisers
​Interested in advertising in future issues? Click here for 2019 details and availability.