AANC E-Notes: 2023 1st Quarter Issue

IN THIS ISSUE:

Greetings!
It is with great pleasure that I have the honor of serving as AANC 2023-2024 President. While I have been involved in my local affiliate (GCAA) for a couple decades and served on the AANC board since 2011, this opportunity would not be possible without the support from peers, AANC staff and the Greystar family (the company encourages team members to be involved through volunteerism and giving back!). I would also like to thank Jennings Snider, the AANC Immediate Past President, for providing steadfast guidance with confidence and ease during the last two challenging years for the country and industry.
---
Meet Your New AANC Board Executive Committee
President – Lisa Taylor | Greystar
Vice President – Karen Perkins | Blue Ridge Companies
Treasurer – Amanda Siegal Williams | BSC Holdings
Secretary – Amy Ritchy | Greystar
Immediate Past President – Jennings Snider | SYNCO Properties

Let's welcome 6 New Board Members!
GCAA: Eddie Robertson | RediCarpet
GFAA: Angela Raupp | Apartment Dynamics
GAPMA: Stephanie Bland | Eastbrook & Village Green Apartments
TAA: Cindy Nitschke | BG Multifamily
TAA: April Vasta | Blue Ridge Companies
State Suppliers Council: Leah Vinansky | Charge Point
---
I would like to recognize our industry leaders who have stepped up as Committee Chairs for 2023-2024. AANC remains one of the TOP state associations across the country due to your willingness to serve and lead! We are forever grateful to you. Please keep in mind, while we have committee chairs/co-chairs, it is never too late to join a committee.
The Future is Calling! Will you answer? This years' AANC 2023 Conference (April 24 – 26) is an excellent opportunity for on-site & corporate team members to gather, network with peers, attend a variety of educational sessions and advocate for our industry issues. Registration is OPEN NOW, so be sure to register soon for the early bird rates that will end on 3/15/23.
Lisa
Lisa Taylor l Greystar
AANC President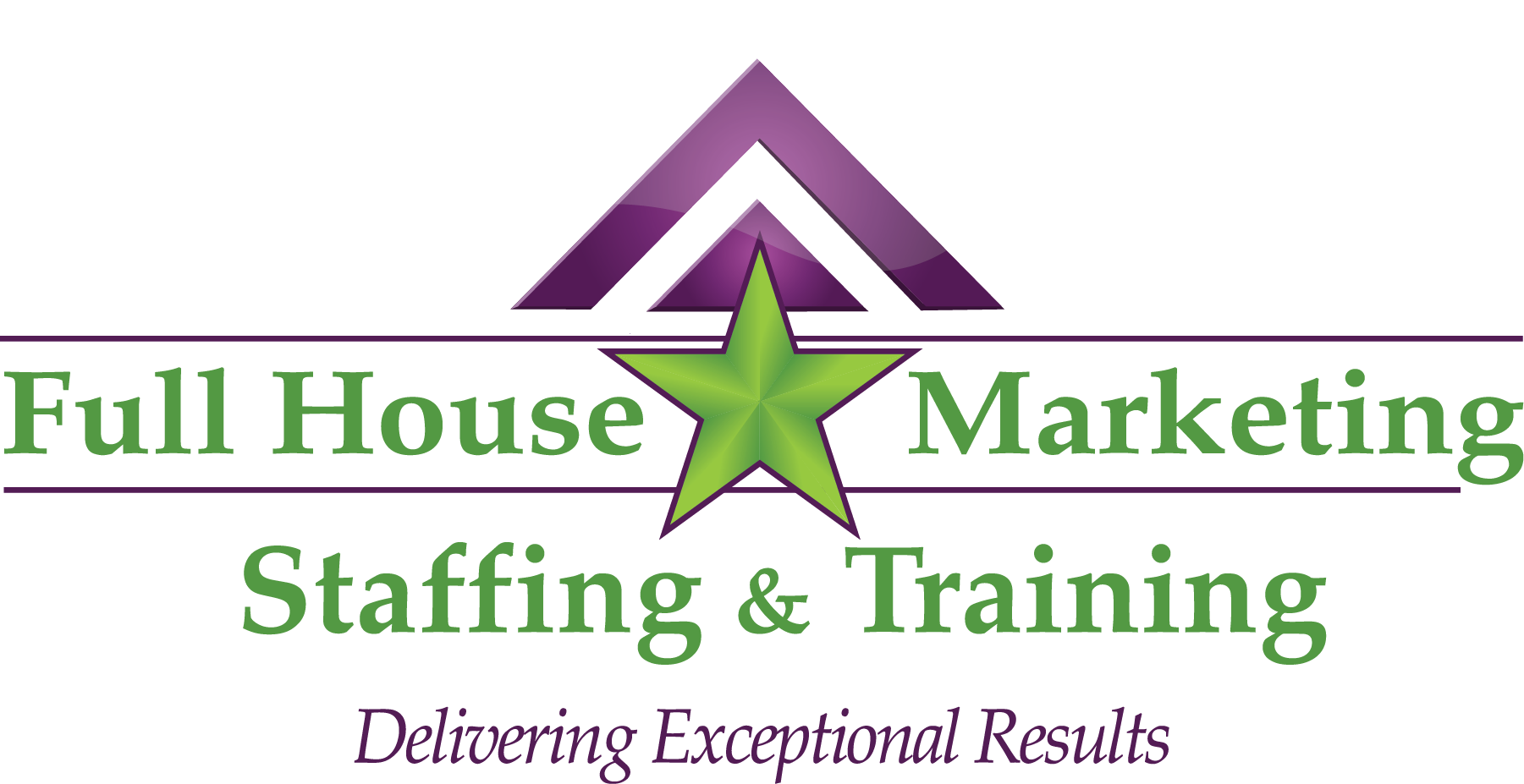 Full House Marketing® is more than just marketing; we partner to help you achieve full occupancy at your apartment community, full staff of on-site and corporate team members, along with fully trained talent at every level of your organization. Our services include direct hire/talent search, short-term staffing, work-to hire, lease up, marketing and training services. As the longest standing apartment staffing provider in N.C., Full House Marketing was founded by national industry educator, Rebecca Rosario. Put our tailored solutions, extensive proven processes, and 22-year, award winning record to work for you! Visit www.FullHouseMarketing.com. Email Rebecca@FullHouseMarketing.net. Call 919.362.6282.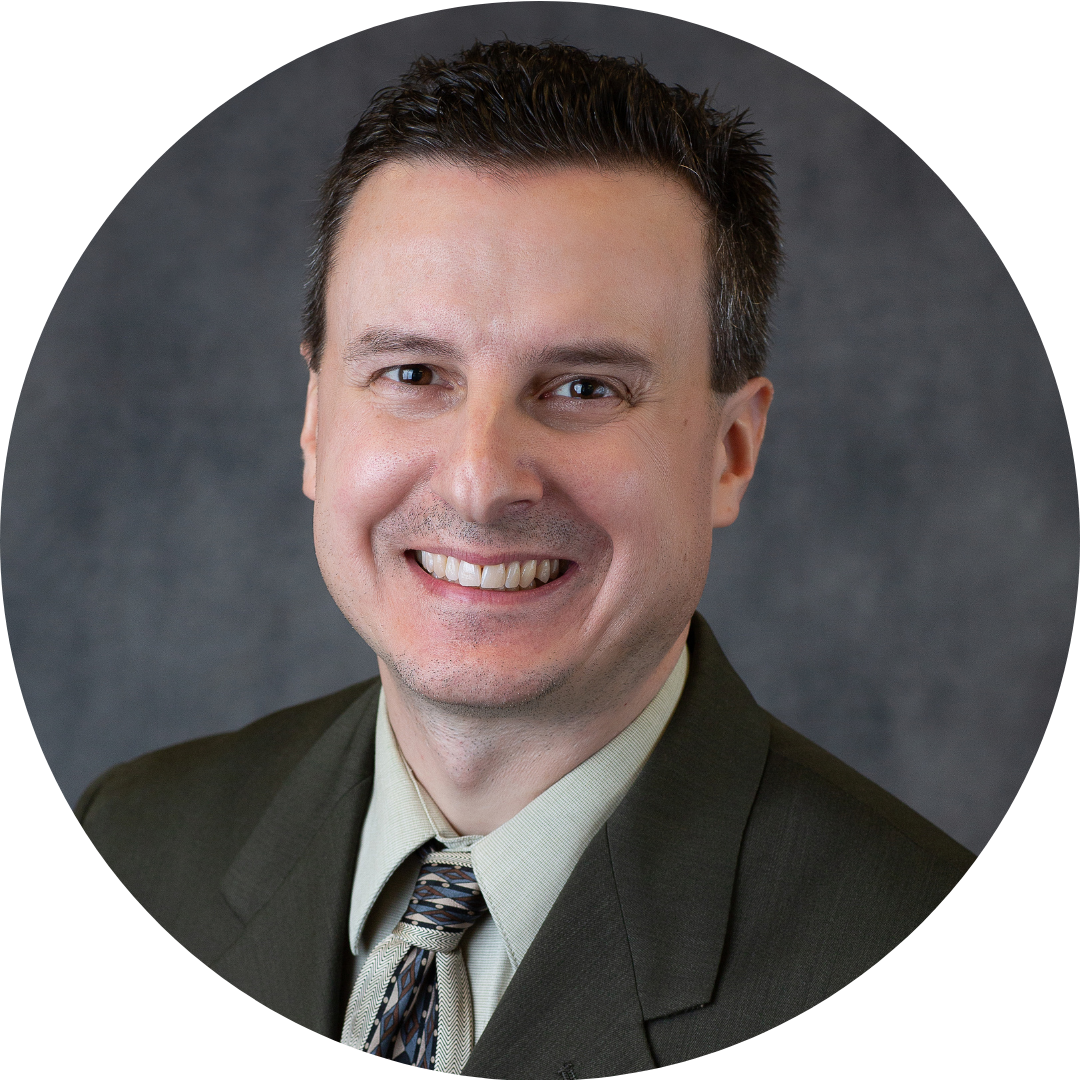 Welcome to 2023! For those new to AANC, welcome, and for those returning, thank you for renewing your membership with your local affiliate.

A special welcome to Lisa Taylor, with Greystar, who began serving as AANC President on January 1, 2023, and will serve in this role for the next two years. Serving along with her on the AANC Executive Committee are Karen Perkins, AANC Vice President; Amanda Siegal Williams, AANC Treasurer; Amy Ritchy, AANC Secretary; and Jennings Snider, AANC Immediate Past President.


The AANC Board, which has representatives from each of our seven local affiliates, welcomed several new AANC board members including Eddie Robertson (GCAA), Angela Raupp (GFAA), Stephanie Bland (GAPMA), Cindy Nitschke (TAA), April Vasta (TAA) and Leah Vinansky (State Suppliers Council).

In December, we sent out our 2022 AANC Annual Report. If you missed it, or didn't receive a copy, please click here to access it. We are proud of the many successes achieved last year. We are looking forward to another great year ahead, realizing that there are many unknowns and hiccups could present themselves.

In January, we received excellent news from the IRS that AANC was eligible for the Employee Retention Tax Credit and received a check for over $78,000. This will help in the event of an economic downturn or having to deal with any unforeseen legislative/legal initiatives.

On the legislative/advocacy front, there are early successes to highlight. We were proactive and contacted the Governor's Office for a face-to-face meeting which they granted in mid-January. Several of us met with his office to discuss the State of the Multifamily Housing Industry in NC. While the Governor himself was not able to attend, we met with 9 of his staff including his Director of Legislative Affairs, Deputy Director of Intergovernmental Affairs, Director of Economic & Pandemic Recovery and Housing Policy Advisor. It was important to have key decision makers from his staff in attendance and we look forward to further collaboration with them. Our intent is to make this an annual State of the Multifamily Housing Industry report with the Governor's Office.


With the AANC Political Action Committee (PAC) having its best fundraising year yet in 2022 (over $30,000 raised!), we are looking to raise the bar for 2023. The proposed goal is $75,000 for 2023-2024. In the past, AANC has had a one-year goal, but a two-year goal will align AANC's PAC fundraising cycle with the NAA PAC cycle and the North Carolina legislative session and election cycle. Click here to donate to the AANC PAC today!

As always, thank you for your support and all that you do for AANC!
Joshua
Joshua Dick l AANC
Executive Director

On February 13, the initiative by the North Carolina Judicial Branch to transform the court system from paper to digital, went live in four pilot counties – Harnett, Johnston, Lee, and Wake. With this launch, all new filings and subsequent filings in open cases must be completed through the online eCourts software applications.

The next phase of the rollout will be for Mecklenburg County. The planned go-live date is not yet available but is anticipated to be 60-90 days after the rollout of the first four pilot counties. The final 95 counties across the state will be rolled out in subsequent phases, with all 100 counties projected to be fully transitioned to the eCourts system by the end of 2024.

AANC and the local affiliates are monitoring the rollout and will continue to work with the courts system and other stakeholders to work through any issues that the rollout may bring to the summary ejectment process. To prepare for the transition or to learn how this may impact you, visit nccourts.gov/ecourts for more information.
---

June 28, 2023 l 10:00am l 1 CEC
Sponsored by: Blue Ridge Companies
Owner/Operators & Suppliers:

Join this amazing industry panel (Maria Barker, Dana Flaherty & Mary Gwyn!) bringing expertise on workforce development for 2023.
Additional 2023 Educational Webinars!
---
Please join us in welcoming your 2023-2024 AANC Executive Committee!
You can view the full list of the Board of Directors here.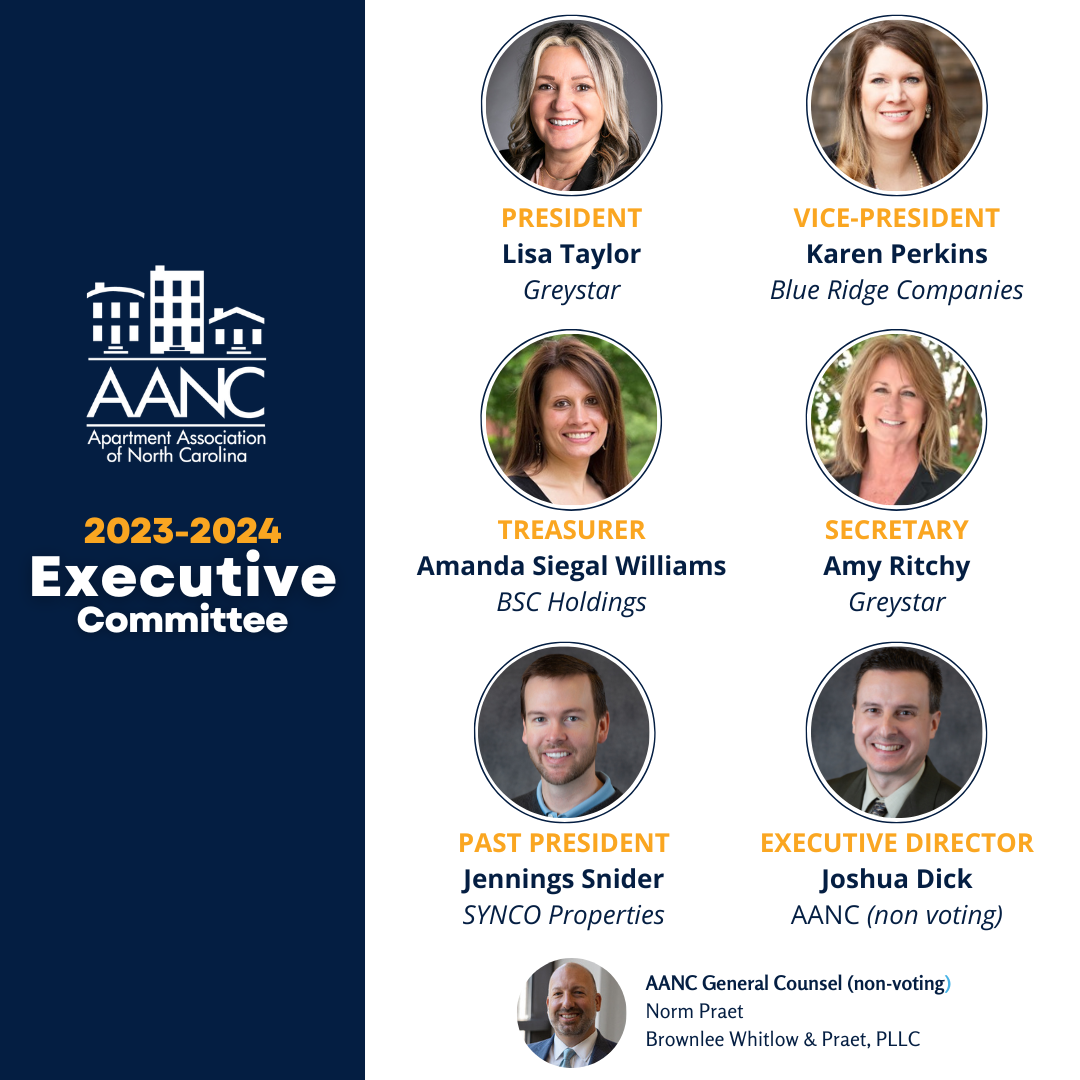 ---
2024 CONFERENCE: Speaker RFP Submission Window is Open!
AANC proudly invites you to submit a proposal to speak at the 2024 AANC Education & Legislative Conference (April 30 - May 1, 2024 l Raleigh, NC). We are currently accepting proposals as consideration for the opening/closing Keynote sessions and multiple Breakout Education sessions.
Go here to learn more and submit!

Submissions are being accepted through 11:59pm on 4/15/23.
---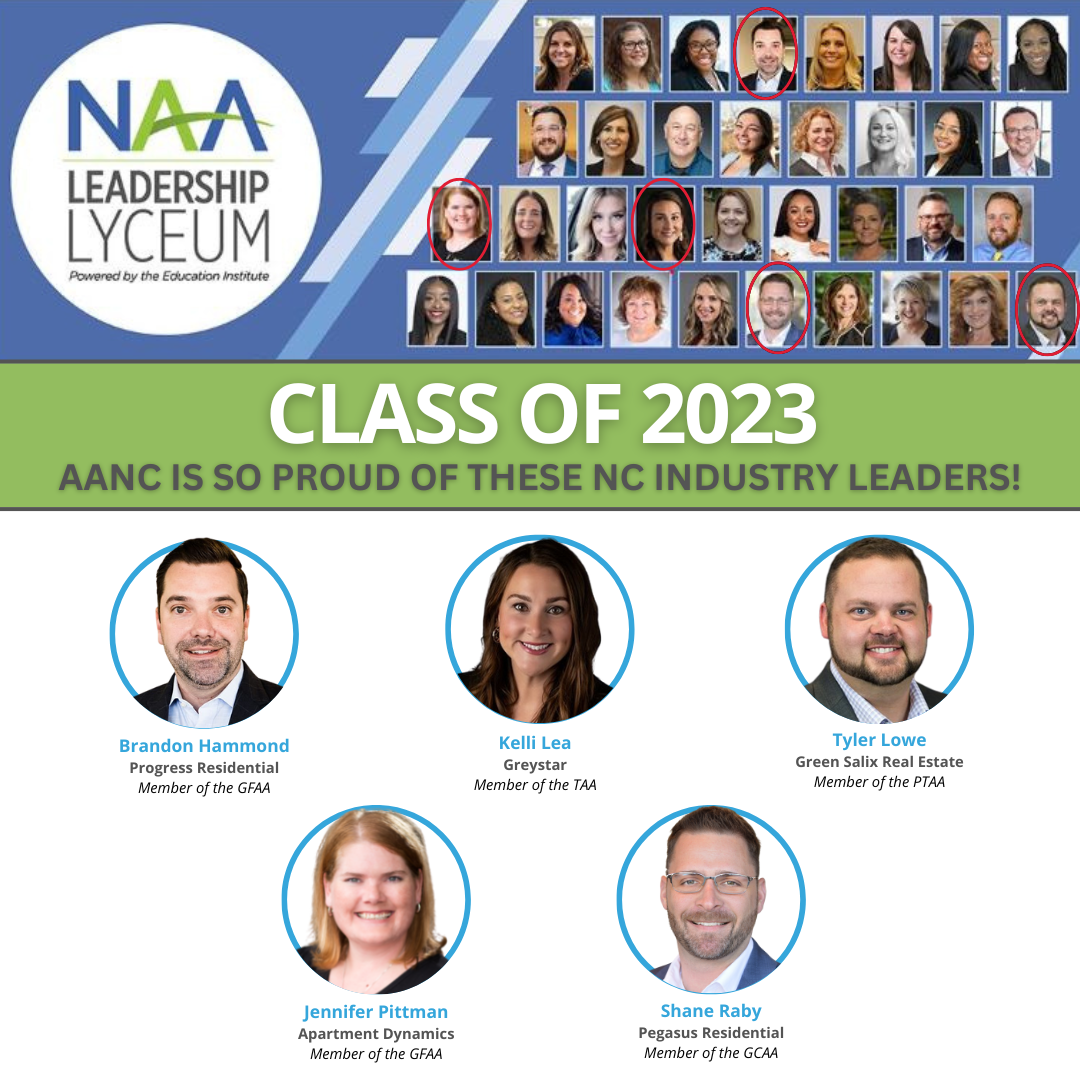 .
Look who was accepted into the NAA Leadership Lyceum Class of 2023 from North Carolina: Brandon Hammond (Progress Residential), Kelli Lea (Greystar), Tyler Lowe (Green Salix Real Estate), Jennifer Pittman (Apartment Dynamics), and Shane Raby (Pegasus Residential).

Please join us in giving them a HUGE CONGRATS! #WeAreAANC
---
2023 SPONSORSHIP & ADVERTISING AVAILABILITY
Get in front of AANC's leadership, emerging leaders, and all members through the various opportunities still available below.
---

JOIN AN AANC COMMITTEE FOR 2023
Are you looking for different ways to get involved at the state level? AANC offers members multiple opportunities through our diverse group of committees.
AANC MEMBER SPOTLIGHT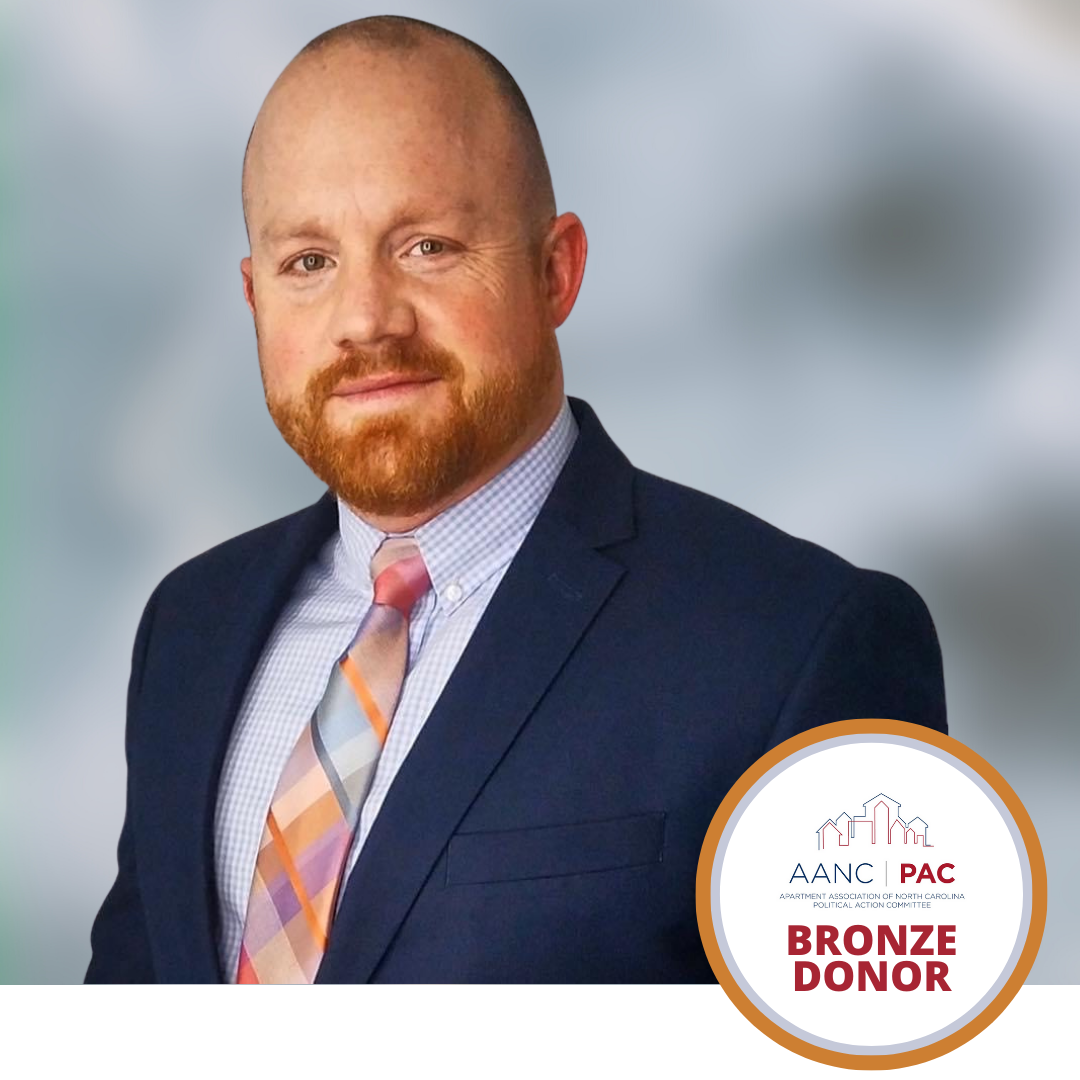 Bert Wray l Chief Executive Officer
AppWork
After serving in the U.S. Army and returning from Iraq as part of Operation Iraqi Freedom, Bert Wray entered the multifamily housing industry almost 20 years ago in 2005. He started in the industry managing a portfolio of affordable housing communities in North Carolina and Virginia for six years, until joining the supplier side and working his way up to a regional vice president of national accounts.
Bert didn't stop there. In 2017, he founded AppWork, a software solution to enhance multifamily housing maintenance management through centralization and automation of those operations. With oversight of operations, technology development and business development, Bert's primary goal is to revolutionize multifamily housing maintenance and help owner/operators better understand and manage this critical aspect of property management. Continue reading...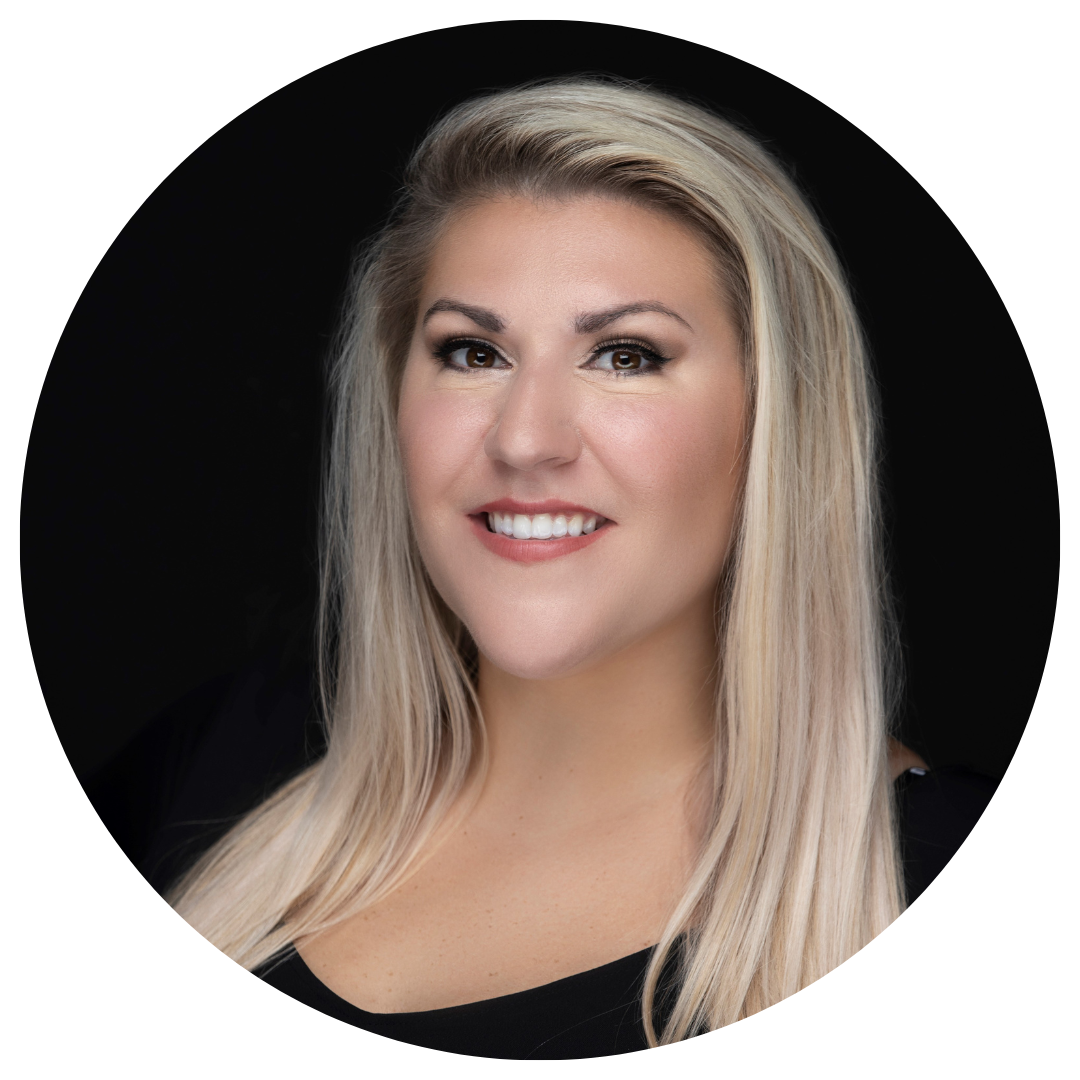 Hello AANC!

This is Leah Vinansky, Account Executive at ChargePoint, and I am thrilled to be writing to you as the 2023 Chair of the State Supplier's Council for the AANC. After being in the multifamily housing industry for 8 years, I am proud to serve as Chair, continuing to help support and give a voice to suppliers in our industry. I would also like to introduce our Vice Chair for the year, Elizabeth Riley, who is an SVP for The Liberty Group. We are happy to be a part of such a great group and will do everything we can to serve you and the Apartment Association of North Carolina.

Although we already have Q1 behind us, I wanted to say, welcome everyone to a bright new year full of opportunity, events, advocacy, and excitement! Despite the transitioning economy and challenges we are facing with the political climate; the multifamily industry has proven to be resilient. We have the proper teams in place to represent us politically and are blessed with a strong AANC leadership team to help put us in the best position possible. As we embark on the rest of 2023, I want everyone to remember the importance of giving back to the industry that supports us. Whether that be by volunteering your time, donating to the PAC, or just showing up more, it matters. Joining the conversation by sharing feedback and ideas is extremely valuable while we navigate challenges within our industry.

With that said, we want to give a big thank you to our 2023 Peak Partners listed here. We would not be successful without our partners and appreciate all the support we have received!
Now let's jump into updates on the most anticipated event of the year! After such a successful Conference and Trade Show last year (with record breaking attendance), we are excited to be continuing the new format with our second stand-alone Conference Trade Show. The theme for this year is The Social Network. We have a ton of fun planned and cannot wait to have attendees play the game board for cash prizes! The more participation and engagement, the more opportunity to win! As far as sponsorships go, The Social Network Trade Show is officially sold out, but we still have additional exposure available. Be sure to check out the sponsor opportunities outside of Conference as well for more visibility and opportunity to have your company shine across peers and customers throughout the state.

Thank you everyone for making our Association and industry great! We would love to help you get involved with the State Suppliers Council, or many of our other important committees. Please reach out to myself or Kristin Goins for more information!

Warmest Regards,
Leah
Leah Vinansky l Charge Point
Chair, State Suppliers Council
leah.vinansky@chargepoint.com
2023 PEAK PARTNERS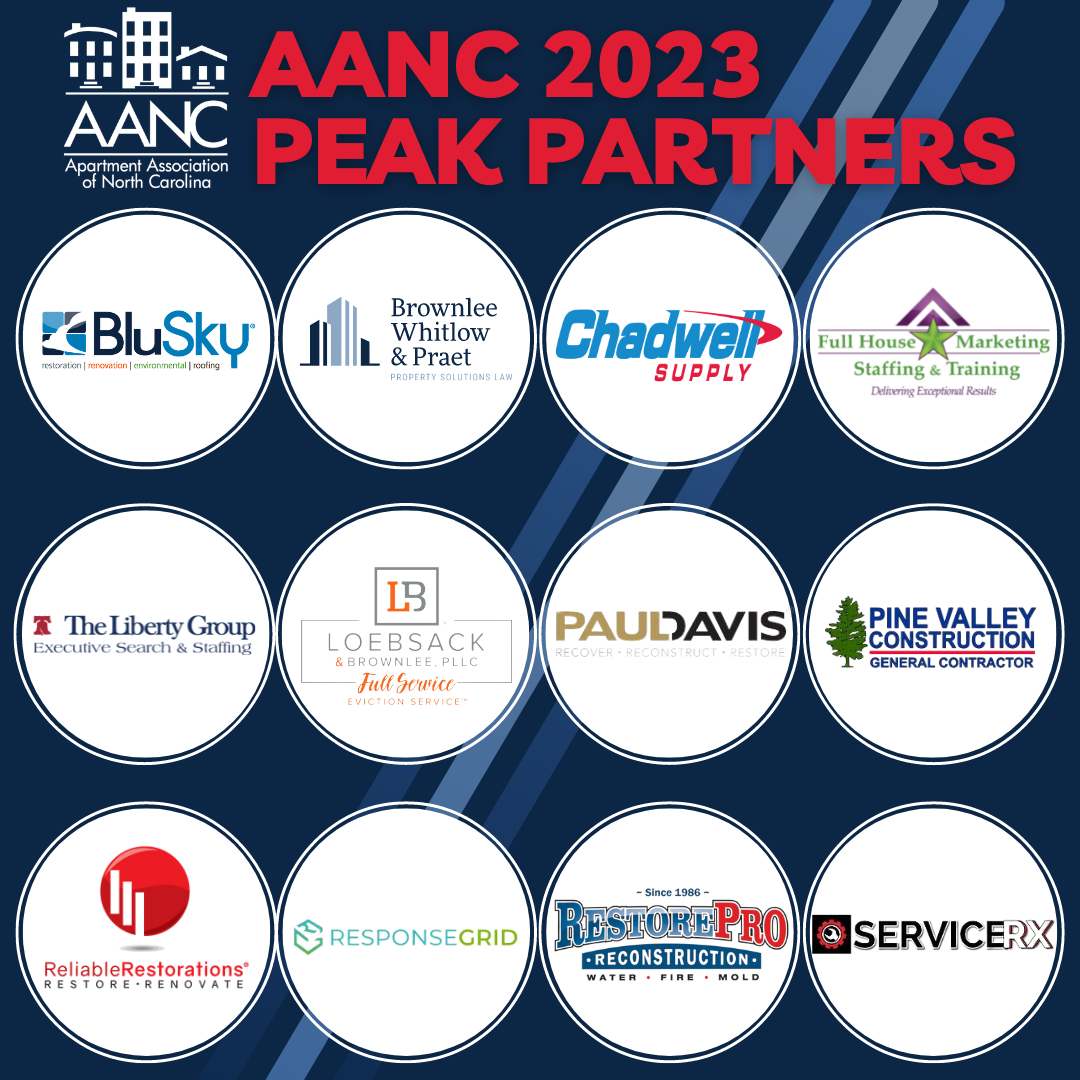 !!! REGISTER TODAY !!!
AANC 2023 Education & Legislative Conference
April 24-26, 2023
Raleigh, NC
#AANC2023FUTURE
REGISTER TODAY @ THE EARLY BIRD RATE!
The AANC Education Committee has planned another 'Don't Miss' conference for you! Register today for forward thinking educational sessions, in person networking with industry peers, the "The Social Network" Trade Show, and the opportunity to advocate for important industry issues at the North Carolina State Legislature.
Earn 6 CECs
Experience Forward Thinking Education
Network with Industry Peers
Attend The Social Network Trade Show
Advocate at Lobby Day
...and so much more!
SPONSORSHIP OPPORTUNITIES AVAILABLE HERE
---
Become a 2023 AANC Conference Volunteer!

The AANC Conference has grown substantially through the years, and we could not
have made it the valued experience that it is with out the help of amazing industry volunteers.

Please consider volunteering your time at the 2023 conference.

2023 Conference: Volunteer Sign Up


A BIG thank you, as we could not do this with out you!
---
AANC Committee Town Hall @ Conference


The AANC Education Committee is excited to host the second Committee Town Hall in conjunction with the upcoming 2023 Conference. This joint committee event will take place on Monday, April 24, 2023, beginning at 1:45 pm and will replace the individual committee meetings normally held at the conference.

ALL MEMBERS ARE WELCOME!

SPACE IS LIMITED l RSVP TODAY!
---

AANC NextGen Committee: Hatching Hope Fundraiser @ Conference
The AANC NextGen Committee will be offering professional headshots on
Tuesday, April 25 from 10:25 AM - 11:55 AM for a $25 minimum donation. Be
sure not to miss out on updating your headshot and donating to a great cause!

Hatching Hope is a 501 (C)(3) disaster relief and humanitarian aid organization that
provides immediate and long-term recovery essentials to victims of disaster.
---
2023 CONFERENCE SCHOLARSHIP
The 2023 AANC DE&I Scholarship, created to encourage multifamily professionals from historically underrepresented demographics, is now available!
This scholarship awards recipients with paid entry to AANC's 2023 Education & Legislative Conference, lodging, and a $100 food stipend.

SCHOLARSHIP APPLICATION

The submission deadline is March 8, 2023.
The NextGen "ShanAsh" Show with Shane Raby & Ashley Vetter
Season 3, Episode 1
Check out the video below!

What is the White House's Blueprint for a Renters Bill of Rights and What It Means to You
Provided By: Brownlee Whitlow & Praet

On January 25, the White House released its "Blueprint for a Renters Bill of Rights." It was prepared by the Domestic Policy Council and the National Economic Council, and identifies five principles the Biden administration desires to shape the residential rental housing landscape. This Blueprint aims to start a trend of creating unified protections for renters that do not fall into another protected category by creating certain changes to be instituted by the federal government (largely through additional regulations and requirements in federally backed loans) and to inspire state and local governments to pass protections that the federal government does not have the authority to enact.

The White House concedes in the Legal Disclaimer to the Blueprint that it is nonbinding (it does not carry any legal power and should not be used for any purpose in any legal proceeding) and is not officially U.S. government policy. It even admits the suggestions in the Blueprint might be in direct contrast to current law. How much this document will affect a renter's rights is yet to be seen.

The Blueprint centers around five key principles.
Access to Safe, Quality, Accessible, and Affordable Housing

Clear and Fair Leases

Education, Enforcement, and Enhancement of Rights

The Right to Organize

Eviction Prevention, Diversion, and Relief
Each principle is accompanied by an explanation of the policy and the steps that are being taken, are planned to be taken, or that the White House would like taken. Continue reading...
---
This is not legal advice and should not be relied on as such. You should contact your legal counsel with your specific facts if you seek legal advice.
AANC Legislative Update
The North Carolina General Assembly kicked off the legislative biennium on January 25. AANC's government affairs team is working to accomplish AANC's legislative agenda. A high-level overview of the legislative agenda is available on the AANC website.

During the first 30 days of the session, AANC has begun tracking bills filed by lawmakers that are of interest, or could have a positive or negative impact on the multifamily rental housing industry, including:
Lawmakers have until late April to file bills for consideration this biennium.
---

AANC PAC
The AANC PAC is off to a strong start, with over $13,500 raised in the first two months of 2023. However, with the legislative biennium just beginning to ramp up, we have a way to go to reach our $75,000 goal for the 2023-2024 biennium! To donate today, text "AANCPAC" to 50155 or click here.

---

Multifamily Housing Coalition of North Carolina PAC
The Multifamily Housing Coalition of North Carolina is an independent expenditure political committee designed to support AANC's legislative and regulatory advocacy efforts through individual and corporate contributions.
Contributions do not support individual candidate campaigns like the PAC, and instead are used to expand the AANC's reach, educate legislators, and raise public awareness to the challenges facing the multifamily housing industry.
Interested in serving on the Board of Trustees? Contact Sarah DuBose at sdubose@mwcllc.com.
Interested in being one of the inaugural donors to the Coalition?
You or your company can donate today!
NAA Update from Susan Passmore
NAA Region IV Vice President

We are less than one month away from NAA Advocate; NAA's annual advocacy conference in Washington, D.C. on March 28th-29th, 2023. With pandemic-fueled challenges and regulatory uncertainty continuing to impact our operations, it's more important than ever to make sure that your voice is heard. Registration for this event is free. Join your peers and speak to your Congressional representatives about the following critical legislation.
Opposing federal efforts to interfere into the landlord-tenant relationship and using carrots, not sticks, to increase rental affordability and housing choice for renters;

Improving the Section 8 Housing Choice Voucher program to attract and better serve private sector rental housing providers;

Incentivizing local governments to lower barriers to development and increase the supply of rental housing; and

Ending the CARES Act 30-day notice-to-vacate requirement for federally-backed and federally-assisted rental properties.
NAA's Monthly Advocacy & Legal Updates is an NAA member and affiliate exclusive web series for partners yearning to uncover industry legal news and policy changes, sometimes straight from D.C. The call is the 3rd Wednesday of each month at 3:30PM. If you'd like to register, please reach out to Nicole Upano at NAA.

NAA's Income and Expense Survey is accepting data submissions through May 1st. The Income/Expense IQ (I/E IQ) partnership has expanded in 2023 to include the Institute of Real Estate Management (IREM), the Building Owners and Managers Association (BOMA) and the National Apartment Association (NAA). If your company participates in this valuable survey, you will get the full results free of charge. Submit your 2022 data today for complimentary benchmarks.

NAA is also accepting nominations for their NAA Top Employer Awards. Nominations are due by March 3, 2023. Love Where You Work? Nominate them today to let them know.

Registration for Apartmentalize 2023 is now open and "Where It's AT"! Apartmentalize will be in Atlanta, June 7-9, 2023. Check with your local affiliate to see if they have discounted registrations.

If I can ever be of assistance to you or your association, feel free to reach out.
Susan
Susan Passmore l Blue Ridge Companies
NAA Region IV Vice President
336-889-1540
spassmore@blueridgecompanies.com

---
UPCOMING 2023 NAA EVENTS
Advocate
March 28-29
Grand Hyatt Washington | Washington, DC
Apartmentalize
June 7-9
Georgia World Congress Center | Atlanta, GA
Assembly of Delegates
November 13-15
Hotel del Coronado, Coronado, CA
---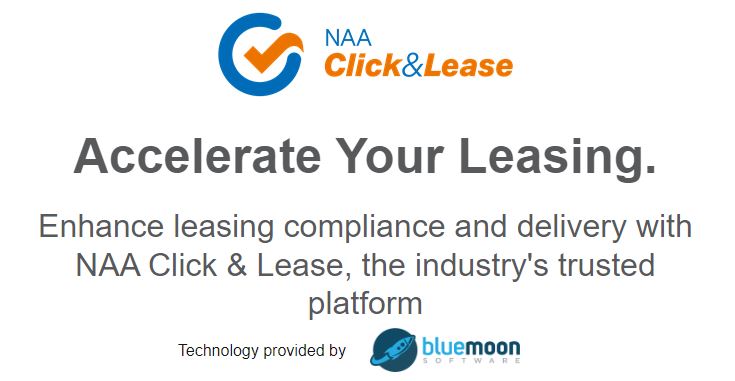 Apartment Association of Western North Carolina (AAWNC)
AAWNC will be hosting its 2022 Platinum Awards dinner on Friday, March 10.

Congratulations to the nominees! View full list here.
---
Greater Fayetteville Apartment Association (GFAA)
On February 9, 2023 the GFAA hosted the 2022 Starlight Awards luncheon with more than 200 attending.

Congratulations to the winners!
Leasing Consultant of the Year
Cambria Craig - Addison Ridge
Assistant Manager of the Year
India Pettiford - Reserve at Carrington Place
Community Manager of the Year
Jennifer Pittman - Keystone Apartments
Supplier of the Year (individual)
Chris Bryan - Jerry's Painting Service, Inc
Community of the Year
Addison Ridge Apartments

Maintenance Technician of the Year
Courtney Cooper - The Cole
Maintenance Supervisor of the Year
Darbin Richardson - Keystone Apartments
Regional/Corporate Manager of the Year
Lisa Ford - Morgan Properties
Rehab of the Year
Keystone Apartments
Team of the Year
Apartment Dynamics

---
Triangle Apartment Association (TAA)
Happy 2023 from TAA! By the end of the quarter, we will have hosted a number of committee meetings, BOD meetings, co-chair training, A New Lease on Life fundraiser, education seminars, a credential program, events, and a TAA-PAC Breakfast. We'd like to highlight an educational session and one event with a fundraising component.
On January 26, we hosted a session titled Human Trafficking 101. Those in attendance found the information to be both staggering and insightful.

On February 7, two of our committees (Special Events & DE&I) worked together for a successful event.

Special Events hosted a very popular After Work Networking at Wild Wing Café in Raleigh. With over 150 in attendance, there was lots of networking and great conversation.

During this event, to recognize and celebrate Black History Month, the Diversity, Equity, and Inclusion Committee held a fundraiser to benefit the Raleigh – Apex NAACP branch.
Coming up in the month of March are a number of events such as the Economic Forecast, TAA-PAC Breakfast, Battle of the Basket Fundraiser, Trade Show Tips & Tricks, and Trade Show. Learn more here.

Visit your local Apartment Association website to see what education is being offered and to register for upcoming events.

GCAA | Greater Charlotte Apartment Association
GFAA | Greater Fayetteville Apartment Association
GAPMA | Greenville Area Property Managers Association
PTAA | Piedmont Triad Apartment Association
TAA | Triangle Apartment Association
AAWNC | Apartment Association of Western North Carolina
WAA | Wilmington Apartment Association
THANK YOU TO OUR E-NOTES SPONSOR!


NC-based AAPCO Group has been serving the multifamily industry as a national general contractor for 35 years. As a licensed GC in 25 states, we have the operational footprint and experience to tackle any of your capital projects' needs. Learn more here.
---

Quantum Fiber represents a leap forward into the next generation of fully digital internet solutions. We open new possibilities for builders, developers, and property owners ready to modernize their properties and future builds. Learn more here.