AANC E-Notes: 2020 1st Quarter Issue

In This Issue:
---
AANC ANNOUNCEMENTS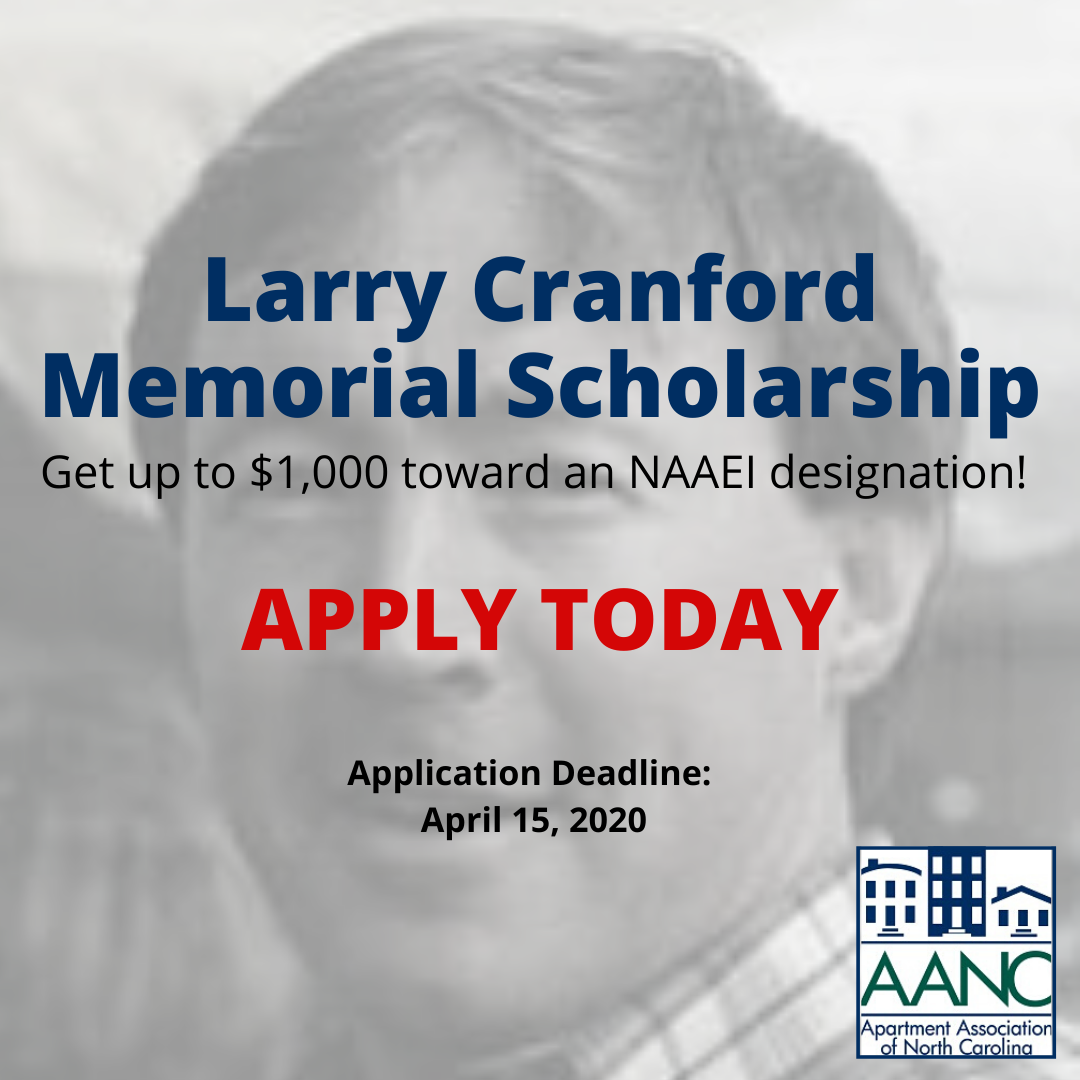 LARRY CRANFORD MEMORIAL SCHOLARSHIP - Apply Today!
Get up to $1,000 off an NAA designation (NALP, CAM, CAPS, CAMT, CAS)! Named after long-time NC apartment leader Larry Cranford, the mission of the scholarship is to foster the professional apartment industry education and career development potential of selected up-and-coming multi-family rental housing industry leaders in NC. Larry was loved by many for his folksy ways, his absolute commitment to industry education, and his people skills. Larry taught apartment management and maintenance throughout NC for some 25 years. Larry was the AANC President from 1996-1998.
The deadline to apply is Wednesday, April 15, 2020. APPLY HERE

AANC HALL OF FAME
AANC Hall of Fame recognizes individuals in North Carolina for their contributions, accomplishments, and service to the multi-family housing industry.  We are currently accepting AANC Hall of Fame nominations for 2020 inductees! If you would like to recommend someone in the multi-family housing industry contact your local affiliate today. Nominations will be accepted through March 31, 2020. Details Here! 
 

AANC ON SOCIAL MEDIA
The AANC PR Committee has set a goal to reach 1,000 Instagram members in Q1. If you use the platform and are not already following us, please do so here. 


AANC SPONSORSHIPS AVAILABLE
Gain valuable exposure with AANC members through numerous sponsorship opportunities. One of the many great opportunities is to sponsor an AANC Board Meeting. You will be able to speak for 5 minutes to the AANC Board of Directors (25 industry leaders from across North Carolina!) and the North Carolina Affiliate Executive Directors...as well provide a flyer/promo item. Details Here!

MEET AANC'S 2020 BOARD OF DIRECTORS
On January 15, 2020, AANC's Board of Directors held their first meeting of the year. This included a Board orientation and installation. We were honored to have Cindy Clare, Chief Operating Officer at Bell Partners Inc and former NAA President, join us and administer the Oath of Office to AANC President, Sherry Yarborough and the AANC Board of Directors. To see the current Executive Committee - click here. To see the full AANC Board of Directors - click here. 

Pictured L-R: Karen Perkins, Dale Holder, Andy Meador, Christy Rexroad, Amy Ritchy, Mary Gwyn, Julie Chu Zhang, Parry Cobb, Chris Loebsack, Sherry Yarborough, Jennings Snider, Rebecca Rosario-Bueno, Catina Rhinehart, Maria Barker, Kellie Falk, Jennifer Pittman, Charity Ellis, Lisa Taylor; not pictured: Diane Allen, Jay Robinson, Susan Passmore, Amanda Siegal Williams, Leah Parker, Carol Greer
MEET AANC'S LEADERSHIP LYCEUM CLASS OF 2020
The AANC Leadership Lyceum Class of 2020 met for the first time on January 15, 2020. They had an amazing day of education, networking and observing an AANC Board Meeting. Mindy McCorkle delivered an awesome presentation on leadership followed by a panel discussion with Tami Fossum, Fred Kicsak and Latoya Patterson. 

Pictured L-R: Betsy Kirkpatrick, Stephanie Hovis, Jessica Kiser, Chris Fortune, Jay Rawls, Cindy Nitschke, Leah Vinansky, Rachel Garavito Young, Jennifer Pittman, Stacey Wilfong, Christopher Smith; not pictured: Craig Nardi

---
AANC CONFERENCE
AANC 20/20 Vision Education & Legislative Conference
May 18 - 20, 2020 | Raleigh Convention Center
Early Bird Pricing ends 4/14/20.

REGISTER TODAY
AANC's 20/20 Vision Education & Legislative Conference is the annual gathering of our statewide membership to participate in a variety of educational sessions (earn 6 CECs!), networking with peers and sponsors, and advocating for important industry issues at the North Carolina Legislature. 
Check out our amazing Session & Speaker line up!
______________________________________________________
Sponsorship & Signage Available

2nd Floor Recharge Lounge l Details Here 
Patron Sponsor l Details Here 
Affiliate Sponsor l Details Here
Big Wall Banner l Details Here 
Escalator Rail l Details Here 
Escalator Panel l Details Here 
Bathroom l Details Here 
---
NATIONAL APARTMENT ASSOCIATION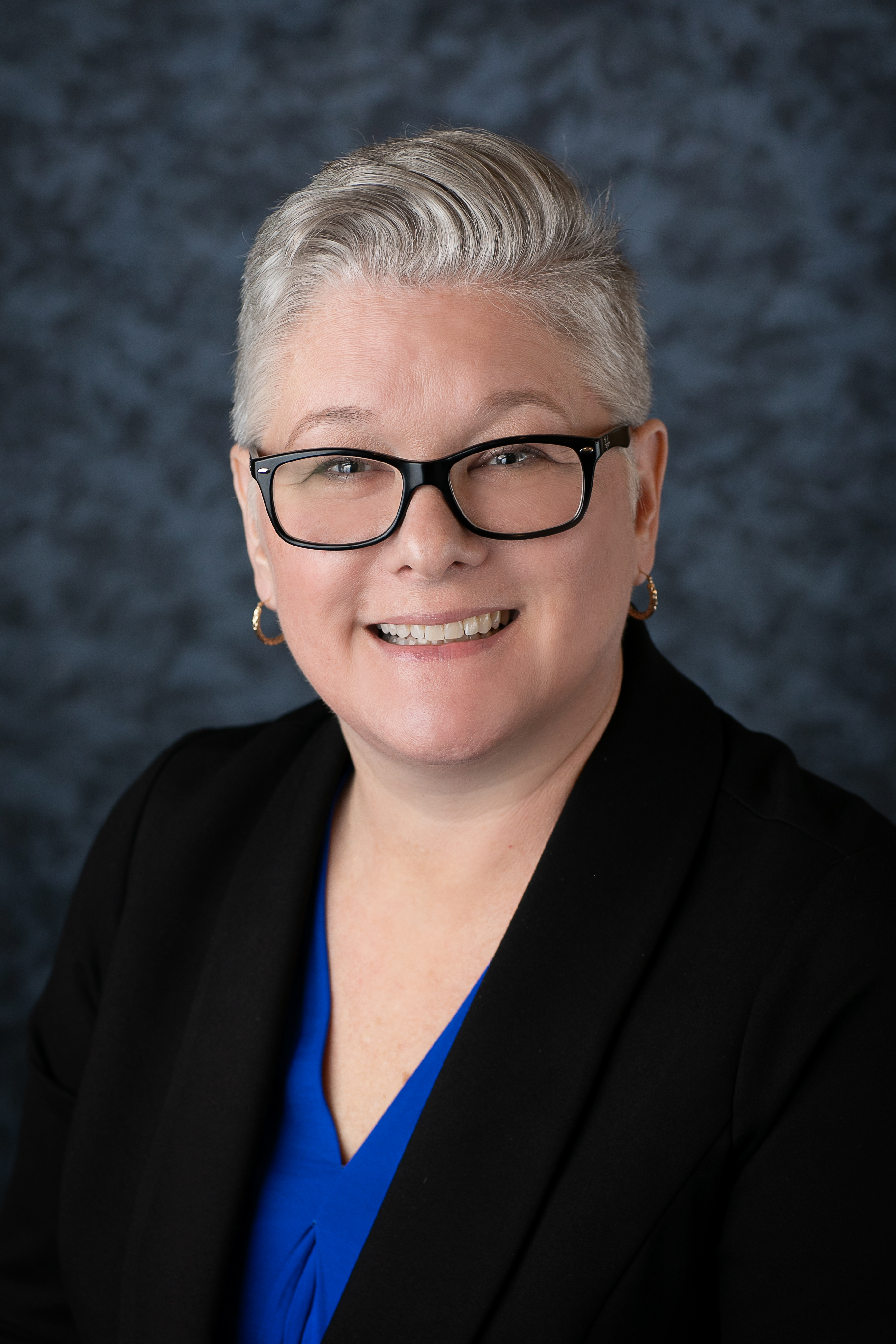 Update from Susan Passmore l Blue Ridge Companies
NAA Region IV Vice President
The National Apartment Association's Board of Directors winter meeting was held in January in Savannah, Georgia. In addition to the Board's regular business, we received an amazing Diversity and Inclusion presentation from Dr. James H. Johnson, Jr. Dr. Johnson's enlightening presentation focused on population growth in the south and the impact of demographic changes on community development and in the workplace. I encourage you to read Dr. Johnson's "Seismic Shifts" paper and share it with your peers; https://www.businessofficermagazine.org/features/seismic-shifts/

Keeping us up to date on current issues relating to the apartment industry, NAA is working to update its Emotional Support Animal tool kit after HUD released new guidance to clarify the responsibilities of both rental housing providers and renters concerning ESA reasonable accommodation requests in housing. NAA also released guidance on the Coronavirus and Website Accessibility. Links to both of these valuable tools can be found on the NAA home page.


There is still time to register for NAA's annual advocacy conference and lobby day event, Advocate, in Washington, D.C., March 10th and 11th. Governance and Committee meetings will be held March 12th and 13th.

Advocates will be visiting with Congress on lobby day to discuss matters vital to sustaining and growing a healthy rental housing supply. Legislative priorities include: 
Yes in My Backyard (YIMBY) Act (S. 1919/H.R. 4351): bipartisan legislation in the House and Senate encourages the elimination of discriminatory land use policies and removal of barriers that prevent needed housing from being built.
Section 8 Reform: streamlining the program to enable more owners and operators to provide more homes to individuals who qualify for vouchers.
Evictions: work to provide meaningful assistance to residents who need it, while avoiding burdensome new requirements.
Apartmentalize, the National Apartment Association's annual education conference, will be in Boston June 17th through the 19th. Mark Wahlberg has been announced as the Friday General Session speaker. Plan to stay through the NAA Friday closing party night. Hotel rooms are going fast, so make your reservations today!

If I can ever be of assistance to you or your association, feel free to contact me at spassmore@blueridgecompanies.com.

NAA'S ADVOCATE
Registration is now open for the 2020 NAA Advocate being held March 10-11 in Washington, DC.

Learn more here
NAA'S APARTMENTALIZE
Registration is now open for the 2020 NAA Apartmentalize being held June 17-19 in Boston, MA.

Learn more here
---
AFFILIATE SPOTLIGHT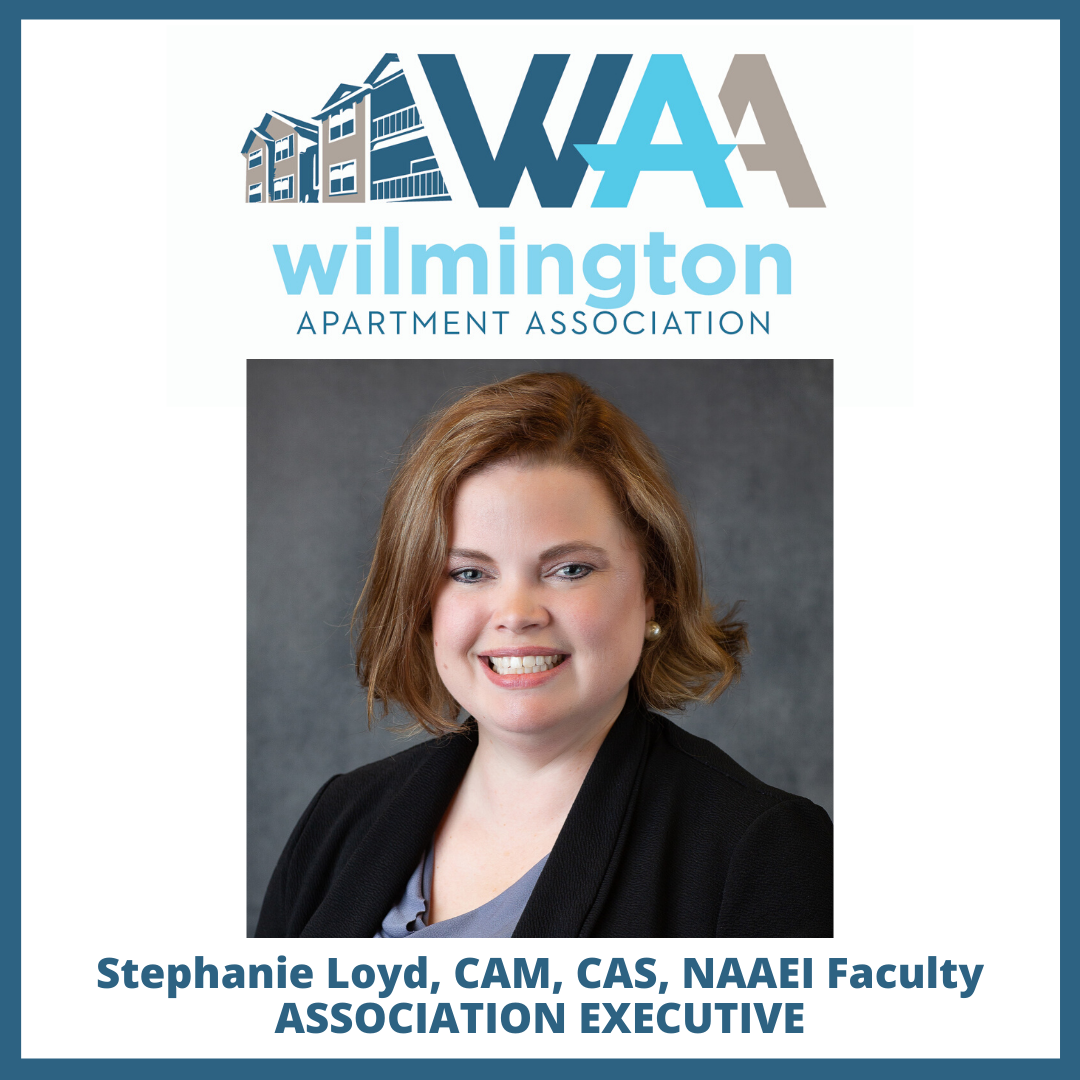 Wilmington Apartment Association (WAA)
WAA is excited to announce Stephanie Loyd, CAM, CAS, NAAEI Faculty as their Association Executive. Stephanie comes to WAA with over 12 years multifamily experience. She has been on the owner operator side in a corporate marketing capacity as well as more recently on the supplier partner side of the industry. She is an active participant in various local and state associations, with service on multiple committees, along with being the immediate past chair of the NAA NextGen Committee. Stephanie completed the NAA Advanced Facilitator Training and is a faculty member of the Education Institute. She is a NALP and CAM instructor, along with presenting at the AANC Education & Legislative Conference, VAMA Education Conference, El Paso Education Conference, and NAA's Apartmentalize. She is a NAA Leadership Lyceum graduate and the inaugural recipient of the NAA Rising Star Award. Please join us in welcoming Stephanie to WAA!
Email: wilmingtonAE.WAA@gmail.com l Phone: 910-620-8393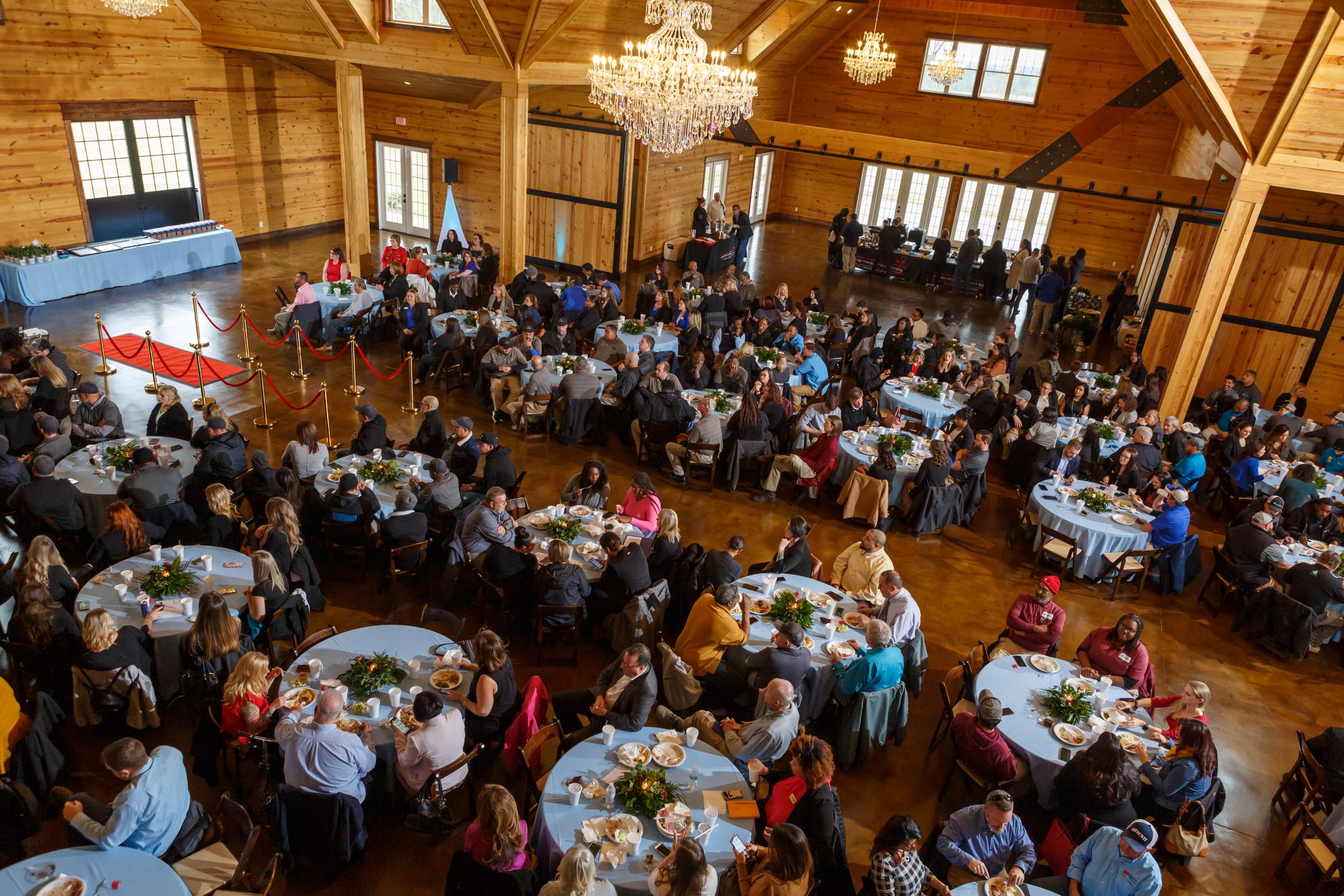 Greater Fayetteville Apartment Association (GFAA)
The GFAA hosted its annual Starlight Awards Ceremony and 2020 Board Induction on 1/23/2020 at McCormick Farms. This was their largest and first sold out event ever of over 300 people...and could not have been done with out the help of their Publicity/Events Committee and vendors (LRP Media, PB Productions, Ward Productions, Carolina Convention and Rental Services, A Catered Affair, and Crystal Blue)! Melissa White did an amazing job as the keynote as well. Also, a huge congratulations to all of the nominees, NALP and CAPS designees and the winners of 2019! View winners here.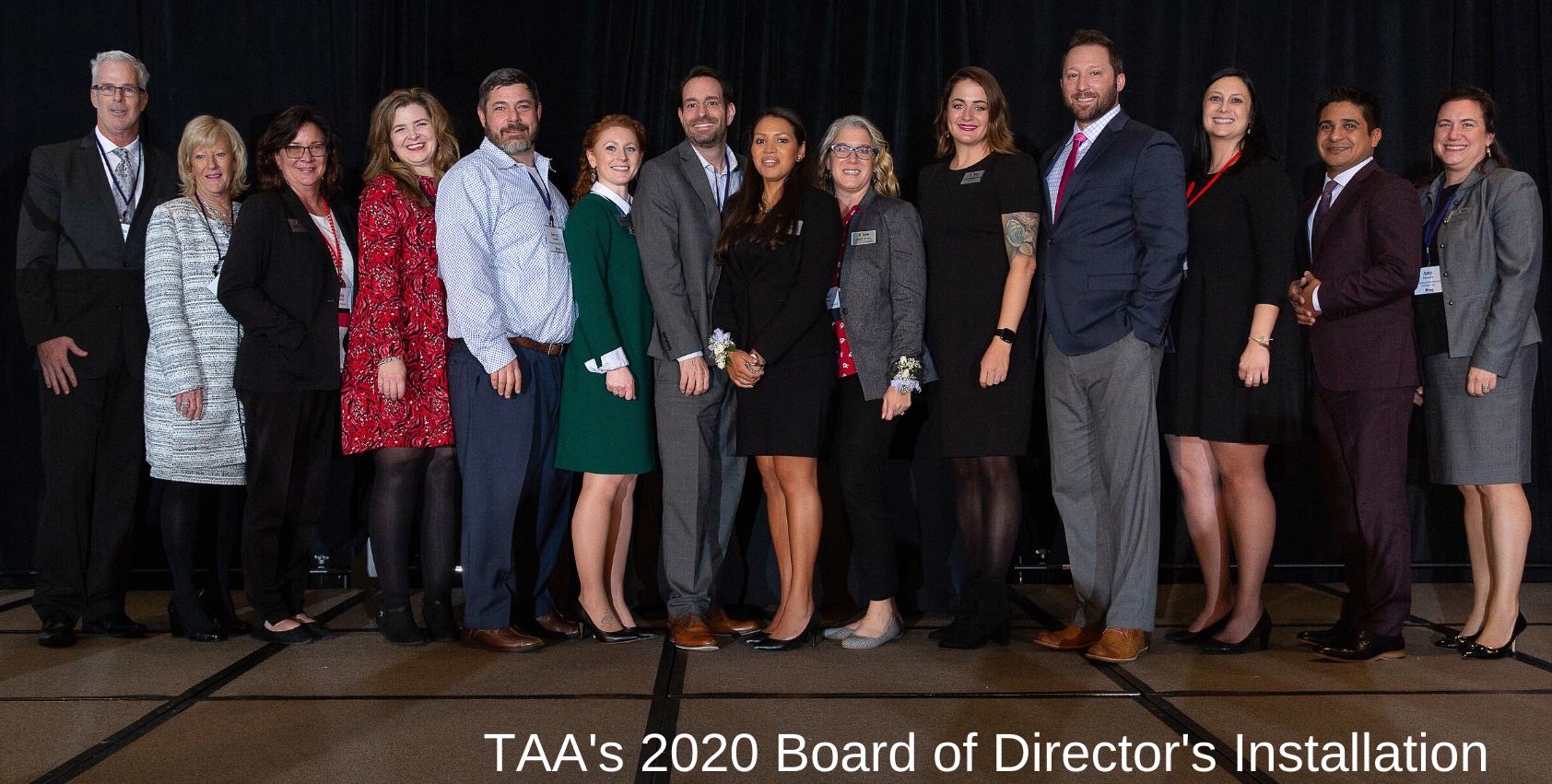 Triangle Apartment Association (TAA)
TAA hit the ground running in 2020! In January, they hosted their Membership Dinner Meeting & Board of Director's Installation with 401 attendees registered for the event. During the evening, they debuted NAA's RPM Career Showcase Video featuring six of their local member employees promoting the Maintenance Technician career path. The video can be viewed here. Thank you and congratulations go to Donald Blake Compton (Ginkgo Residential, LLC), Reginald Evans (Mid-America Apartment Communities), Lou Flythe (Greystar), Sergio Galvan (PRG Real Estate Management, Inc.), Paul Jules (Mid-America Apartment Communities), Emily Lundy (Greystar), and Daniel Whitten (Ginkgo Residential, LLC) for their participation. So far in 2020, TAA has already hosted 7 different courses, completed its 2019-2020 CAMT program, and begun its 2020 CAM and CAS programs. (Registration for all 2020 Education Opportunities are open online now!) Additionally, dates have been set for 2020 Events including all 4 After Work Networking opportunities, Trade Show, Golf Outing, TOPS Awards, and more! Finally, TAA is proud to announce they are the third city in the nation working to build a Maintenance Technician Training Program with the Grads of Life program. Grads of Life is working with apartment associations nationwide to build programs in local communities tailored to that area's needs. TAA's Pilot Program is set to begin within the next few months and to be completed by mid-summer.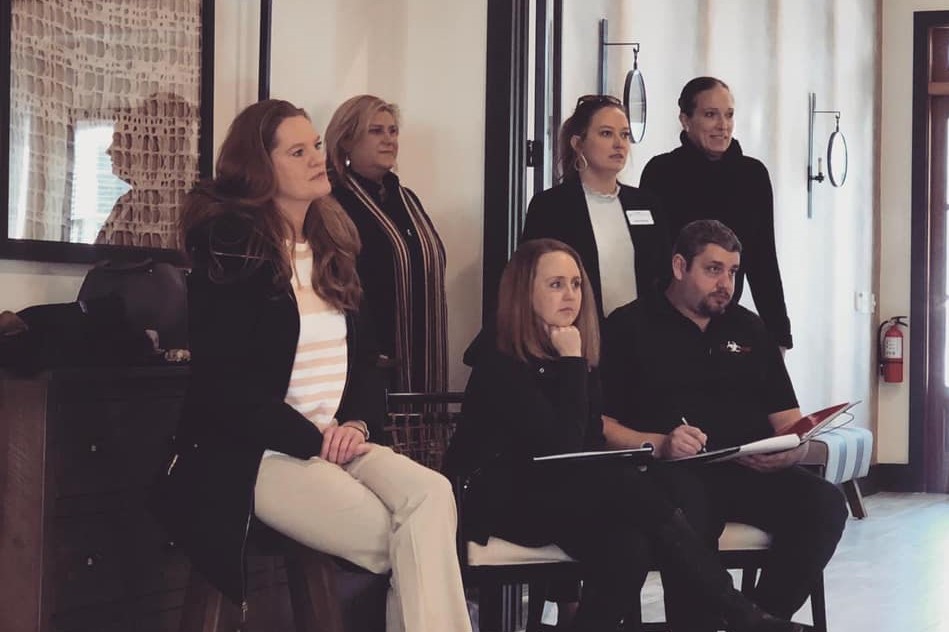 Apartment Association of Western North Carolina (AAWNC)
AAWNC hosted their 1st Community Coffee at Hawthorne at Haywood with a great turn out. The topic was homelessness presented by Robert Stevenson, City Outreach Case Manager, from Homeward Bound of Western North Carolina and Brian K. Huskey, Community Development Analyst - Homelessness Lead, from City of Asheville.
---
---
LEGISLATIVE UPDATE
The 2019 long session was the second longest legislative session in North Carolina history. The 2019 session lasted 156 days, in contrast to the 179-day session back in 2001. Even with a historically long session there were several priorities that needed to be addressed in the new year. Predominately the state's 2020-2021 budget. With the General Assembly adjourning until April 28th, with exception to the Governor calling for a special session, the earliest the budget can be passed will be April. Until then, state law mandates that current funding levels remain the same until a new budget is passed.  
The Apartment Association of North Carolina was influential in helping develop and influence several pieces of legislation during the 2019 "long" session of the General Assembly. We had a full plate of legislative priority bills, including House Bill 796, Emotional Support Animals - Rental Units and House Bill 880, Landlord/Tenant Changes. Both were approved by the House this session and remain eligible for Senate action in the "short" session which will begin on April 28th. There were some questions about the legal aspects of both bills and the Apartment Association staff as well as your lobbying team are working hard to address those concerns so that we can move that legislation quickly in the short session.
AANC staff and lobbyists from our team also worked defensively to ensure legislation such as House Bill 420, NC Servicemembers Civil Relief Act was amended from previous versions that would have negatively affected the apartment industry. We also dealt with valet trash and anticipate the final reading of the valet trash provisions at the next Building Code Council meeting this month.
Government Affairs Committee has made a few recent changes. The State and local Call will now be combined with the monthly Government Affairs Committee call. All members are welcome to join in and listen to the latest State and Affiliate updates. Additionally, to stay abreast of all regulatory issues, the Government Affairs committee (GAC) established a Regulatory Subcommittee tasked with monitoring and recommending the regulatory needs of our industry. The GAC also established the Housing and affordability Subcommittee. The focus of this subcommittee is to stay abreast of issues like housing affordability and Source of Income. Both committees are open to any member interested in participating. With bi-monthly meetings this is a great opportunity to become involved if you are not already engaged at the state level. Individuals passionate about housing and regulatory issues are encouraged to engage. Please contact Janae Moore (Janae@aanconline.org) if you are interested in joining either subcommittee or if you would like more information about the monthly GAC calls.
IT'S NEVER TOO LATE TO ADVOCATE 
March 10th -11th 47 registered members of AANC will head to Washington DC to participate in NAA's Annual Advocacy Conference. Advocate is the one time of year when hundreds of NAA members take to the Hill to share the rental housing industry's key Federal priorities with Congress. Much like our very own Lobby Day, NAA relies on the candor of our members to help inform and engage with the congressional members that represent our state. 
This year's legislative priorities center around housing affordability and making real progress on increasing supply and preventing adverse policies from taking hold. They are:
Yes in My Backyard (YIMBY) Act (S. 1919/H.R. 4351): bipartisan legislation in the House and Senate encourages the elimination of discriminatory land use policies and removal of barriers that prevent needed housing from being built.
Section 8 Reform: streamlining the program to enable more owners and operators to provide more homes to individuals who qualify for vouchers.
Evictions: work to provide meaningful assistance to residents who need it, while avoiding burdensome new requirements.
It's not too late to register for NAA"s Advocate Conference! For those who cannot attend, you can still be involved and advocate on the Associations behalf. Sending a letter to your Congressman/woman advocating for one if not all three of the priorities above can be just as impactful as sitting down in a meeting (find your rep here). Members of Congress love hearing from constituents. If you would like to send a letter of support click the link below to find your representative and let them know that NC will be well represented come March 11th advocating for the issues that matter!
If you have any questions about registration or any of the Federal priorities feel free to email me (janae@aanconline.org).  Look for an NAA recap on all that happened during our time in DC later this month!
U.S. Department of Housing and Urban Development (HUD) has released new Guidance regarding Service/Support Animals. Is this what we were waiting for?
This article was written by Brownlee Whitlow & Praet, PLLC. This article is not legal advice and should not be relied upon as such.
Unless you have been living under a rock, you know that emotional support animals ("ESAs") are a hot topic in the multifamily industry and have been for about the last decade. In fact, the number of accommodation requests related to ESAs increased over that period of time at an exponential rate, to the point that fair housing complaints related to the denial of accommodation requests now comprise approximately 60% of all fair housing complaints received, making it the largest area for potential claims. Part of the difficulty for the owners and managers of multifamily communities stems from the vast amount of fraud that occurs related to ESAs. For $99, pet owners can obtain an official-looking letter adorned with many initials on letterhead purporting to render a "diagnosis" of a non-apparent disability requiring an ESA. The "diagnosis" in question was rendered after said pet owner answered a series of questions over approximately 10 minutes and voila, the pet owner can now make a request and avoid pet fees, pet deposit, and/or pet rent.
This scenario has played out over and over again across the nation to the point that over 35 states have attempted to pass some form of legislation addressing ESAs and/or service animals. In response, the U.S. Department of Housing and Urban Development ("HUD") announced in the first quarter of 2019, that they would be releasing further guidance related to service and/or support animals. Well, HUD finally released a two-part statement providing guidance on "Assessing a Person's Request to Have an Animal as a Reasonable Accommodation Under the Fair Housing Act" and "Guidance on Documenting an Individual's Need for Assistance Animals in Housing".
Before we evaluate the impact of the guidance, it is important to review the procedure and evaluation that takes place generally and then we can look at how the guidance impacts that process. Community owners and managers must evaluate a request for a reasonable accommodation using general principles applicable to all reasonable accommodation requests. Accordingly, when there is no readily apparent or otherwise previously known disability, you are entitled to receive reliable documentation in order to verify that the person (1) has a disability, which is defined as a physical or mental impairment that substantially limits one or more major life activities; and (2) has a disability-related need for an assistance animal that alleviates one or more of the identified symptoms or effects of the existing disability. An accommodation offered to persons with a disability must be (1) reasonable and (2) necessary to (3) afford the handicapped person an equal opportunity to use and enjoy housing. In other words, the person making the request must demonstrate a direct linkage between the proposed accommodation and the equal opportunity to enjoy the relevant dwelling. Continue Reading...
Stay Informed - Join The Monthly Legislative Update Call
AANC's Government Affairs Committee hosts a monthly Legislative Update call open to all members. The goal of this monthly call is to hear legislative updates from around the state. You will hear what is happening at the state level as well as local updates. Contact Janae Moore at janae@aanconline.org
---
AANC POLITICAL ACTION COMMITTEE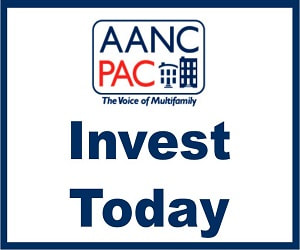 The AANC PAC needs you to help shape the government in North Carolina. By taking a proactive role and contributing to the AANC PAC, we can help protect our interests as multifamily professionals.

A huge thank you to everyone who has contributed to AANC PAC in 2019. Our goal for 2020 is $25,000. We have started the year off strong having raised more than $7,100 already! 
See Current AANC PAC Supporters 
Donate to AANC PAC
---
AANC AFFILIATES: What's Happening Around the State?
Visit your local Apartment Association website to see what education is being offered and to register for upcoming events.

GCAA | Greater Charlotte Apartment Association
GFAA | Greater Fayetteville Apartment Association
GAPMA | Greenville Area Property Managers Association
PTAA | Piedmont Triad Apartment Association
TAA | Triangle Apartment Association
AAWNC | Apartment Association of Western North Carolina
WAA | Wilmington Apartment Association 
---
Spotlight Yourself! l Spotlight your Community!
Get social with AANC in 2020! We want to highlight you or your community on our social media platforms (Facebook, Instagram, Twitter and LinkedIn)...and the AANC website. 

Spotlight Yourself Submission Form
---
TIER II SUPPLIER DIRECTORY
Click on their logos 
to learn more about their sevices. 
THANK YOU TO OUR E-NOTE SPONSORS!